MS Dhoni to be questioned by BCCI
The Board of Control for Cricket in India (BCCI) is likely to question Indian captain Mahendra Singh Dhoni regarding his stakes in Rhiti Sports and conflict of interest issue after India's campaign in Champions Trophy gets over.
BCCI interim chief Jagmohan Dalmiya on Monday said that he would look into Mahendra Singh Dhoni's alleged conflict of interest after the team returns from the Champions Trophy being held in England.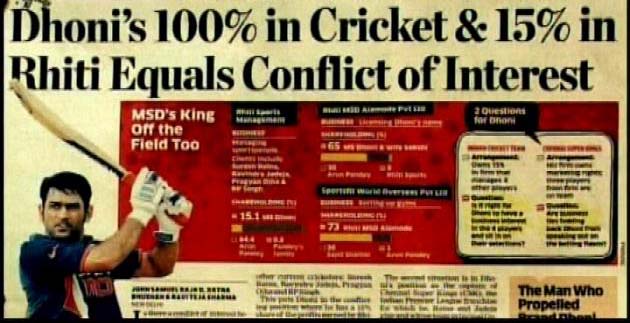 "I don't want to disturb the team during the Champions Trophy. I gain nothing by doing that. We have taken a note of the (Dhoni) issue, we are looking into it but we are not going to hound someone," had said Dalmiya at an emergency meeting of the Board of Control for Cricket in India (BCCI) here.
Dhoni got himself into controversy recently following reports that he held 15 percent stake in Rhiti Sports Management, which manages cricketers Suresh Raina, Ravindra Jadeja and Pragyan Ojha, besides the Indian skipper.
The company claims that Dhoni does not hold any share of their company now. He held the shares for a brief while, and those were transferred back to the company in April after the payments to him were cleared.
"As on date, MSD has no shares in Rhiti Sports Management. However, some shares were allotted to MSD on March 22, only to secure certain old outstandings that were due for more than a year," Arun Pandey, chairman and managing director of Rhiti Sports, had said.