World Cricket has seen some of the best batsmen feature for the Australian team. The Haydens, Gilchrists, Ponting and the like have played for the Aussies and have made their mark in world cricket and are unarguably the best to have played the sport. But, recently the two names who have been in talks with fans and analysts across the globe, drawing comparisons among them are that of Sir Donald Bradman, the only cricketer to have an average of over 99 in test cricket and his so called modern day incarnation, Steve Smith.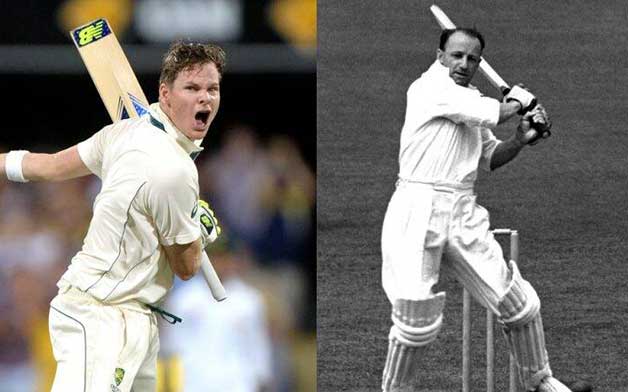 As far as the numbers go, Steve is right up there along with the greatest test match players, and has even broken many of Bradman's own records. But is it fair to compare an all-time great, with a modern day player who has been charged with ball tampering and was handed a year-long ban for the same?
As far as popular opinion goes, the answer is a strict NO. The main reason behind this is the fact that he is playing the sport in an era that has rules favouring the batsmen and even the pitches prepared are batsman friendly. But, it would be highly unfair upon Smith to strip him of all his achievements and feats just because he was born in a different era than his role model, Don Bradman. Every record has its own set of challenges that a cricketer has to face in order to surpass it and the fact that a cricketer has broken through a number of them is in itself a big feat.
 Moreover, getting back after a yearlong ban following the 'sandpaper gate' controversy against South Africa last year, Steve Smith has shown great character and intent, and has performed commendably in the tests. In the ongoing Ashes series, he has been unstoppable and his current form has carried him through to top the ICC Men's Test Batsmen Rankings. He is there to stay as his closest competitors, Virat Kohli has not had such a good year with the bat and does not have many tests to play before the year ends.

 It is true that Bradman's test match batting average of 99.94 is almost impossible to beat, given what Steve has done for Australia and his capability to pull off similar performances in the future, it won't be wrong to have him as the next Bradman of the Australian team, a great batsman and a record breaker, who will go down in the books of history, placed in line with the cricketing legends of all times.