"Brian Lara's Heart pounding innings":  153* vs Australia, Barbados, 30, March, 1999…
Brian Lara become cricketing term for Marathon innings in test Cricket. In his era, No one was as good as Lara to pile of those big innings against mighty opponents. Scoring 213, 221, 226, 277,375, 400 & 501 is indeed a great task. But the innings which shook all & meant a lot to West Indians was 153 not out in Barbados against World Champion Australia chasing 308 runs in fourth innings. It was innings full of talent & intelligence foot work. No one else scored more than 38 runs in second innings of West Indies. Let's relive the Heart pounding work of a Genius.
Australia batting first scored 490 runs in first Innings of the match. West Indies were a mile behind Australia after getting out for 329 runs. Australia dominated throughout the first three day of test match. Windies made a comeback on day 04. West Indian pacers specifically Walsh with figure of 5- 39 restricted Australia to 146 runs on Day 04, Tea of The Frank Worrell Trophy. In The Nail biting & ever fluctuating game, the West Indies were set to score 308 runs to win this test. Australia playing with 2 pacers McGrath-Gillespie & spin duo McGill – Warne victory was almost there for Australia. The historic chase begins with Left & Right combination of West Indies openers Griffith & Campbell. The pitch was tough to play on, scoring runs becomes a difficult task for batsman. Both started steadily playing inform pacers who shared 7 wicket among them in first Innings. Australia got success later, In 33rd over of fourth innings McGrath trapped Campbell for lbw on 33 runs, night watchmen Joseph couldn't see a moving ball of McGill & went back to pavilion for mere 1 runs of score. West Indies did a gamble & ask Pedro Collins to play rest of the over as a night-watchman. But McGrath was too good for Collins. McGrath bowled him a full delivery on stumps only to get him LBW for a duck. Both night watchman failed. West Indies were 3 down for 78 runs in 40 overs. The next man to come in was the West Indian maestro Brian Charles Lara (6 years back in Australia Lara had scored 277 runs against mighty Australia). Day 4 ended dramatically with West Indies scoring 85/3  (AFG Griffith 35*, BC Lara 2*, 47 ov). Struggling West Indies lost their left alone opener early in the morning for 91 runs. Griffith scored 35 runs at Strike rate of as low as 22. West Indies were down to 5-105 soon after losing Carl Hooper for individual score of 6 runs. Jimmy Adams joins Skipper Brian Lara & pair added just 20 runs in next 1 hour. It was a broken wicket & a bowling paradise. Australia did everything to send home captain pavilion. But Lara did no mistake. His batting was more angles and flourishes. The pure genius played Australian bowler with all temperament. Refusing to bow down, Lara went on scoring his shots on every loose balls bowled by Australian. On the other side, Adams was blocking everything that coming into it. Lara was in tremendous pressure back home after being defeated 5-0 in South Africa on their very first tour to South Africa. Lara's footwork left Warne astonished when he smashed long hop over boundary rope to reach his fifty. Lara's footwork was as smooth as a moon walk of Michael Jackson.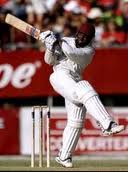 Watching West Indies building a crucial partnership, McGrath lost his patience & a little fight in middle of the game between Lara & McGrath. McGrath pitched one shot which hit Lara's back of his helmet. And Glen McGrath as expected gave him a stare in anger. Little dispute in the middle. And very next over Lara smashed a four through leg side. Crowd was enjoying the battle.
Post 50, Brian Lara made his move quick, pressed accelerator, cornering every Australian bowlers. Warne bowls a leg spin delivery & Lara dancing down the ground hit him through mid-wickets. It was a second hundred in successive test of the Test series for Lara. As commentator said it was the prodigal son who turned messiah". He was quick for his second fifty which came in just 51 balls. Crowd was energetic, cheering for skipper. West Indies made a brilliant come back into the game, but as said the ever fluctuating game saw a change once again. West Indies was 234-5, with 74 more runs to win. McGrath strike soon to send Jimmy Adams back into pavilion. At score of 238 runs. Adams & Lara added 133 runs for 6th wicket. McGrath strikes two more time leaving West Indies for 248-8. Ambrose was next man in for a hat trick delivery, he survived the hat trick ball. Lara was left stranded on other end with tail ender Ambrose. West Indies was still 60 runs behind the target & the next two batsman was most the legendary bowlers. The Antiguan's job was to just glued himself to wicket & let Lara scored freely. Giant man did his job. But Lara was in different tune, dancing on the ground hitting Warne through the mid-wicket for four to prove his supremacy in match. Lara displayed a brilliant Cover drive when West Indies needed just 28 runs to win. Warne was clueless against Lara. The see saw continues as Lara tries to play a Gillespie's ball towards third man edged it to Healy's left who dropped it. Gillespie did his job but Healy let him down. Crowd was loving it. The cheer was so loud one can feel the emotions & love for the game of cricket in West Indies. A run later Gillespie bowls to Ambrose with 3 slips & 1 gully, and Ambrose hit it towards Elliot standing on third slip. Ambrose in disappointment swing his bat in air & walks back to pavilion. Ambrose spent 87 minutes at crease with Lara & scored 12 runs & played crucial 39 deliveries.. The match was back into Australian bag again with Walsh the last man in. Walsh who was not watching match live due to stay away from Crowd pressure, saw it in side dressing room from Television. A nervous Walsh came to bat with West Indies needed 6 to win the historic chase. The only job was to stand there, play this over & left it to skipper to finish it off. Gillespie start to Walsh with no ball leaving 5 runs on score board to chase. First bouncer & then a reversing Yorker to Walsh. Gillespie did what a bowler will do in his final chance but Walsh defended it. With each ball the heart beats were fluctuating at its peak point. Walsh blocked the final bowl of Gillespie's over, which means Lara will be on strike against McGrath. Crowd applaud every time when Ambrose & Walsh blocked a ball. Countless people lost their finger nails. 5 to win. McGrath to Lara. McGrath over the wicket bowls on offside. Lara edges it & missed the only slip fielder Warne towards third man. The next delivery is wide. The Crowd goes loud & West Indies will now require 2 to win this test. Next ball one run. Lara moves to 149*. Walsh leave a slower one from McGrath. Scores were level. 3 slips, 2 gully, 1 leg slip, short mid-wicket & short mid over was field set by visiting nation skipper Waugh. West Indies were a run away from victory & Australia a wicket away. Lara drove through cover for four. West Indies are home. Lara remained not out 153 runs. Crowd cheering & everyone is on ground with West Indian flags. Crowd goes ecstasy. The reaction from spectators were amazing, all applauding there maestro skipper Brian Charles Lara.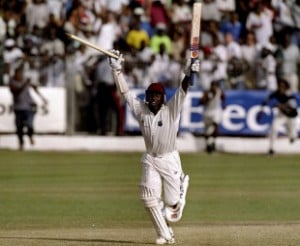 The `Wisden 100′ rates Lara's 153 not out against Australia in Bridgetown in 1998-99 as the second best innings after Sir Donald Bradman's 270 against England in Melbourne in 1936. With the help of one six and 19 fours Brian Lara scored 153 off 256 and remained unbeaten. It was a best test series played by Steve Waugh in his career,.As quoted by Steve Waugh himself. A poetic innings from Brian Lara goes big in Cricket history book & will be known forever for his unbeaten effort at Barbados. His skill cannot be surpassed.