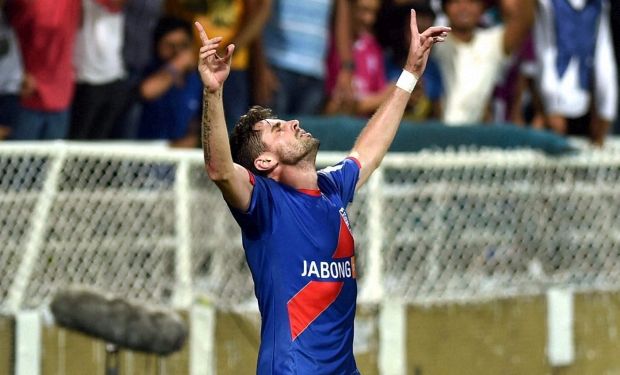 Mumbai: In a Maharashtra derby of Indian Super League, hosts Mumbai City FC (MUM) thrashed FC Pune City (PUN) 5-0 at the D Y Patil Stadium in Nerul, Navi Mumbai on Saturday. Bollywood actor Ranbir Kapoor attended the match between Mumbai City FC and FC Pune City. Pune appeared toothless against the Mumbai attack.
Starting XL's:
Mumbai City FC: Paul; Letzelter, Cmovs, Friedrich,
Costa; Tiago, Stohanzl, Dika; Subhash, Nadong, Moritz.
FC Pune City XI: Belardi; Ravanan, Kotal, Cirillo, Ramirez; Ashutosh, Kostas, Rodriguez, Wadoo; Dudu, Trezeguet.
1st HALF- Peter Costa got a yellow card as he wrongly tackled FC Pune City's David Trezeguet right outside the box. Mumbai City FC registered their first goal in Indian Super League. A superb left-footed kick from Andre Moritz took the home team in lead. Number two for Mumbai City FC and number two for the Brazilian Moritz. The home team cashed in well on a corner kick. A superb pass by Stohanzl and Subhash joined the party as Mumbai City FC scored their third goal of the match.Towards the preparation of coming back in the 2nd half, Pune City had to make efforts and score atleast 4 goals to win.
END OF 1st HALF: Mumbai City FC 3-0 FC Pune City.
2nd HALF- Two yellow cards in quick succession! FC Pune City's Pritam Kotal was booked first and then Mumbai City FC's Stohanzl was shown yellow after his angry outburst towards Dharmaraj Ravanan. First hat-trick of ISL. Andre Mortiz showed some solid skills to net his third of the match and Mumbai City FC's fourth goal of the match. The hat-trick hero of the home team Andre Moritz walked off the park with a huge round of applause. Asif Kottayil replaced him in the middle. Johan Letzelter continued Mumbai City FC's domination as he scored his team's fifth goal.
Full-time: Mumbai City FC 5- FC Pune City 0
FANTASTIC WIN FOR MUMBAI. Mumbai City FC beat FC Pune City 5-0 ISL. Ljungberg makes debut as Mumbai beat Pune 5-0.