Virender Sehwag: 36th boundary of the inning
The agony of life commands you to lower the level of motivation each passing second. Your self-desire propagates a sense of incitement to your wearying strength. The passion takes the driver's seat. And talent fuels the reincarnation.
Every time Virender Sehwag takes his guard, the above lines wave through his mental strength and channelizes his energy to produce something unvanquishable that cannot be paralleled. He celebrates his 36th birthday today. His age has not been with him in recent years. His eyes require assistance. The feet never moved and continue to do so. Coordination has been drying up.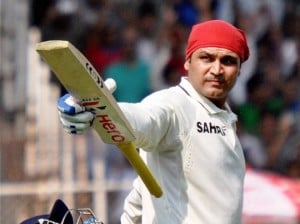 But hasn't the situation been same with him for years? Every time he takes his guard, the hearts of a billion Indians stop beating. With his technique, he could have failed years ago. But the stats talk otherwise.
There must be some reason. There must be reasons behind the rise of a certain 'Dilliwala' from a child prodigy to a legend. There must be the reasons behind the glorious years of Sehwag at the international scenario.
The only reason that I can find is stated in the first paragraph. His passion and desire to thrash all the rulebooks have been his strength. His success cannot be measured or compared with anything.
Everytime he hits the cherry out of the park, hundreds of kids playing in the streets of places like Nazafgarh gets inspired. The technical flawlessness has never been his forte. His strength always lied in his raw attitude. And that is what he teaches us with every movement of his willow. If you think, you can. You do not need to have a near perfect technique of Tendulkar to hit two triple centuries as an opening batsman. You do not need to have the composed defense of Rahul dravid to hit 6 double centuries in test cricket or you do not need the elegance of Laxman to average close to 50 in test cricket.
Virender Sehwag: The teacher and motivator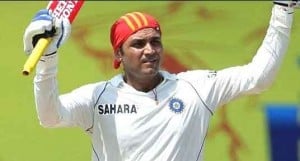 Sehwag taught us to remain what we are comfortable being. His calm and composed attitude instilled the self confidence in each of us. Sehwag's stature as a player is way beyond the stats book. Every effort by him tells a story that only a true cricket aficionado can understand. You need to be different from the crowd to do different things and that's what Sehwag has always told us.
His inning at the international level might have ended. His strength might have desiccated. But one can never forget what Virender always meant to Indian cricket and us. Cricket is a symphony and Sehwag has been the most important sonata of that.
Happy 36th Viru Paa. Even a thought of your persuasiveness can scare the opposition bowler to core. Every boundary from the lot of 26 that you hit to open the Indian innings carry a message that can never be decoded. Long live champion. Cricket signifies you.