Through the tough times and strolling back to glory
Sachin's journey with the gentleman's game was by no means a cake walk. Surely there have been times when he has looked out of sorts. There have been lean patches for the maestro in an effort to prove that he is human as well. One such lean patch I remember would be during 2005-07 which culminated in India crashing out of the 2007 World cup in the first round . Critics came from all corners attacking at the maestro. There were suggestions for the big man to hang up his boots and to retire on a high. But it was not to be, he came back strongly and fluently. Injuries have always been a constant threat to Tendulkar's career. He had fights with back pain and the tennis elbow. It restricted the batsman in him from playing a few shots. Sachin adjusted to the hard part and made comebacks for amusement of many. The greatness is in not falling down, the greatness is in being able to stand up and keep moving forward after every setback.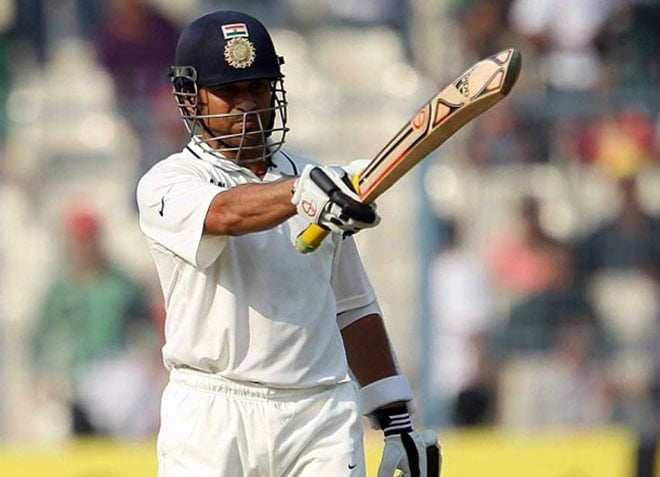 When India left for Down Under in 2008, not much expectations were there on the team and players.The team had veterans in the side and there was little to hope for, but as they say with age comes experience. It's not always the youth that gets successful in sports, there is a reasonable amunt of space for experience as well. When you go into tough conditions like Australia, England, South Africa and New Zealand it is always the experience that comes in handy. who were probably in the last phase of their career. But what followed is history. From a team perspective it may not have been a highly successful outing, but from an individual stand point you could clearly see the difference Sachin Tendulkar made to this team. He was once again the go to man for the team.
If the test series was spectacular what followed in the limited overs was mouth-watering. He was in poor form in the lead up to the final except for a half century against Sri Lanka. It was also a time critics had started questioning his place in the Indian team. But he answered all his critics with two beligerent knocks in the finals. These two knocks would go down in the annals of history and eventually helped India win the Commonwealth Bank series.
The season 2008-2011 saw Tendulkar play some of the best cricket of his life. Tendulkar was up and running once again after the world cup debacle. This was also important from the team point of view as well since India had serious aspirations of lifting the World Cup in 2011. Usually fictions have fairy tale endings, real life stories don't. But here was a boy whom the God had sent to play cricket. When Dhoni's six sailed over long on,a dream which he had cherished all his life was realised. He had received setbacks in his pursuit of the ultimate prize, but thats how cricket is. Its a funny old game with shocks and thrills.
The humility of the great man is another aspect of him which deserves a lot of mention. Over these years he has maintained the honesty and the level headedness which many of the new youngsters lack. He was never overhauled by the celebrity status. His mind was focused on playing good cricket and nothing else could distract him. Any youngster growing up can take a leaf out of his book to be successful in life, let alone the cricket part of it. Sachin's life teaches one and all to be focused on whatever you do and everything else will follow. I thank Sachin for all wonderful memories he has given me as a kid, as a teen and now as an adult. I have effectively grown up with Sachin. My life has never been the same again, I'm still facing difficulties to adjusting life and cricket after Sachin Tendulkar. You have been a true cricketing icon and custodian of the game, 4 years over the legend of the legend still embarks a lot of memoirs in my mind. Cricket in me is dying a slow death after his retirement, I get someone to start enjoying the game like I always used to.