Before the start of the Ashes, a sweet and a simple 5-0 scoreline was predicted in favor of England. It was just because Australians were not in best of their form and their squad lacked experience to face the lethal English team. But these thoughts never matched my expectations. Australians, no doubt were struggling but I was pretty sure that they would fight. And as a result of it, they fought and that too very bravely. Had they not lost too many wickets at the end of the 1st and the 4th test match, the story would had been different. In the third test match, they were very unlucky on the last day as because rain-gods showed no mercy on them. In the last match, they did everything they could to seal a victory. After trailing by 3-0, Clarke didn't hesitate in declaring their 2nd innings which meant that England had to chase down 227 in 264 balls. It was an easy task for England and they did come very close to win that match, but,unfortunately for them it resulted in a draw. Despite of what happened, Clarke took a real gamble. Very rarely, the losing teams take such a gamble after trailing by a huge margin in a series. You really need courage to brave such decisions and that's what Clarke did. Such decisions reflect the character of a captain. A 3-0 scoreline could have been a 2-1 scoreline in favor of Australia if they would have kept their nerves in the two matches mentioned above. But all that has gone should be forgotten and focus now should be towards the upcoming five match ODI series between both these teams.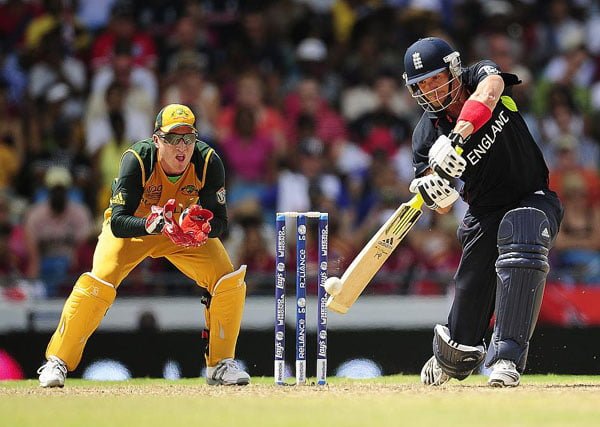 Australians didn't have a good time when they toured England in 2012 for a five match ODI series. They lost 4-0. In the Champions trophy too this year, they again lost to them in the league stage. So to make amends this time, the selectors have gone in with a 18 member squad. I think that selecting 18 players for a particular series clearly means that they still are looking for a settled lineup. But that's not bad because if you are struggling to find a balanced side, you need to have options and that's exactly what they did in the Ashes only. Steve Smith and Ashton Agar weren't in the original Ashes squad. But after the conclusion of Ashes, Smith,more or less has become a regular member of the side and Agar too has made a mark for himself. To have options is good and to have good options is great and the same things applies for the current Australian ODI squad. They have some pretty good names ahead of the five match series.
Michael Clarke(C), George Bailey(VC), Fawad Ahmed, Nathan Coulter-Nile, James Faulkner, Aaron Finch, Josh Hazlewood, Philip Hughes, Mitchell Johnson, Shaun Marsh, Glenn Maxwell, Clint Mckay, Steve Smith, Mitchell Starc, Adam Voges, Matthew Wade(wk) , David Warner, Shane Watson
They have a very good captain and a decent vice-captain. The inclusion of Hazlewood and Marsh can prove to be a very good for them. Hazlewood is a good swing bowler and he can come in handy in these conditions. Marsh, as we all know is a very sweet timer of the ball and can be a very handy option at the top of the order. Fawad Ahmed's inclusion has been a surprising case and it would be very interesting to see that how he performs on this tour.  James Faulkner is a good option as because he is a pure ODI material. He is a very good death bowler and his attitude to never back down from tough situations will come in handy for his team. Philip Hughes is also a very good option. He is a very talented batsman and his talent should be properly utilized in the upcoming ODI's.
MY PLAYING XI FOR Australia

:

1. Shaun Marsh   2. Philip Hughes  3. Michael Clarke(C) 4. Steve Smith  5. Shane Watson  6. George Bailey  7. Matthew Wade(wk)  8. James Faulkner  9.  Mitchell Johnson  10. Clint McKay  11. Fawad Ahmed
Watson's role at 5 is important for the team. If he plays at 5, he can bowl his full quota of ten overs which can allow Australia to go in with only four specialist bowlers. Warner hasn't performed that well in the recent matches so instead of him, they should and must pick Marsh.
As far as England are concerned, they will have their work cut-out. England are going in this series without the services of their five senior players. Cook, along with Bell, Anderson,Broad and Swann are all rested and the only experienced players in the squad are KP, Trott and Morgan who will also be the leader the pack.
Eoin Morgan (C), Ravi Bopara, Jos Buttler,Michael Carberry,Steven Finn,Chris Jordan,Jamie Overton,Kevin Pietersen, Boyd Rankin, Joe Root, Ben Stokes, James Tredwell,Jonathan Trott, Luke Wright.
The squad includes some good names. Michael Carberry has had a good Friends Life T20 and he will be the player to watch out for. Boyd Rankin, the former Irishmen will be looking to make his mark with the opportunities that have come to his door. Finn, in the absence of Anderson and Broad will be the leader of the pack. The decision to drop Bairstow has been very surprising. Jos Buttler has been doing a fine job behind the stumps but he hasn't let his bat do the talking. Bairstow, in place of him could have been a decent choice as because he is a handy customer with the bat and can approach the game as per its requirement.
MY PLAYING XI FOR England

:
1. Michael Carberry  2. Kevin Pietersen  3. Jonathan Trott  4. Joe Root  5. Eoin Morgan(C) 6. Ravi Bopara  7.  Jos Buttler(wk)  8. James Tredwell  9. Boyd Rankin 10. Steve Finn  11. Chris Jordan
There is no need to shift KP in the middle order as because he has done well while opening the innings so I think he should be persisted with. Chris Jordan is another player who will have a chance to prove himself. He is a fast bowler who plays for Surrey. He has shown promise and if he remains injury free(has been injury prone since his first-class debut) then I think he will trouble the batsman with his swing bowling.Overall, I think it will be a tight contest.Australia looks a bit more settled than England and I suspect a 3-2 scoreline in favor of them. This ODI series will a big thing for Australia and if they can play well here, then their confidence ahead of the next Ashes would be great.