Parvez Rasool- Valley's most beautiful flower. The valley and its inhabitants are on a joy ride as local cricket star Parvez Rasool has become the first player from Jammu and Kashmir to join the Indian side. Parvez Rasool has been selected for India's tour of Zimbabwe starting towards the end of July. An all-rounder who has proved his talent with the bat and ball over and over again, Rasool packs a lot of energy and conviction. But it's not just cricket where the man will earn your awe and respect, there's more to this J&K rifle.
Parvez Rasool – Terror Cloud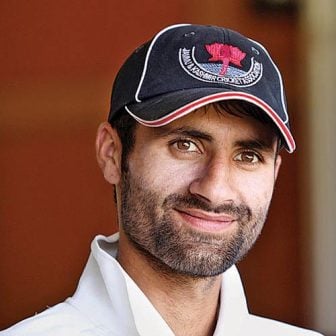 It is perhaps one of the most shameful incidents in the history of police investigation. In 2009, during the CK Nayudu tournament, Parvez Rasool was detained by the Bangalore police on suspected terror charges. The all-rounder was suspected of carrying explosives, a miscalculated allegation which was later withdrawn.
It is interesting to note that such a grave allegation did not deter Rasool's love for the game and in turn his country. He continued to perform leaving behind this incident and working on his game aiming at a spot in the Indian side.
Parvez Rasool- No Liquor Promotion
While playing for the Pune Warriors in the IPL, Rasool did something which not many have the courage to do. Especially when you have just joined the side and are actually working your way up the order. The journey had somewhat just begun and Parvez Rasool used the bat, ball and a duct tape to earn respect and appreciation leaving most veterans shocked in awe. Parvez Rasool covered the logo of an alocholic beverage on his jersey with a duct tape as he refused to promote an alcocolic beverage. At a time when cricket is being viewed not as a game but as a money making machine, Pravez Rasool showed the way by going against the tide.
Parvez Rasool- Record
This season Parvez Rasool was perhaps the most happening all-rounder in the Indian domestic circle. Parvez Rasool scored 594 runs and took 33 wickets clearly announcing himself as a dependable and consistent all-rounder. The right handed batsman has scored 1003 runs in just 17 matches in his short and sweet first class career. Also, Parvez Rasool with his right-arm off break has picked up an impressive 46 wickets with an outstanding economy rate of just 3.04. Also, three five-wicket hauls add to the fact that J&K rifle can get going and not stop until he's done with the entire batting line-up.
THE TEAM
The new entires have been highlighted in bold letters along with the big change of Kohli as captain. Dhoni will not be a part of this side and there seems to be no news of either Gambhir or Sehwag making a much awaited comeback. Also, no Zaheer or Harbhajan in the side. A completely inexprienced yet talented and dangerous looking young unit will arrive in Zimbabwe to engage the minnows. Zimbabwe will have the opportunity of facing the World Champions and the world's number one ranked side with a frightening win percentage of more than 70%.
Indian team for Zimbabwe: Virat Kohli (captain), Shikhar Dhawan, Rohit Sharma, Dinesh Karthik, Cheteshwar Pujara, Suresh Raina, Ambati Rayudu, Ajinkya Rahane, Ravindra Jadeja, Amit Mishra, Parvez Rasool, Shami Ahmed, Vinay Kumar, Jaidev Unadkat, Mohit Sharma.