Is Virat Kohli the right choice for captainship?
One of the hottest questions in international cricket today is who will be the successor after Mahendra Singh Dhoni is done with his captaincy. When talking about Indian team captaincy, be it any format is the world's toughest job. Simply because of the reason that, cricket is a religion in India and people expect more from the men who represent the nation. Dhoni, taking charge as captain of India has done exceedingly well.  India won the ICC Cricket World Cup, T20 World Cup, Commonwealth Bank Series, Champions Trophy under Dhoni, which shows he has been highly successful as captain of India and stands tall among the World's best captains of all time. Former cricketers have hailed Dhoni as the best captain India has ever produced and gone on record to even say that India is extremely lucky to have a talisman like Dhoni. India is already under transition, and last thing India will want is the retirement of captain marvel.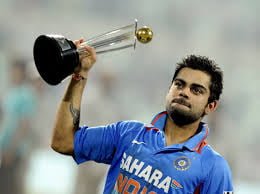 In the hindsight, there seems to be only Kohli who has the advantage of age and reasonable experience to lead team India at the moment. Kohli was the u-19 world cup winning captain and the captain of Royal Challengers Bangalore. He has experience as captain, but if he is ready or not for captaincy is something that demands an appraisal.
Kohli is not the typo guy who keeps his cool in the most tense of situations, or someone who doesn't even pass out a smile on a team victory. Instead Kohli is someone who gets animated 9 times out of 10 and frequently bites his nails under pressure. You could see the pressure in his eyes and body language. One would also see him showing disappointment and shouting at his fielders. He does it all!
Kohli's captaincy is comparable to that of Saurav Ganguly's. He was also animated in the field and shouted at his fielders. But what Kohli needs to learn from Ganguly is that, even when he was arrogant there was a class in that arrogance too. Kohli at the moment shows too much aggression on the field. He is passionate for cricket and to his nation but his commitment crosses the line at times. If he is to be made the captain in all three formats he will have to part ways with his aggressiveness in a way that breaches the laws of ICC. Such a captain will only find time to face bans and put his country in disarray.
Kohli needs to make use of the opportunities he gets in the wake of injuries to Dhoni during the Tri-nation series in the Caribbean and also the Zimbabwean tour to follow afterwards. Kohli will need to prove to the selectors that he is their best man for job after M.S. Dhoni. It will be toughest challenge he has faced. With additional responsibilities, certain people tend to give up on their batting. We have seen players like Sachin Tendulkar and Saurav Ganguly being out of form for long periods in their tenures of captaincy. He will need to show that captaincy hasn't affected on his batting, and play his natural game.
Another challenge which Kohli will need to learn is handling the bowlers well. At the moment, he doesn't know to handle his bowlers as well as it is expected. He has a mentor in Dhoni, who handles the bowlers exceedingly well creating a mix between the premiere bowlers and the part-timers.
Kohli is bound to have early setbacks in his role as captain, and that is why it is essential that he gets the support of fans and other players especially BCCI. He is young, has got rooms for improvement and is a very quick learner. So why not nurture him to be the next captain just like Clarke was mentored by Ponting ?
A year ago, people would have agreed with me. But now Dhoni has turned the tables in his favour with the help of coach Duncan Fletcher, who had been a great source of support during difficult times. But now, it is not affordable for a change in captaincy. The team is going in the right direction and the exploits in the Champions Trophy was a proof of that. India has passed the stage of transition at least in the limited over set-up. Dhoni should lead India in the 2015 World Cup in Australia and calls for making captain should begin only after that. Till then, let Kohli plunder runs at ease like he did against West Indies last night and of course, have spells of captaincy in between these 2 years.