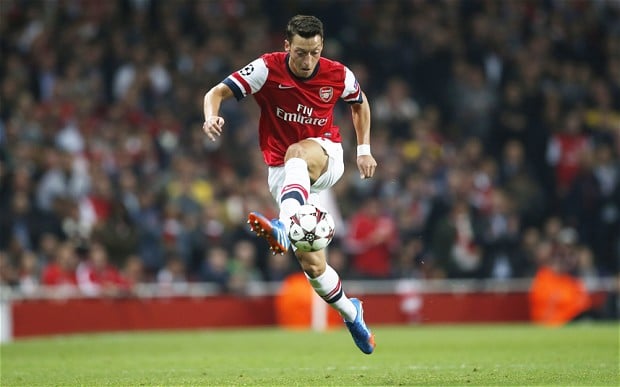 Arsenal face Borussia Dortmund today night as they kick off their Champions League group with a  difficult  fixture. With Arsenal being away and Dortmund being a very strong side, many would be happy to see the Gunners coming away with a point from this game. Up front Danny Welbeck and Alexis Sanchez are nailed on to start but it has been highly rumoured that  Ozil will  be 'rested. Wenger certainly has options should he wish to do that. He could bring in Lukas Podolski or Alex Oxlade- Chamberlain but in hindsight  I would suggest that Ozil should start. The Gunners boss has shown he likes to play out-of-form players in order that they might drag themselves in to some sort of form.
However here are the three reasons why I think that Arsenal can defeat Borussia Dortmund in Champions League clash.
1. Arsenal are unbeaten in their last six trips to Germany.
The Gunners have a very good away record in general, but in
Germany it's very good. They've not lost in their last six trips
to Germany, and considering that's included a couple of games against Bayern Munich and Borussia Dortmund, that record looks even more impressive. Arsene Wenger knows how to tactically approach such difficult fixtures. Arsenal cannot afford any passengers on Tuesday night against a committed Dortmund side who have injury problems of their own.
2. Alexis Sanchez is on fire.
The £33m man was given a warm welcome by the Gunners
faithful as he started his first game for the club against Monaco on Sunday. He couldn't help them lift the Emirates Cup – but the former Barcelona star already has his sights set on much bigger things. Alexis kicked off his goalscoring run by putting Arsenal into the Champions League group stages when he netted against Besiktas. Since then he has scored twice in the Premier League, including a spectacular goal against Manchester City on Saturday. He's on great form and keeps popping up with decisive goals, Wenger will hope he can make the difference once again on Tuesday. Sanchez said: "What is important for me now is to try to play games, to score as many goals as possible and to win titles."
3. The Gunners are packed with pace.
Pace is always useful, but especially in away games. Arsenal
are rarely pushed back into their half by opposition but Dortmund have the tools to do that. Whilst being in your own
half is dangerous, it also presents an opportunity. If Arsenal can get the ball to their quick players like Alexis, Danny Welbeck and Alex Oxlade-Chamberlain, they can counter extremely effectively. Whilst Theo Walcott is yet to return, Arsenal still have plenty of pace in their armoury to hurt Dortmund.