Sanju Samson, the 18 year old kid hailing from Kerala has been making news in the cricketing world for the past 6 months. He has become a household name ever since he made his debut for Rajasthan Royals in IPL 2013. When he first came out to bat, my first impression was how could this not so muscular kid battle the likes of Sunil Narine, Lasith Malinga, Dale Steyn and the other fierce bowlers in the IPL. But he made me re-think the decision.
On his very first match for the Royals, he was in thick of action. The 18 year old wicket-keeper batsman from Kerala effected a catch which was something out of this world to dismiss Rajagopal Sathish and then an excellent run out behind the stumps to remove Praveen Kumar. From these two, he proved he had a great presence of mind behind the stumps and he didn't have any nervousness whatsoever to take that brilliant catch. He did not end his exploits there, he showed his batting expertise when the team were struggling at 79/4 and saw the team through scoring 27 runs off just 23 deliveries. This innings was only a sign of things to come. He scored 206 runs from just 11 matches and thrilled not just the Royals fans but all the cricket critics. When you see certain batsmen bat who belong to the orthodox style, you feel a kind of grace with those players. And such a guy is Sanju Samson.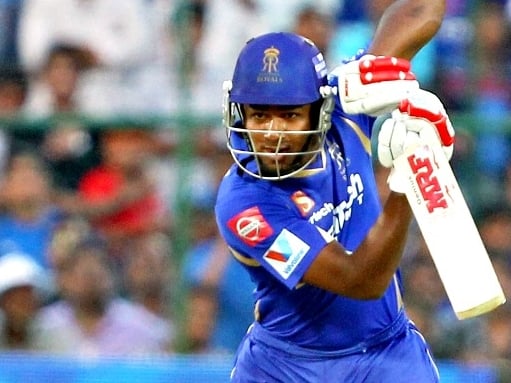 After the IPL, Sanju was selected into the India u-19 team as vice captain of the team. He came up with some substantial knocks to justify his selection. In IPL 2013 he got the 'Nayi Soch' award for his exploits with the bat and gloves. After that we got to witness the wonderkid in action again for the ClT20. He was nothing short of prolific in the whole tournament scoring a remarkable 60 off just 33 balls eve with his orthodox strokeplay.
One thing that is likening of Sanju is his ability to absorb pressure and apply himself to the situation. It is an attribute which doesn't come in a day. It takes a lot of hard work and the requisite amount of experience to be someone like that. But he is just an 18 year old!
Sometimes you have talent and it often doesn't recognized. When talent meets opportunity, the lines inscribed on the IPL trophy – sums up his stint with the Rajasthan Royals outfit.
Sanju has what it takes to perform at the top level. Sanju just needs to keep the basics right and work with zeal for earning his ultimate dream, the India cap. He should not be another "successful failure" as has been the case with others. With all the celebrity status he will enjoy in the future if he stays humble and simple he will surge ahead with time and write his name in the annals of history.