Calm and aggressive, defensive yet attacking … the man needs no introduction for he is the one who has contributed heavily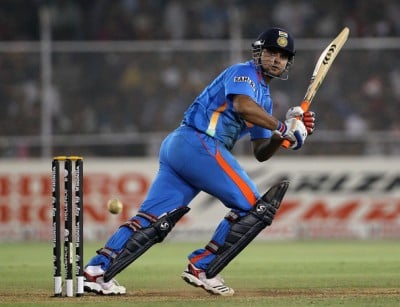 towards the series win against England. An achiever beyond doubt, a man who has a clear idea as to what the people expect from him, a true team player and an exceptional all-round performer Suresh  Raina or more appropriately Suresh "Rescuer" Raina
The silent killer has done most of the damage in the ongoing series , both with the bat and through his exceptional fielding skills.
Suresh Raina has scored a chilling 194 runs in three innings at an average of 97 with a rich strike rate of 94.17
He has provided those vital partnerships which have helped the team win matches one after another. With this, now India has someone who will support Dhoni in the lower middle order as a finisher. We have seen in the past that once Dhoni fails, the team crumbles and fails to reach the required score. But with Raina pairing up with Dhoni, even Dhoni can afford to get a bit adventurous and play more openly.
Raina has been more than amazing when it comes to sub-continent conditions. But the strider loses pace once in foreign conditions. This is where Raina will have to improve. His weakness against the short ball and his inability to deal with flat and fast tracks can be a huge problem for the Indian middle order. The team needs him to work on these weaknesses so that India can tour nations with a strong and reliable lower middle order.

Raina has scored at an average of 49.53 over the last 12 months and has scored seven fifties in this period. His development as a reliable middle order batsman has helped the team and provided Dhoni a suitable partner. After the first ODI, Dhoni clearly stated that Raina's dismissal was ill-timed and that cost them the match. Dhoni also said that only if he and Raina had managed to stay out there for a few more overs, they would have ensured an Indian victory.
All said and done, now we wait for the fifth and final ODI at Dharamshala, where the cold weather will add to the testing conditions of a one day game. Raina has hit three half centuries in a row and we all hope for the fourth one to be scored at HPCA Stadium, Dharamshala on 27th January, 2013. Hoping for another emphatic Indian victory, see you at the Lama's abode.