After the brilliant match winning knock against England a question that is buzzing in every Indian Cricket fan's mind Can
Rohit Sharma
succeed as an opener in the long run? Not much ago
Rohit Sharma
was ridiculed as "Maggie man" by some fans. Let's have a look at the prospect of
Rohit Sharma
as an opener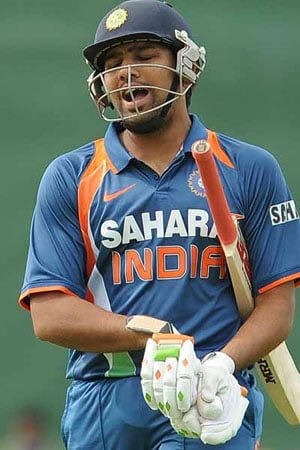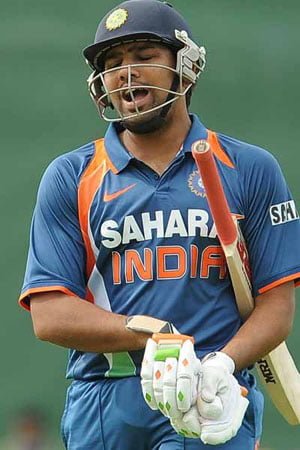 Prospect of Rohit Sharma as an opener
Virender Sehwag was dropped from the squad and his replacement Ajinkya Rahane too failed to impress the skipper MS Dhoni. With Gautam Gambhir becoming more inconsistent the team management is having some headache to find a perfect man for the opener's slot. They started to experiment with Talented but consistently failing  Rohit Sharma made to open the innings with Gambhir. The decision paid off  as Rohit Sharma scored a match winning 93 ball 83 which laid the platform for Raina to finish it off in style. Rohit Sharma also shared a match winning 4th wicket partnership of 68 from just 51 balls with Raina which made the team avoid some further hiccups in the middle overs. With Rohit Sharma grabbing this opportunity with both hands, can he open the innings for a longer run?
SACHIN TENDULKAR played his first 74 ODI's as a middle order batsman. It took 82 innings for him to score a ODI ton.But now he is one of the greatest opener in ODI's. Same can be said of VIRENDER SEHWAG who made his debut as a middle order batsman and now he is one of the dangerous opener in all forms of the game. Even the likes of TILLAKARATNE DILSHAN and SHANE WATSON struggled as a middle order batsmen but once they were given the opening position, they became one of the most destructive openers for their respective country in current era. David Warner played as a middle-order batsman for Australia U-19 and New South Wales till the inception of T20's. And now he is a nightmare for all the bowlers irrespective of the format.
If Sachin, Sehwag, Dilshan, Watson, Warner can do this why can't ROHIT SHARMA? I personally feel that ROHIT SHARMA should be given an extended run as an opener. It will also allow the likes of  Manoj Tiwary, Ambati Rayudu to play in the middle order. Also that India are facing their transition period and Virender Sehwag and Gautam Gambhir not in the best of form, some experiments have to be done for the openers slot. With the likes of M.Vijay, Abhinav Mukund, Shikhar Dhawan, Jiwanjot Singh waiting in the wings the competition is harder for Rohit Sharma to cement his spot in the team. COMPETITION CAN BRING THE BEST IN EVERY ONE. Lets hope that it applies  to the talented young man.