The statistical highlights from India vs  England 4th ODI at Mohali.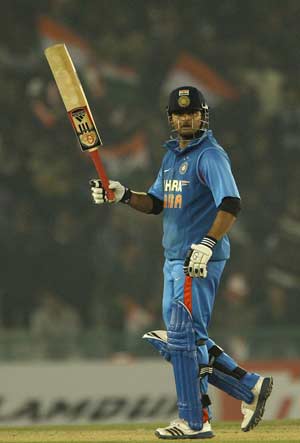 # Suresh Raina has received his ninth Man of the Match award in ODIs – his fourth against England.
# Raina is the first batsman to record three fifties – all in successive innings  – 50 at Rajkot; 55 at Kochi and 89 not out at Mohali. With 194 runs at an average of 97.00 in only three innings, he is the leading run-scorer in the present series.
# Raina's tenth half-century against England in 26 ODIs is his 27th in ODIs.
# Raina's supeerb knock is his highest against England in ODIs, eclipsing the 84 at Lord's on September 11, 2011.
# Under Mahendra Singh Dhoni's captaincy, India have won 77 and lost 46 out of 134 contested in ODIs (NR 8 & Tied 3) – winning % 62.30.  He has bettered Sourav Ganguly's tally of 76 wins in 147 matches.  Only Mohammamd Azharuddin has recorded more wins (90 in 174) than Dhoni as an Indian captain.
# For the first time in India, India have won four consecutive bilateral series against England – 5-1 in 2005-06; 5-0 in 2008-09; 5-0 in 2011-12 and 3-1 in 2012-13.
# India enjoy 100% record at Mohali, winning both their games at PCA Stadium on October 20, 2011 and January 13, 2013.
# Alastair Cook has taken his runs' tally in the series to 185 at an average of 46.25 – the highest by an England player.
# Cook (76 off 106 balls) has registered his 15th fifty in ODIs – his sixth against India.  The said innings is his highest score in ODIs in India, bettering the 75 at Rajkot on January 11, 2013.
# Cook and Pietersen were involved in a stand of 95 – England's highest for the second wicket at Mohali.
# Kevin Pietersen's brilliant innings of 76 off 93 balls is his eighth fifty against India – his 24th in ODIs.
# Ravindra Jadeja, with eight wickets at an average of 14.50, is his best performance in a series in terms of averages.  He is the leading wicket-taker for India in the present series.
# Joe Root (57 not out off 45 balls) has registered his maiden fifty in ODIs.
# Rohit Sharma (83 off 93 balls) has recorded his first fifty  against England – his 13th in ODIs. The said knock is his first fifty as an opener in ODIs.  Since recording 95 against the West Indies at Ahmedabad on December 5, 2011, Sharma has posted his highest score in 16 innings.
# In the course of his aforesaid knock, Sharma has completed his 2,000 runs in ODIs – 2061 at an average of 31.22 in 87 matches.
That all from the statistical highlights of India vs England 4th ODI. Keep visiting this space for all the latest updates of cricket
Source : NDTV