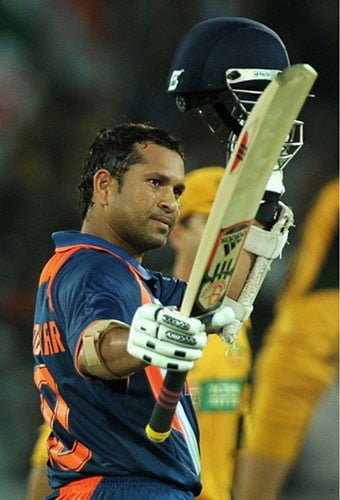 It has been just a little more than a month since that guy said, "I am done". Yes that guy who when held the cricket bat in his hand for the first time, the bat must had gotten the goose bumps. And when the ball used to come to that bat with a speed more than 150 kph it would have been praying to God. Oh wait ,God!! How could that guy hear to its prayers when he himself was the reason for the prayers. Yes ! no awards for guessing the guy I am talking about. I was about 6 years old when I heard a voice in my home ," Sachin ko bowling do. Wo kar dega out ". That was the first time I heard this name – Sachin Tendukar , yes Sachin Tendukar ! not Tendulkar. I don't remember that match anymore but first feeling of Sachin  was as a bowler for me. Though it only lasted for few months when I first saw a little boy with a thick stick in his hands beating a round object like that object has done any sin. It was the same guy who later showed the world that dedication, passion and talent together can do wonders.
I was among those billion fans who cried his heart out when someone said to me," Sachin Tendulkar has retired from ODI".
I literally slapped him thinking that he must be joking and I hated such jokes which could cause attacks on the heart. Then he showed to me the proof and I was numb. Yes numb like the billion of other friends of me who belonged to same religion -Sachinism.
Tendulkar's decision to retire itself was a very intelligent decision. It showed his desire to keep playing the cricket at the highest level. Don't be amused. I will explain the point to you. Remember the situation during the last test series against England both at home and away. Indian team was struggling like the way Bangladesh use to struggle against Australia. Yes none of the players were playing with confidence. And sadly I would have to add Tendulkar in that list of struggling ones. Actually none of the players could be left out from the list.
And hence people started demanding Sachin's retirement from tests, yes tests not ODIs . And it put down immense pressure upon him. Which we could see in his performance. But in ODIs he was playing like almost close to his natural game if not exactly. Remember his last innings, it was a superb half century against Pak. And he was giving the signs of high retirement from ODIs by playing selectively. But that showed how keen he was to revive India's fortune in longer version by concentrating upon Tests. And by then we found a new hero in Virat Kohli who was talking in centuries and was winning ODI games for India like he was playing school boy's cricket. And even our team was not doing that bad in ODIs as it was doing in tests. Though we lost series in Eng but the overall performance was not that bad in compare to tests. In Aus and Asia cup too we showed the glimpses of the mighty India. So the team never felt the need to play Tendulkar that badly in ODIs. So Tendulkar choose the shorter version to hang boots and hence silenced those millions who were demanding his retirement. His retirement from ODIs has ensured that he will face much less pressure in tests now in compare to the Eng series. Because his retirement must would have caused few tears to roll down even from those who were demanding the same. And now even they must be feeling the absence of joursey no. 10 from the Indian dressing room. Thus Tendulkar showed his intelligence by retiring from ODIs and hence keeping the hope alive in the longer version as we all know how important it is to have that old Tendulkar back in the tests because seeing the current scenario only Sachin Tendulkar is capable of showing the team the right way. And thus he showed how "Country comes first for him, before his individual performance". Otherwise it would have been an easier option for him to retire from tests and keep playing ODIs in which he was playing so good.
Now being a worshipper of him I would love to have a last glimpse of him in the colored attire which I think is not practically possible because BCCI won't do this, I am sure. But until he is playing test cricket I would keep standing outside the road side stalls to watch the master bat. I would keep making excuses to be absent from my classes to watch master hit that red-round cherry straight down the ground. I would keep pleading to my mom to leave her daily soaps for a while and allow me to watch the match. Tears would keep coming out of my eyes every time I see that 5'5″ tall giant standing on the field with his bat in his hand. I would keep being awake for whole night to wait for the match to start to watch Tendulkar bat when he will be playing in SA. And last but not the least I will keep feeling proud to breathe the same air which he is breathing  and to be the citizen of a country which gave birth to my GOD. Though if allowed I could keep writing about the master for my whole life, I will have to sign off with this statement-
"Sachin Tendulkar !! thanks for all you gave to us. We are too selfish to give back something to you in return. But I promise to you that till I am alive you will be there in my dreams.You were the reason for a smile on the face of billion of Indians at an instant. Now please keep smiling throughout your life."