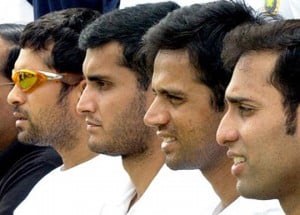 In the aftermath of their test series defeat to England and Australia a year ago and a shocking series to England in our own Fortress, there have been common phrases and words uttered about where Indian Cricket is at. The most significant one is the phrase that the Indian side is 'in transition'. This  phrase ( transition ) basically implies that after the stalwarts of Indian cricket (SOURAV GANGULY,  ANIL KUMBLE, RAHUL DRAVID, VVS LAXMAN, SACHIN TENDULKAR) retired in the 2008-12 period. It would be a challenging transition period where faith would have to be placed in raw, younger talent and patience would have to be shown before India could hope to have another great era like the 1996-2012 period.
According to this theory it means that after 2-3 years of being in ' transition ', India should be fielding an improving side comprised largely of young, developing players that are starting to gain self-belief required to be top-class cricketers, backed up by a handful of older players providing stability and leadership

.

The ODI team is revamped and looks settled without these legends with the likes of skipper MS Dhoni, Virat Kohli, Suresh Raina,Yuvraj SIngh, R. Ashwin , Bhuvneshwar Kumar taking up the responsibilities in order to prevent yet another disaster in Indian Cricket. But the Test team is going to the dreadful Transition Period which means almost every slot in the playing XI is up for the grabs. With Sachin Tendulkar expected to call it a day from the longer version after the tour of South Africa in late 2013 and except Cheteshwar Pujara and Virat Kohli who were doing good in the sub-continent conditions and were yet to be tested in foreign conditions, it looks like the team will be suffering a lot during this transition period. Teams around the world have faced this period and not everyone came back with a bang.

Lets jump to the West Indian Dominance in the 1970's and 1980's. Then it was a nightmare for the teams to tour the caribbean islands. Rohan Kanhai sowed the seeds for a bright future for the Windies cricket. In the next 2-3 years they had a Devastating opening combination of Gordon Greenidge and Alvin Kalicharan, trio comprising of Sir Viv Richards, Sir Gary Sobers Clive Lloyd and Jeffery Dujon to stabilize innings and a battery of towering Pace bowlers who clocked 150 kmph consistently. Their bowling attack with the likes of Micheal Holding, Malcom Marshall, Joel Garner, Andy Roberts and Colin Croft gave their opposition batsmen some sleepless nights. They won two consecutive World Cups in 1975 and 1979 and humbled in the finals of the 1983 World Cup by under dogs India. They went on to dominate the world cricket till the late 1980's. During the early 1990s, the West Indies team was still reeling from the retirements of players like Jeffery Dujon, Clive Lloyd, Gordon Greenidge, Malcom Marshall, Joel Garner and Micheal Holding and when Sir Viv Richards retired in 1991 it was an end of an era. This left a youthful and inexperienced side. The likes of Brain Lara, Curtly Ambrose, Courtney Walsh, Shiv Chanderpaul, Carl Hooper tried their best for their revival of Windies dominance. They preferred to go with the old and experience players ahead of some younger players and failed to experiment with their  squad. Still in 2013 they were in search of some good fast bowlers.

Now lets look at a contrasting tale of a team during their Transition period. The Aussies were a force to reckon with from the late 1990's with Matthew Hayden, Adam Gilchrist, Ricky Ponting, Waugh Brothers, Shane Warne, Glenn McGrath adding values to their side. After the retirement of Waugh brothers in 2002, Ponting was given the captaincy and took the team to greater heights. They won three consecutive World cups in 1999, 2003, 2007. Every thing went well till then. By 2008 they were without their key players with all the mentioned names (except Ponting) retired in a gap of 1 year. That left them in a critical transition period. Ponting too was ageing and the captaincy was given to Micheal Clarke after their disastrous 2011 World cup. Clarke with the help of Ponting and Mr. Cricket Mike Hussey successfully revived their team by experimenting with some fringe players. Search for Hayden's replacement was answered with a man whose batting techniques resembled him. David Warner has now became a regular opener for Australia in all forms of the game. Just a stat made by me from which i came to know that nearly 20 pacers made their debuts after the retirement of McGrath, 5-8 spinners made their debut after the Warne era and 5-6 Wicket Keepers fight among them to Replace Adam Gilchrist who redefined the term wicket keeping in cricket. In the batting front nearly 30 players made their debut in this period of 3-4 years. Now even after the retirement of Ponting and Hussey the teams looks strong. They phased out their transition period in the best possible way.

The Windies failing to experiment in their transition phase and had faith in their old players were still struggling. On the other hand Aussies experimented with their fringe players in their transition phase and their skipper trusted their younger players can carry the team forward has paid off. Now with India facing their transition period i don't think they can succeed in Test cricket for the next 4-5 years. The biggest disappointment about the Indian Test side in the last 2-3 years hasn't been their decline in performance but their unwillingness to take the plunge on a new generation of players. On almost every occasion in that period when confronted with a choice between a young and old player, they have gone with the supposedly safer option of the older, more experienced player rather than giving a youngster a chance to prove himself for the future. Sourav Ganguly called it a day in 2008. Still now the no. 5 position is not cemented by anyone with the likes of Yuvraj Singh, Suresh Raina were given an extended run and failed to impress. But now Virat Kohli seems to have cemented it. Under the current selection process the replacement for one spot took nearly 5 years to deal with. Just imagine how much years will it take to replace Dravid, VVS, Sehwag and Sachin.

One only needs to compare how Suresh Raina and Subramaniam Badrinath have been treated in Tests. Raina with a first class average of 41 has been prefered over Badrinath whose first class average is 60. Instead of giving players extended run, the selectors should consider giving chances to some players who were warming the bench for a long time. The selectors should be bold enough to drop the non-performing players and should give chance to other players to prove their worth. India's bowling too is a matter of concern. With both Zaheer Khan and R.Ashwin struggling to find their rythm back the selectors should not hesitate giving chances to Bhuvneshwar Kumar, Shami Ahmed, Sandeep Sharma, Rahul Sharma, Amit Mishra, Piyush Chawla etc. Now the onus is on the selectors to take some wise decisions before the Australian series scheduled to take place in a month's time and look to take the team forward in the future. Here I wish all the Indians a Happy Republic  Day and wish the team for a better future.