Highest Individual Scores in World Cup
Every 4 years cricket fans around the world eagerly wait for the big bonanza of one day international cricket – ICC Cricket World Cup. The inaugural world cup was held in England – a cricket driven country. But then it was won by West Indies who were the dominating team back then. They followed it up with another World Cup trophy in 1979 as well. It was a bowler's game back then with the likes of Roberts and Holding, where some great bowlers donned the roles for their respective teams. From that era to being the era of some really great World class batsmen has seen quite a good number of batsman decimate opposition team bowlers.
Cricmatez looks at the top 10 batsmen with highest individual scores in Cricket World Cup :
10. Imran Nazir (Pakistan) – 160 vs Zimbabwe
One thing that Imran Nazir has been consistent with all through his career – Inconsistency. He was one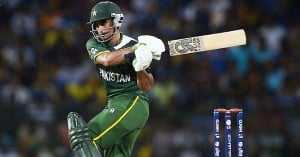 of the few good openers Pakistan used to have. Imran Nazir always knew one word of defense – attack. But he failed to use his logics or simply failed in controlling the temperament. Imran Nazir was a swashbuckling batsmen, where there was a time when his quickfire 30s and 40s made a lot of difference. He is no.10 in the list. He scored a mammoth killing knock of 160 against Zimbabwe in a group game encounter in the 2007 Cricket World Cup. He made a complete mockery of the Zimbabwean bowlers, on a day that pretty much belonged to him. He was fortunate enough to have end his career on a high with a scintillating hundred. He was always in and out of the team, every time he came back he could not keep up the pace. Imran Nazir always deceived the bowlers with his physical appearance, for a man who was very short and lean he packed a punch. He always found happiness in carting the Indian bowlers to the fence. In what would have been an extra-ordinary career, ended as an ordinary career.