4. Sir Vivian Richards (West Indies) – 181 vs Srilanka
Sir Vivian Richards is no.4 on the list and rightly so. One of the most feared West Indian batsman,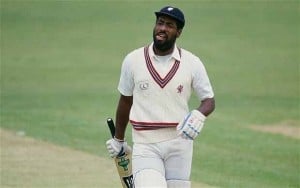 finds a place in the list by virtue of his scintillating 181 he made against Srilanka in 1987 Cricket World Cup. This innings he played has to be one of the best in his illustrious career. Not for the runs he made, but the situation in which he played the knock. West Indies started the 1987 World Cup rather poorly after a first match loss against England and against Srilanka they were struggling when Sir Viv came on to bat. He started rather cautiously getting to his 50 off 62 balls, and then started the carnage. He belted the Lankan bowlers who were no match in front of his greatness. He was amazingly strong, and never wore a helmet ! Vivian Richards was so destructive that he never ever had a weakness, strong front foot and an eye of a tiger. The deadliest of bowlers were in awe of the great legend, for they knew to stop him was to keep him at the non-strikers end.