On this day : 25 March 1992 World Cup Final was held in Melbourne Australia Let's relive the moments:
1992 world cup final 
5th World Cup called as Benson & Hedges World Cup 1992 was hosted by Australia & New Zealand. The First World Cup to feature Colour clothing & white ball was used against black sight screen to give better vision to a batsman. 1992 World Cup saw a complete change in format from 2 qualifying groups to round robin stage. Where two group each consisting of 4 teams were replaced by round robin in which each team has to play against each other & the top 4 team will qualify for semi-finals. There were total 9 teams participating. At the Opener New Zealand caused the first upset by beating defending champion Australia convincingly in Auckland. Captain M.Crowe scored  century in the opener setting a momentum for New Zealand who went on winning first 7 of their match in Round Robin stage of World Cup. New Zealand lost their 8th & final match of round robin stage to Pakistan.
Pakistan's batting :
England, South Africa, New Zealand & Pakistan qualified for Semi Finals. First Semi Final was held between Pakistan & New Zealand in Auckland where Pakistan won high scoring game by 4 wickets Thanks to Inzamam Ul Haq's quick 60 runs in 37 balls which won him player of the match award too. It was only second instance where New Zealand lost a match in World Cup & both were against Pakistan. Second Semi Final were more of drama in rain hit match which caused South Africa to lose by 19 runs. (Read Here).England was hot favourite to win 1992 World Cup. England bowled out Pakistan for 74 in round robin stage. Due to rain the match was abandoned after England's 8th over & both team shared 1 point. This actually came as a blessing in disguise for Pakistan which helped them to qualify for semi-final over defending champion Australia by 1 points which they were losing quite easily to England. Match started much like there first encounter where they struggled against England bowler. Pakistan lost both openers quickly at score of 26. Aamir Sohail & Rameez Raja both were trapped by Derek Pringle's out swinger to individual score 04 & 08 runs respectively. Pakistan's skipper "Lion Heart" Imran Khan joins ex skipper Javed Miandad to anchor the sinking ship of Pakistan. The most experienced Pair in Pakistani batting line up. England was having an upper hand & they did have a chance to hold Pakistan further low if Imran was caught by Gooch at 9. Gooch dropped catch of Imran Khan who later did the much damaged. At the time of half overs, Pakistan had scored only 70 runs by losing both openers. England did a great job with new ball however, they failed miserably with old ball in second half of the Pakistan innings. Where they let Pakistan score 179 runs in the next 25 overs. Imran scored 72 runs & Miandad scored 58 runs. Partnership was of 139 runs which led the foundation for Pakistan's lower middle order batsman & inform Inzamam Ul Haq. As expected Pakistan's lower middle order played briskly. Inzamam with promoted Wasim Akram scored crucial yet ruinous runs for Pakistan. Inzamam made 42 of 35 balls & Wasim scored 33 runs of 18 balls coming ahead of Salim Malik, Ijaz Ahmad & Moin Khan. Pakistan finished there inning at 249 runs, setting 5 runs per over for England to life the World Cup for the first time in their third attempt. Derek Pringle finished his spell of 10 overs with 3 wicket for 22 runs which includes 2 maidens & 8 extras.
England's Batting :
Imran Khan who was suffering from shoulder injury was replying on young gun Wasim Akram & Aaquib Javed to damage with new ball. Wasim Akram bowls to inform Ian Botham, Botham is yet to open his account. It pitched exactly on the off stump line and a swinging delivery it is, the ball angles away from Botham, Botham nicks it back and Moin Khan pouches the ball in air. Ian Botham looks distress, shaking his head in disagreement with umpires leave the field on Duck. Soon Javed gets Stewart when England were just 21.Moin Khan drop a tough catch of Gooch in 9th over of the game. Captain Gooch was stranded alone on the Cricket field when Youngster Mushtaq's googly gets Graeme Hick trapped for LBW. Gooch was slow in his inning & he was over cautious playing with Strike rate of less than 45 trapped by Mushtaq Ahmad for 29 runs leaving England 69 for 4 in 21 overs. England fans are disarray. 73 runs stand between Neil Fairbrother and Allan Lamb put some fight for England's chase before Wasim Akram was called back for another spell in 35th over. The decision to give ball to Wasim turns the table for Pakistan. Wasim bowls a marvellous delivery coming round the stumps and dislodged wickets of Lamb completely to hear from Richie Benaud's -" Allan Lamb has been cleaned up, perhaps so too have been England". What a magnificent ball that was by Akram to Lamb". England's hopes shattered as Lamb leaves ground, the next man in is Lewis. Wasim bowls a full delivery to produce the same result as a previous delivery & bowled Lewis for golden duck. England 6 down for 141. Regular wicket kept England in check & they never recovered from thereafter. Fairborther played a good knock of 62 runs in 70 balls before getting caught behind to Aquib Javed at the score of 180. There seems no stings in tail of England. Imran Khan wrapped up the English innings in final over of the game by wicket of Richard Illingworth. England are all out for 227 runs in final over of the game. Pakistani players are celebrating their first World Cup win.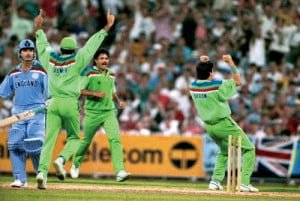 Man of the Match
Wasim Akram
10-0-49-3, Wasim Akram's figure after the World Cup final in Melbourne which does not show a true picture. Wasim Akram without a doubt was a player of the match. His Swing bowling was spell was full of skill & hard work. He had taken three crucial wicket of England batting line up starting from aggressive Ian Botham, and then in his second spell he took a wicket of Allan Lamb & Chris Lewis in consecutive delivery. Wasim came back with reverse swing in his second spell & bowled beautifully giving no room to any England batsman.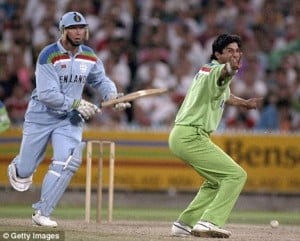 World Cup Glory
It was autumn in Melbourne, a perfect day for Cricket. Though, Australia hosting final didn't qualified for Finals. Despite that the crowd attendance was 87 thousands. Pakistan fans welcomed there cricketer at home after their surprising win in Australia-New Zealand condition. Half of the players in team was playing for the first time in ANZ soil. And right before tournament start Waqar caught an injury. Despite all, Pakistan came as a winner in Benson & Hedges 1992 World Cup Final. The Young guns particularly, Mushtaq Ahmad, Inzamam Ul Haq, Moin Khan & Wasim Akram performed really well under supervisory of Imran Khan. Javed Miandad & Imran Khan led team well. Imran Khan with his Lion Heart performance stun whole world with his leadership.