ICC Champions Trophy 2013 : India vs South Africa Statistical Highlights
India and South Africa played the first match of the final edition of ICC Champions Trophy at Cardiff on 6th June 2013. The two favorites of the tournament played their best and finally it was India who registered a win. South Africa won the toss and put India to bat. India managed to score 331/7 in their 50 overs with a century from Shikhar Dhawan. South Africa could score only 305 runs in reply. India won the match by 26 runs and earned two points in the first match of the tournament.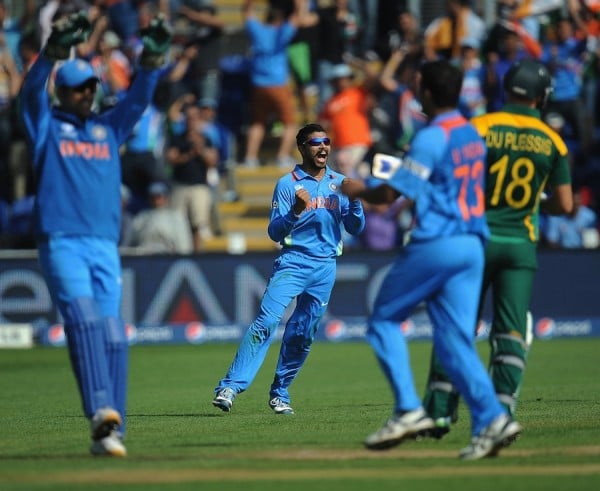 Lets have a look at the Statistical Highlights of this match
Indian Innings Highlights
# In this match both captains were also the wicketkeepers, AB de Villiers and MS Dhoni. This is only the 39th ODI in cricket history where 2 keeper-captains played.
# The opening pair of Shikhar Dhawan and Rohit Sharma is the 127th Opening pair for India in ODIs. Interestingly, they added 127 runs for the first wicket.
# Rohit Sharma scored his 14th half century in ODI Career. He scored 65 runs off 81 balls with 8 fours and 1 six.
# Today's half century was Rohit Sharma's maiden fifty against South Africa. 
# Rohit Sharma scored his 11th fifty outside India. He has scored only 3 50s in India. Also his 2 ODI hundreds have been in away venues (at Bulawayo)
# Rohit Sharma was opening 6th time in his ODI career. He has scored 2 half centuries while opening. The other half century was against England when he scored 83 at Mohali in 2013.
# Shikhar playing his 6th ODI match scored his Maiden ODI hundred. He completed his century of just 80 balls.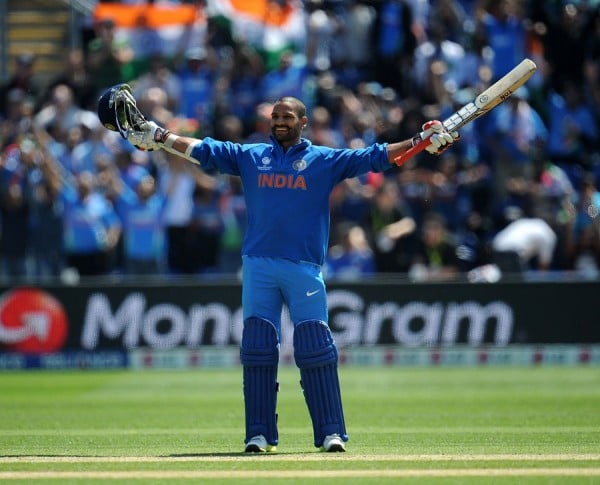 # Shikhar Dhawan also scored his maiden test century in 85 balls, thus becoming only the 3rd Indian to score their Maiden ODI and Test Hundreds within 100 balls. The other 2 are Kris Srikkanth and MS Dhoni.
# Shikhar Dhawan's century in 80 balls is the joint second fastest hundred by an Indian against South Africa. The fastest hundred for Ind vs SA is in 68 balls by Yousuf Pathan and 80 balls by Sanjay Manjrekar.
# Rohit Sharma during his innings of 65 runs hit his 25th six in ODI Career. And became only the 18th Indian to his 25 or more sixes in ODIs.
# Shikhar Dhawan became the 5th Indian to score a hundred in Champions Trophy. Others are Sourav Ganguly, Sachin Tendulkar, Virender Sehwag and Mohammad Kaif. Ganguly is the only Indian to score more than one century in Champions Trophy.
# Shikhar Dhawan became the 33rd Indian to score an ODI ton. Only Australia has more century scorers (37).
# Among the other 32 Indians who have scored a century, 11 did not score any further centuries in their career.
# The last time an Indian opening pair put on 100+ runs for the first wicket were Sehwag/Gambhir. They added 176 runs for the first wicket against West Indies at Indore in 2011.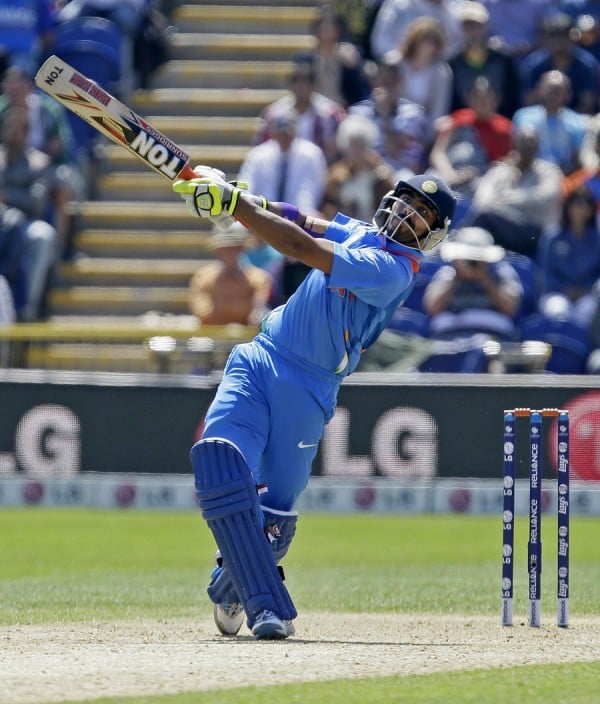 # Ravindra Jadeja scored 47*(29) which is his first score in 40s in ODI career. He has 6 fifties and 2 scores of 39 and 38 each.
# 2 South African Bowlers Lonwabo Tsotsobe (2/83) and Rory Kleinveldt (0/81) conceded more than 80 runs. This is 4th such occasion for SA in ODIs and second against India.
# Tsotsobe's 83 runs are the third most runs conceded by a bowler in Champions Trophy match
# India's total of 331/7 is the highest total at this venue. They overcame their 304/6 vs Eng in 2011.
# This is the 72nd time India has scored 300+ in an ODI, a record by any team. Next are Australia with 67 300+ totals.
South African Innings Highlights
# Hashim Amla in his last 3 innings against India scored 64, 116* and 61 runs. But today he was dismissed on 22 runs in this match.
# Like the new Indian Opening pair, even South Africa played with new opening pair. This pair of Amla/Ingram is 72nd opening pair for SA in ODIs. But unlike the Indian pair they managed only 13 runs for the first wicket.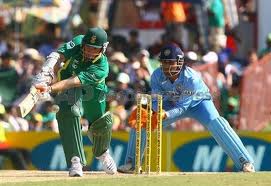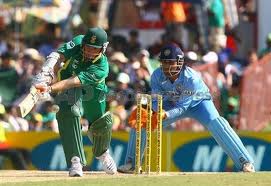 # Robin Petersen in his 69th ODI match scored 68 runs which his maiden half century. He overcame his previous best of 44 vs Pakistan at Centurion in March 2013.
# AB de Villiers scored his 33rd fifty in ODIs and 7th as captain in 21 matches.
# This was AB de villiers' 16th fifty as wicketkeeper in ODIs. He has scored 9 100s and 16 50s as wicketkeeper in 49 ODIs while just 5 100s and 17 50s in 91 matches as non keeper.
# AB de villiers averages 90.75 as captain in ODIs with bat which is highest for any captain who have played 10 or more matches as captain. Next best is 56.75 by MS Dhoni.
# AB de Villiers scored his 4th consecutive 50 in ODI matches and all as captain. He scored 128, 75 and 95* against Pakistan in the previous series. In fact this was his 6th 50+ score in last 8 ODIs.
# David Miller scored his 2nd Duck in ODI career and first Diamond Duck 0(0). 
# David Miller became the first batsman to be run out without facing a ball in ICC Champions Trophy.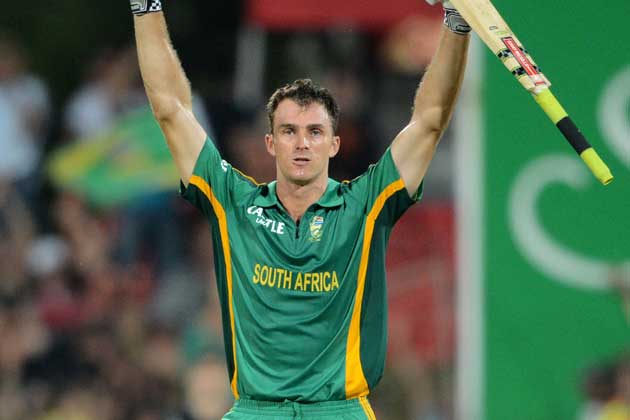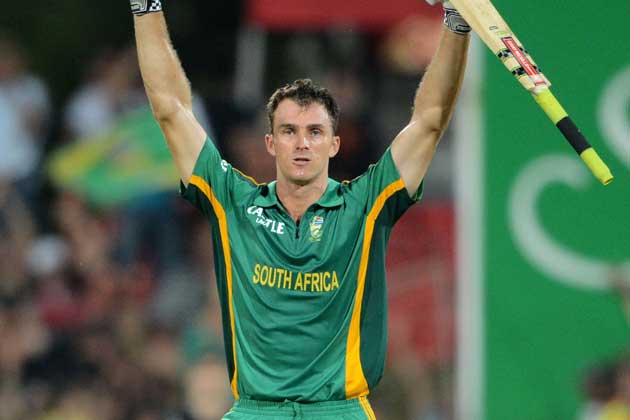 # MS Dhoni completed 275 dismissals in ODIs when he caught Hashim Amla. He now has 276 dismissals (208 catches + 68 stumpings).
# MS Dhoni became the 5th keeper to effect over 275 dismissals and the first Indian.
# Ryan McLaren in his 23rd ODI scored his maiden Half Century (71* off 61). His previous best was 33 vs NZ in Jan 2013.
# South Africa scored 305 while chasing. This is only the second instance of a team scoring 300 or more while chasing in Champions Trophy. South Africa also were the first to do it when they scored 301 runs while chasing a total of 327 by England at Centurion in 2009 edition.
# The Match Aggregate of 636 runs is the highest in a Champions Trophy Match. Only other 600+ aggregate is 624 between SA and Eng in 2009. On both occasions, SA was on losing side.
# This was 6th defeat in ODIs for SA where they scored over 300 runs.
# India have never lost to SA in Champions Trophy. They played 3 matches and all 3 were won by India.
# This was India's 11th win in Champions Trophy matches. Only Australia and West Indies have won more, 12.
# This was South Africa's 8th lose in Champions Trophy matches. Only West Indies and Zimbabwe have lost more, 9.
India play their next match against West Indies on 11th June
South Africa play their next match against Pakistan on 10th June
That's all from the Statistical Highlights of India vs South Africa match.