Another cold Delhi-morning it was. Lying on the bed, I came upon on the newsfeed that Shivnarine Chanderpaul has retired from International cricket. I wouldn't say my heart skipped a bit, but surely it paused for a second or two more than usual.
Chanderpaul was one of the longest serving members of West Indies Cricket. A simple man, from a Hindu family in Guyana, Chanderpaul started out as a 19 year old in March 1994 against England. If you managed to get a glimpse of him back then, a thin boy, a big helmet, a stance doesn't seem weird unlike what he came up with later, he doesn't slide into the obvious stereotype of Caribbean Batsman- tall, intimidating and aggressive. Yet he had a story of his own.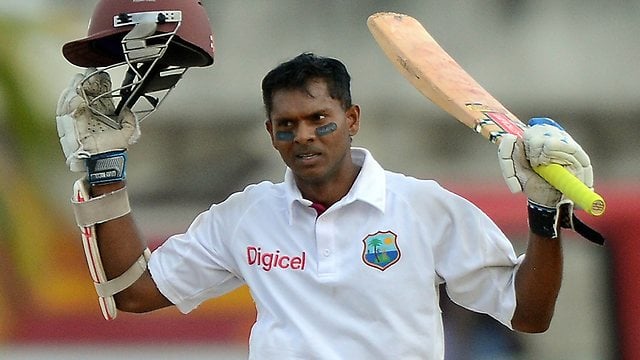 Chanderpaul's story was a one of resilience. Resilience to make it work despite what anyone says. People said he won't survive more than a test or two- he survived, he survived 164 Tests. There were those who questioned his frail body- criticizing him for his low conversion rate in the first 3 years of his career; he overcame that. He changed his work ethic, drastically improved his diet, worked on his fitness. He remained not-out for 49 times when he ended his career; the highest for a Top seven batsmen in the whole world, in which 18 times he had scored a 100 by then. He was questioned over his technique, whether he was joking around; surely this technique won't work in International Cricket. To say it has worked would be a lie. It worked, it flourished, and it conquered.
Chanderpaul had an unusual technique, rather a unique stance. When he faces the bowler upfront, different from the how batsman stand side on mostly. With this stance more often than not, his leg stump was exposed. Seeing this, bowlers tried to target that vulnerable leg stump. That was not to be. Chanderpaul would very quickly with his trigger movement, move towards that leg stump and flick the ball past the square leg fielder. When they tried to bowl too wide to him, he drove them far enough. His stance was more about effectiveness rather than any new leaf in the cricket coaching manual. In all, he messed with the bowlers head, while enjoying his time at the crease.
In the age of flamboyancy, glamour, headline makers, brash individuals becoming disturbingly common as our role models, Chanderpaul has managed to stay relevant and loved amongst all this by doing one thing that he loves the most; scoring runs and centuries. Even while playing for his country, his efforts and contributions were always second to one Brian Lara. For as long as they played together, Chanderpaul was a consistent batsman, but not yet on the cusp of greatness.
Chanderpaul with and without Lara in Tests
| | | | | |
| --- | --- | --- | --- | --- |
| | Innings | Runs Scored | Average | 100s/50s |
| With Lara | 146 | 5634 | 43.67 | 12/35 |
| Without Lara | 134 | 6233 | 61.10 | 18/31 |
Source: www.espncricinfo.com
It is clear that added responsibility of being the best batsman of the team has only made Chanderpaul hungrier and more determined to score runs for his team. He clearly felt it was his duty to stay till the end and guide his team, and he took it as a badge rather than a burden. He showed great stamina and grit, not surrendering to any calls or advices about what to do. He scored runs in India, frustrated the bowlers of England and South Africa and what not. He had notched up his game in the last 6-7 years to unbelievable heights. Here also, it is worth noting that as players turn old their returns diminish, Chanderpaul smashed that dictum in the most unbelievable way. With a minimum of 2000 runs, Chanderpaul has highest average for a player after turning 35, second only to Kumar Sangakkara.
Best Test Averages after the Age of 35
| | | | | |
| --- | --- | --- | --- | --- |
| Player | Matches | Runs | Average | 100s/50s |
| Kumar Sangakkara | 19 | 2331 | 68.55 | 8/12 |
| Shivnarine Chanderpaul | 43 | 3291 | 57.73 | 9/14 |
| Jacques Kallis | 26 | 2163 | 56.92 | 10/5 |
| Jack Hobbs | 33 | 2945 | 56.63 | 10/12 |
| Len Hutton | 26 | 2105 | 53.97 | 6/10 |
Source: www.espncricinfo.com
People have underestimated Shivnarine Chanderpaul all their life. To put things into perspective, Chanderpaul played his first game in the year Kapil Dev was still an active member of Indian Team, Rahul Dravid was a youngster playing for Karnataka and Pulp Fiction wasn't released. Even Machines don't last long anymore, let alone a man who was once "too frail to be a test cricketer". The only modern great to last longer than him is Sachin Tendulkar, but hardly will you see his name taken in the same breath. And that is the misfortune of being a Chanderpaul today.
Chanderpaul wasn't playing from last June as he was dropped by the selectors. It is being said that his decision was influenced by his commitment to the Master League. But it doesn't in any way tarnish the legacy that Chanderpaul leaves us with- one of resolve and determination. Thank You Shiv, for all the memories.
Maybe Richelle E. Goodrich had Chanderpaul in her mind when she said –
"Don't ever give up. Don't ever give in. Don't ever stop trying. Don't ever sell out.
And if you find yourself succumbing to one of the above for a brief moment,
pick yourself up, brush yourself off, whisper a prayer, and start where you left off.
But never, ever, ever give up."