Epic Quotes on Sir Ravindra Jadeja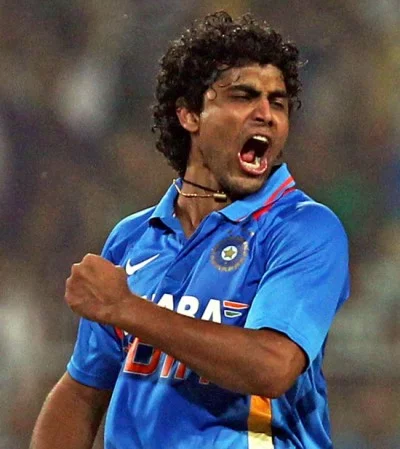 # "There are 2 types of all-rounders in this world. One is Ravindra Jadeja and the other is Adnan Sami!" – Bappi Lahiri
# "I am feel myself unfortunate that I get to bowl at him only in the nets." – Piyush Chawla
# "Anything can happen to us if we're on a flight flying over a cricket ground in India with Ravindra Jadeja in action with the ball" – A panic stricken  air-hostess
# "He has been out of sorts longer than some other people have been alive." – Abu Nechim Ahmed
# "If I have to field when Jadeja is bowling, I will put on a bullet-proof suit. They all hit him like a bullet escaping from the nozzle !" – Mohd Kaif
# "I saw him playing on television & was struck by his technique, so I asked my wife to come look at him. Now I never saw myself play, but I feel that this player is playing much the same as I used to play, and she looked at him on TV and said – are you effing out of your mind?! I'd like a drag of whatever it is you've been smoking, chump. Now get dressed…you are going to see an ophthalmologist!" – Sir Richard Hadlee 
# "Technically, you cannot find any fault in Jadeja. Seam or spin, fast or slow every goddamn thing is a problem." – Geoffrey Boycott
# "The pressure on me is nothing compared to Ravindra Jadeja. Jadeja, like Tushar Kapoor are supposed to fail always. The crowd always expects him to fail and it puts too much pressure on him. And, he never disappoints them." – Jacques Kallis
# "Don't waste your energy bowling him good balls, he gets out to the bad ones." – Shahid Afridi
# "Devil wanted to play cricket. So Ravindra Jadeja was born." – Sunil Gavaskar
# "I'll be going to sleep at night having sweet reassuring dreams of myself stepping out of the crease & hammering him back over the head for six!" – Shoaib Malik, Kevin Pietersen & Kamran Akmal (in unison)
Some more hilarious quotes on Sir Ravindra Jadeja
# "When Sir Ravindra Jadeja first travelled to Sri Lanka to play in yet another of those meaningless ODI series, Shahid Afridi was yet to come out of his 2nd retirement, Tiger Woods was yet to be accused of infidelity, Balotelli had never earned a red card & Kristen Stewart was still a virgin.
# When Jadeja embarked on a glorious career taming Kulasekara & co., Cherlin Chopra was a name unheard of; Suresh Raina's nephew was in his nappies; baby Bachchan was still a stray sperm swimming in AB's pelvic cavity & SRK was yet to promote Ra.One.
The Epic Quotes on Sir Ravindra Jadeja
# It seems while Time was having his toll on every individual on the face of this planet, he excused one man. Time stands frozen in
front of Jadeja. We've had champions, we've had legends, but we've never had a Jadeja & we never will." – Time magazine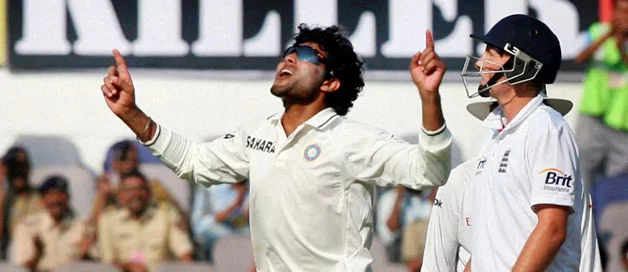 # "The earth has carried the burden of Jadeja for 24 years. It is time we carried him on our shoulders." – some undertaker
# "Only he can play that leg glance with his thigh guard." – Glenn McGrath
# "He is just what the doctor ordered (Euthanasia)." – Anil Kumble
# "He is to Indian Cricket what Vivek Oberoi is to Bollywood" – Shilpa Shetty
# "Beneath the helmet, under that unruly curly hair, inside the cranium, there is something we don't know, something he himself doesn't know either – whether he's a batsman or a bowler. Forget us, even those who are gifted enough to play alongside him cannot even fathom. When he goes out to the ground, people switch off their TV sets for the high-octane excitement of watching lawns grow." – BBC
The Best quotes on Sir Ravindra Jadeja : "Cricketers like Jadeja come once in a lifetime, and I am sorry he didn't play in my time. Could have added a few more cheap wickets to my tally." – Shane Warne
# "Commit all your crimes when Jadeja is batting. They will go unnoticed because even the Lord is dozing off to sleep." – A placard at the Saurasthra Cricket Ground. This is one of the most hilarious quotes on Sir Ravindra Jadeja.
Disclaimer:  These quotes on Sir Ravindra Jadeja is just a work of fiction