Achilles of Cricket: Sir Isaac Vivian Alexandra Richards's son of West Indies cricket. Born in Antigua, Richards chooses to be opposite of what his dad was. Marshal Richards was leading fast bowler for Antigua & Vivian Richards choose to be the Attacking Batsman, whom world will fear of. He was fearless in his approach. Cricket was his empire & he was the beloved prince of his empire. Crowd always anticipated the fall of wicket for West Indies. They loved the way Richards used to walk towards crease with his head held high & physics full of confidence, as he has made hundred a minute back. His guard was full of confidence like Marching Achilles taking step into battlefield. Vivian Richard's played 187 ODI & 121 Test matches & scored 35 International hundreds. His One day Strike rate of 90 was exceptional compared to any other playing in his era. His numbers did no justice to the impact he made on game. His power & dominance cannot be captured through any statistics. Richards was the most destructive batsman of his time. His magic eyes helped him to pick up length of ball as quick as bowler releases it. The prominent fast bowlers who bowled him during his tenure included Dennis Lillie, Imran Khan, Sir Richard Hadlee, Thomson, Bob Willis. But he never wore Helmet and still manages to hook with fluency, he always believe in watching ball is best protective gear for a batsman. No batsmen ever had sharper reflexes then Richards. The Person with full of grace & beast attitude scored heavily throughout his career. "It was all about avoiding fieldsmen and scoring runs for Richards". No one was going to put him off on his plan. He was strong front foot batsman. Like a great warrior  Richard's was also a scholar, and a poet, and an artist on the pitch. He was the most feared batsman for a decade. 'The Master Blaster', as he was known in Cricket, had that capacity to turn the game single handedly & push opponents on back foot. And more often than not, Richards delivered.  On 15th April 1986, Richard's scored fastest hundred in test match, which is still a record.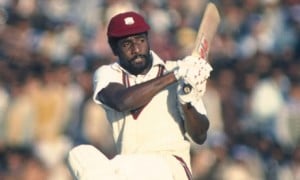 It was his home ground, it was his own crowd and The English rival. He was born, their played cricket there. England was down with 4 consecutive loss in 5 match series, & fear of white wash was haunting Gower's man. In the 5th Test match West Indies were asked to bat first, they made 474 runs in first Inning. Opener Haynes scored 131 runs in 472 minutes on crease. In reply England started in usual manner, Gooch & Slack made a calm & steady century partnership for England. Once both openers were departed England's middle order stumbled against Garner's bowling. Skipper Gower scored 90 runs before falling to Marshal at score of 290, with 9 down. West Indies bowled 40 no balls in an innings & England managed to put up 310 runs on board, with no middle order batsman or Tail Enders managed to score more than 15 runs except skipper Gower who scored 90. West Indies took the lead of 164 runs. Haynes & Richardson came to bat on Day 3. Both made century stand before Richardson got out to Emburry. West Indies were 1 down with 100 runs on board, Lead was of 264 runs. And to all surprised, Skipper promoted himself just before tea. As usual, he walked towards crease slowly, moving his neck up – down & arms around. Crowd acknowledged him, he moved towards crease & took his guard. Standing tall he gazed at fielders. Richard as known for violent skill of attack, was a blessed batsman. His evil insist of batting was witnessed by England bowling attack consisting of Botham, Foster, Ellison & Emburey. Richards smashed Emburry for a boundary to start off. And then a six over mid-wicket to Botham. He was looking unstoppable, a six with one hand disappearing in mid-wicket stand & a straight six to half volley of Botham. It was a brutal attack on England. Richard started scoring boundaries in all direction, and completed his fifty in just 35 deliveries after tea. Crowd loved him & he enjoyed the attention. He completed his hundred in just 56 balls & few spectators run toward him to congratulate & to hug him. It was fastest test hundred in cricket & the record which still exist. West Indies declared their innings on 246 runs score. 110 runs were scored by Richards out of 146 runs made when Richard's came to bat. Target was 411 runs for England, and they never really recovered after Richard's brutal display of attack. England got all out on 170 runs scored. West Indies white washed England by 240 runs in 5th Test match.
Viv Richards always believe in attacking, Wherever the fight is, I'm going to be fighting. I didn't want to be rude to anyone but anyone who is rude to me, then I was going to be rude in the right way: my bat was going to tell the story. You had guys who didn't believe in the black man. Richard quoted,
He was voted the greatest cricketer since 1970 in a poll, ahead of Ian Botham and Shane Warne. That poll saw both Botham and Warne vote for Richards, and in the opinions of both, Richards is the greatest batsman they ever saw. He used to known as Black Bradman in his era because of the ability to judge the ball before bowler release it. No discussion on great ODI batsmen can begin with any name other than Viv Richards & he is beyond comparison. It's really sad for fans like me who has never seen him batting live.