India vs Pakistan: Highest Wicket Taker in an Inning
Venkatesh Prasad leads the Indian list with 5/27 in 1999. Wahab Riaz leads the Pakistani list with 5/46 in 2011.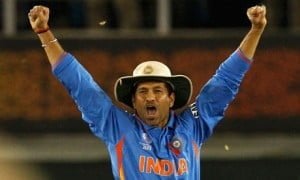 Here is the list of highest wicket takers in an inning:
For India against Pakistan
5/27 Prasad 1999
3/37 Srinath 1999
3/45 Prasad 1996
3/48 Kumble 1996
For Pakistan against India
5/46 Wahab 2011
3/59 Mushtaq 1992
None of the others have taken more than 2 wickets.
India vs Pakistan: Highest scores by captains in an inning
59 by Mohd Azharuddin in 1999
55 by Amir Sohail in 1996
We shall have to wait for 15th of February to see how many more stats are added in the list.