The date is 8th October 2008, India is preparing to host the coveted Border-Gavaskar Test Series in their home grounds. It has been a special two years for India. They have gone from the shock knockouts at the world cup to the champions of the new format, their trip to Australia has stirred controversy and in turn made this rivalry more exciting in comparison to either The Ashes or Indo-Pak (for now). Their vice is a still hungry MS Dhoni, a man who has turned from the one time blockbuster batsman to a critical hit machine Captain in the shorter format and a reliable pillar in the longer one. There is a certain dark vibe around the talks of retirement for the older guard and the  emergence of a new one led by the revived Gautam Gambhir. While there is a young quick bowler trying to stake his claim and a veteran guard getting back into his groove. India has also opened the avenue for a tournament that could rival those of Football leagues. This was then.
The date is February 15th 2013; India is preparing to host the coveted Border-Gavaskar Test Series in their home Grounds. It has been a terrible two years for India. They have gone from World Champions and Test Number one's to three big losses in the long format, their trip to Australia has been marred with lack of enthusiasm and performances while revenge is not a viable or healthy option. Their captain has lost his Midas touch and his legendary cool. The old guard has vanished or simply limps on while the new have done nothing to prove their worth. The young and quick are now old and slow, the old and reliable are older and pathetic with bowling. A certain tournament promises to choke the resurgence of India into a powerhouse of World Cricket. This is now.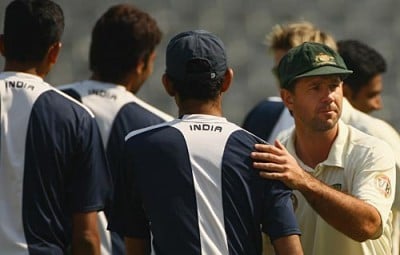 It was the 9th to the 13th of October in 2008 when Australia toured India. Controversy had marred their previous altercation just this year, and both teams were vying for the trophy with hungry eyes. The match ended in a tame way, even with a match that saw India struggling to prevent a loss and looking for a draw to save face; the cricketing world could see a spark within the team that had popularized this sport. India had salvaged and yes they hadn't overturned the match, but they had changed and put fear in the heart of the world champions (Australia).  The Indian old guard had everyone breathing down their necks regarding retirement and yet the likes of VVS Laxman and Ganguly helped mange this draw. India also proved that a spin-friendly atmosphere did not mean that their speedsters had lost any luster, both a reemerging Zaheer Khan and youthful Ishant Sharma held the fort in trying to get the 20 wickets. IPL had made India a commercial hit; this test series would make them a critical one as well.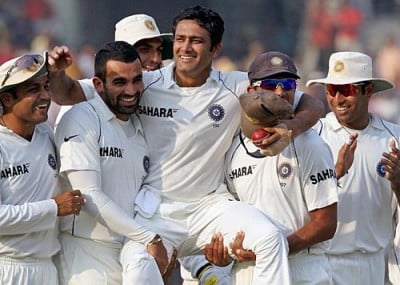 The results may have ended in a whimper but it was blockbuster party at the date of 29th October to 2nd November 2008 when cricketing legend Anil Kumble decided to step down from captaincy and cricket. Signs of a new front arriving had been creeping. The wily jumbo jet gave way for the crafty turbinator to take center stage in the spin department. India and Australia may have played to a draw but their two superb comeback men had grown wiser, better but no less angry. Shane Watson sparked in the capital but it was Gautam Gambhir who shined. His arrogance would prove his undoing and leave him benched next match, but his prowess would present him a mind numbing double century. Sure India drew again, but this time they did it with the ball in their court.The date; 21st October 2008, The Question; Had India just beaten Australia, have they just beaten them this badly? Anil Kumble had injured himself again, a young feisty but cool MS Dhoni had taken the captaincy reins, not all looked hopeful for the old guard in the Indian camp but a new dawn was coming for the younger brood. This was their time, this was their moment. A relative unknown Amit Mishra joined the club side by side with Australia's Peter Siddle, rage fueled strength within the opener Gautam Gambhir and no more were India all about the spin. As with the last match, the pace men, the front runners took India through to the finish line. India was finally looking to break its shackles and becoming a test number one frontrunner.
Final test match, 6th to 10th November, India victorious and series is 2-0. Australia go home with their shoulders hanging low. Dhoni proved to be the humble captain we needed, he ceded his position in the final hour to the maestro before him; Saurav Ganguly. It was an emotional gesture for a man who had taken the team from it's darkest hour and brought it to light, he was packing up and no other gift could be fitting. Ganguly would return the gesture later with these comments "He has that extra bit of luck you need.", the luck that has so far carried India since then, to a number one position in test, the hub for exploding and entertaining cricket never seen before and to the glory of world championship.
So what's happened since then; The once promising and easy going opening partnership of Gautam Gambhir and Virender Sehwag has become buried underneath internal angst and external over-confidence. An exuberant and feisty Gambhir has become an arrogant and brash player; the old guard that was pressured to leave has vanished leaving a black hole (which cannot be filled). Youth has tried it's best to be the best but continues to be bogged down by pressure, politics and their elders. A man revered to be a god who at that point was on the cusp of emulating records has become a mere statistic filled with no ambition. A captain emerging with spoils of victory is doomed with barren failure. People blame IPL, cricketers blame the pitches, and everyone blames the BCCI. The BCCI was there then, IPL was thought to have brought new talent, pitches were devoid of spin but our pace came through. Team India must open their eyes to the pitiful performances of its seniors, the lack of opportunity provided to juniors, the unfit nature of their speedsters and the lack of ambition of its captain.
 Indian then was emerging as a test stalwart, India now is struggling to keep in the limelight. Back then we spoke of reemergence into test contention, emitting positivity. Right now we speak of revenge for test losses, breeding negativity. Come February 22nd 2013 it will be time to see if team India really has it to face the ultimate test.