India vs Australia Test Series 2013  Preview
Stage is set. Cast is selected. Location finalized. Wait will be over the moment umpire will say – LIGHTS, CAMERA & ACTION or according to the cricket terminology – PLAY !!
Yes we are talking about the much awaited India vs Australia test series 2013 against our old rival Australia.
People are taking this series in many senses. Few terming it as revenge series though we should think twice before using this word again after seeing the consequences against England
last year. But with his statement Bhajji has expressed the mindset with which he will be on the field in whites after a gap of more than a year.
But there are few attached emotionally with this series seeing it as Tendulkar's last home series. But only time has the qualifications to answer these questions.
Now coming to the point, few questions arise here which can be answered if we think upon it. Questions like, " Is the team selection justified ?", "What should be the playing eleven ?","What kind of pitch should be provided ?" and few more. In the upcoming sections I have tried to find out the logical solutions for these million dollar questions.
India vs Australia Test Series 2013 : TEAM SELECTION
Much is said upon the selection of the team for first two matches. Several questions have been raised and you would have gotten the answers to few of them by now. The most trending topic is the injustice done to Wasim Jaffer.
By ignoring the most consistent batsman in the Indian domestic circuit presently, selectors have dared to raise few eyebrows.
And of course he deserves that opening slot in the Indian team. But before going to any conclusion emotionally do consider few points. If possible who could be replaced by Jaffer in the team already selected? I think only option available is Sehwag. Now remember why Sehwag has always been an important member of the team despite being an inconsistent performer. The reason has been his impact upon the other teams and his scoring rate which effects the total score of the team. He has never possessed the pure class of Dravid or perfection of Sachin. But his biggest power is in the time spent upon the crease.
And that has been among the main reasons of our dominance in the test cricket till we were no.1 in ranking. Now you will say that we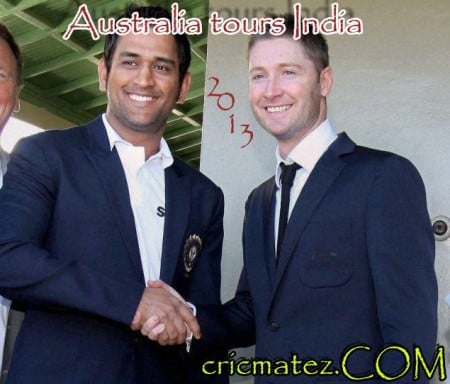 have won matches before him and without him too. Yes we have won but imagine the dominance of West Indies when they had Vivian Richards or the dominance of Australia when they had Adam Gilchrist. The most common thing is the presence of a different kind of batsman at the top whose impact is much more than any of their teammates and the trend has been set by Sir Richards himself. And when India got that special kind of batsman in form of Sehwag, the golden era for the Indian Cricket started. And the moment he started losing his charm it effected the whole team. Now see why I am saying all these facts. Presently Australia has again found a new Gilchrist in form of David Warner who is an impact player. And to be in competition we need to have Sehwag at the top of the order and I feel he is better than Warner. Now if Jaffer comes now he will face a very big pressure upon him to replace Sehwag and international cricket is a totally different ball game in compare to domestic matches. There with class you need to have a very high level of temperament and though Jaffer possess that temperament, he has been out of international cricket for too long and suddenly making a come back in such a big series will be no good for the team's future which still seems to be in dark. Indian cricket has done too wrong with Jaffer but I feel NOW ITS TOO LATE TO CORRECT IT'S OWN MISTAKE. At the age of 35 he has few years of cricket left in him and we need to resurrect our future aiming a long time goal. Sehwag is a regular in International circuit and thus it would be easier for him to perform at that level in such an important series despite of the fact that he is through a lean patch, as he is familiar with the ups and downs at that level.
India vs Australia Test Series 2013 : PLAYING ELEVEN
This is a very difficult question to be asked to any cricket expert (I would prefer cricket lover). You can only imagine and predict but you will never know what's going in the captain's mind. Here I have tried to find out few combinations.
The no. 2, 3, 4, 5, 6, 7 slots are almost certain with likes of Sehwag, Pujara, Tendulkar, Kohli and Dhoni at their respective places. Among bowlers two are almost certain with Ishant Sharma leading the squad and Bhuvaneshwar Kumar giving him the company with the new ball.
Now lets talk about opening slot. Sehwag is a surity with him being selected. I think Dhawan should take the guard upon the field with him. There are few reasons for it. First, he is a left hander and a left-hand and right hand combination is always considered to be the best. Second, he is a pure classy batsman and more experienced than Vijay and Rahane in the domestic circuit. But above all his understanding with Sehwag being a Delhi player will also be useful for the team. And such things count in a big series.
Now the no. 6/7 spot. One of the place will be occupied by Dhoni himself. The other one should be given to Jadeja as I think his bowling ability gives him an edge over others. He has been consistent with his bat and ball in the recent ODI series against Eng. We can just hope he continues with his form. His triple centuries in domestic games too can't be ignored.
Now among bowlers the lead spinner's role should be donned by Harbhajan Singh as he deserves that chance. In the last Irani Trophy match he seemed to get back in his rhythm and that will be only good for Indian Cricket seeing his vast amount of experience. His splendid records against Australia is an advantage. He is capable of providing that much needed aggression in the attack. If spinning track is provided Ojha should be the other option. Being a left hander he will provide the variety in the attack. Otherwise we have only Dinda as option if a pace assisting track is provided though I feel Sreesanth should have been a better option with his experience and his moving abilities. Hence my team will be:- Dhawan, Sehwag, Pujara, Tendulkar, Kohli, Dhoni, Jadeja, Harbhajan, Ojha/Dinda, Ishant, Bhuvneshwar.
There was a suggestion by a former cricketer and a noted cricket writer to play Vijay – Dhawan on the top and to play Sehwag at 5/6 position. Though he is very right in his observation but I feel it's not convincing at the moment. The reason Sehwag is preferred to Jaffer is his special opening capability. If you want him to play in the middle order then Jaffer woud have been a much better option considering his class and present form. But both of them were on a fight for opening slot and hence Sehwag won the tie. If the competition had been for 5/6 position he would have certainly lost to Jaffer as we need a more determinant and patient batsman at that no. And sadly Sehwag doesn't fall in that category. If Sehwag is played at that slot it will add a big amount of pressure upon the current middle order which is already under the scanner as you can't expect him to play a patient and reviving innings always which is the job of the middle order. So he is more suitable at the opening position.
India vs Australia Test Series 2013 : PITCH
This was the most discussed topic during the recent Eng series courtesy few controversial remarks and India's performance upon the turning tracks. Dhoni was always demanding a rank turner which was upsetting few cricket pundits. Now I feel where rank turner is possible there it should be provided. At Mohali and Delhi nature of the pitch doesn't allow to make it a ranker turner. So at Chennai and Hyderabad the turning pitch should be laid. Now you will say why we always crave for rank turner despite of being on the loosing side in the recent series. I will explain you. Have you ever seen a pure rank turner in England or Australia. I don't think I have found it anywhere outside the sub-continent. Though there are a few which assist spin but a rank turner is not something we can find there. They always stick to there strength that's pace bowling. We Indians have given the world the art of spin bowling. Then how can we afford to lose this art at our home only. If there has been a Shane Warne in Australia or a Murali in Sri Lanka then there has been a bunch of Prasanna, Chandrashekhar, Bishan Singh Bedi, Kumble, Harbhajan etc. in India who were the inspiration for those Warnes and Muralis. Though we should make room for pace bowling too in order to gain dominance over the world but the art of spin should not be sacrificed for it. And to boost the loosing confidence of the Indian spinners we need to provide them with a track assisting spin bowling. To be a master of whole of the game one needs to be a master in its own field first. So I feel pitch should be a rank turner for first two test. Other too are set to be a more sporting one.
So that's all we can expect but can't predict because no one can predict what is going to happen on the field and what is the strategy of the captain. We can just hope to give something back to the Aussies for whatever they did with us in the last winter. The only strategy should be to play upto their potential whatever the circumstances are. The only goal should be to go for a win upon every shot played and every ball delivered. And our only job should be to be behind the team with a strength of a billion hearts. The movie is in making. Do wait for the premier. A huge roar is what the team needs now and that should be the priority. Go India and win it. With that I wind up the India vs Australia test series 2013 preview.