Joe Root a Twenty two years of old young mature batsman from Yorkshire, he has shown the amount of maturity in his batting which can be gain by playing hundreds of international matches. There are players who are gifted & there are players who work hard, surely Root fits into first category at glimpse and certainly he is. Right from the debut itself he started to display his patience & his temperament at international level to be called as "The Mature Kid" in cricket; on his debut he becomes the sixth batsman to have longest inning on his debut in terms of balls played. At the early age experts recognized his talent & awarded different scholarship to Root.
Joe Root currently plays for England as an opener he is widely been compared with Michael Vaughan's batting style. Root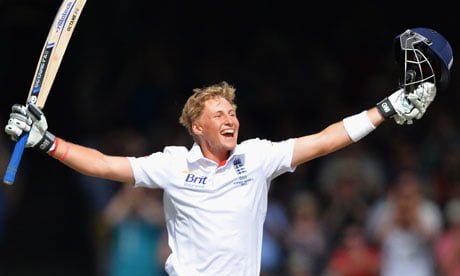 started his career as a Middle Order batsman against India in Nagpur & scored 73 runs in 229 balls coming when England were 119 for 4, soon he lost the senior partner Kevin Petersen and was left with wicket keeper prior, both made 103 runs together for 6th Wicket to provide the stability England needed at time. The Inning was the fine example of the Temperament & determination the young Root posses, despite being 22 & playing his first International test match he didn't fall to situation & pressure, he scored only 4 boundaries in entire inning, through out the inning was playing with spin across the bat, trying to display the characteristics of great players. Root is calm batsman who doesn't like to give his wickets easily & always seems to be focus. Root is graceful batsman he like to spend time at crease just like the England opener Geoff boycott, Root often being compared with Boycott for his patience & Vaughan for his grace. He made his first hundred against kiwis in home ground Headingley where he scored 105 coming at no.5 position. He performed well in a series & became the highest run scorer in 2 match test series which England won 2-0.following the fantastic runs in India & England Joe got the obvious call for Ashes, and he showed his special attribute as Patience, judgment, technique & maturity required at highest level and soon scored the hundred at Lords, it was his only second hundred & he was having single digit experience in test Cricket yet he didn't looses his patience & went on scoring 180 before he was caught by Smith while trying to scoop of Harris delivery. He was Man of the Match in second test of Ashes. His drive on both side of the wicket with fluency in his strokes claimed him to be a long term batsman for England. So fat in his 21 innings he has scored 2 hundreds & 3 fifties for England. Joe had a successful ODI career also coming at late middle order & scoring the quick runs.
"He looks to me like a lad who has absolutely everything. He just looks to be the complete article. The only thing he needs now is experience to turn from a very good batsman into a brilliant one. It doesn't appear to me that he has any obvious flaw in either his technique or his temperament. I think he is spectacular." What I liked was that in his post-match interview [at Lord's] he said that when he got to hundred he knew he had to go on from there because the team needed a really big score from him. The lad has brains. I absolutely love watching him bat. "Grant Flower on Joe Root"
People who know Joe Root claims & are confident the hype will not affect him. And Root proving them right remains grounded, popping back to Workshop to give master classes (for free), turning up in his collegiate kit rather than his England tracksuit. "He's still in touch with the lads from primary school," says Stewart, his former teacher. He is a nice kid out side the ground chatting with his school mate on road no hype no attitude. Root might play at no.6 in coming Ashes & will allow cranberry to open the inning for England. "I'm not that egotistical," Joe Root said after Saturday's win. "I just want to represent England." To get an opportunity to bat down the order is a different challenge, but one I'm really looking forward to. Playing for England is the main thing for me." He made it clear; he is there to stay for long. With his calm & compose characteristics he is going to play for England in many more International Matches. With the success & all hypes surrounding him it will be interesting to see him playing more & more matches & gaining experience. Many claim him to be a next England captain & a Next big thing in Cricket. Root will have to grow more comfortable in the limelight & hype he is getting in young age & to not get distracted by him as many experts are predicting him to occupy key spot in England team for many years to come. A great Charismatic batsman cricket is going to produce in next few years.