This week marked the beginning of the 2nd T20 World Cup for Blind and Sportech, IIT Delhi, was one of the few organisations to have hosted a few matches at IIT Delhi's main Cricket Field, in close collaboration with the Cricket Association for the Blind in India, which is in turn supported by the Samarthanam Trust for the Disabled and is affiliated to the World Blind Cricket Council. Over the past week, the students at IIT Delhi felt inspired to have witnessed visually impaired people overcoming seemingly insurmountable hurdles and playing the sport with great elan.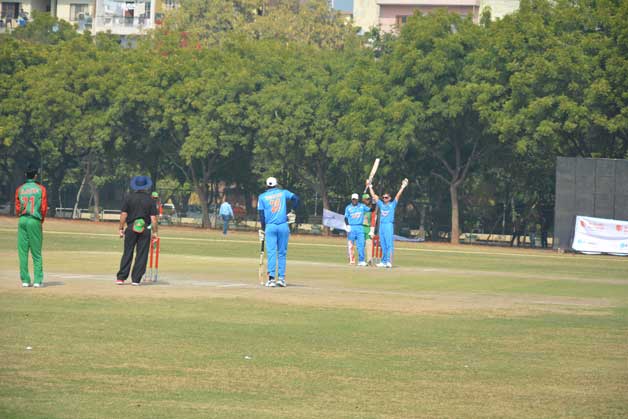 The whole experience spanning across 4 matches was enlightening, to say the very least. The players were beacons of hope and inspirations and their talents and skills oozed from their play. The spectators witnessed amazing batting performances as well as brilliant fielding tactics, some of the best plays that the field had been witness to.
"At Sportech, we believe in the idea of playing with pride, and we think representing one's nation is the epitome of that sentiment, which is why we wanted to spread the word across. Watching these matches was an enriching experience in itself.", says Ishan Tyagi, General Secretary, Board for Sports Activities, IIT Delhi. CABI was created as a platform for the social empowerment of the visually impaired through sport. Sportech's association with them intersects with their vision of sport as a means of achieving greater inclusion and unity in society and their collaboration with the Blind World Cup 2017 is an embodiment of that commitment.
Match Results:
30th January 2017:
India v/s Bangladesh:
India won the toss, elected to bat.
India – 279/5 in 20 overs.
J Prakash (B3) scored 96 runs. Ketan Patel (B1) scored 98 runs.
Bangladesh – 150/7 in 20 overs.
Man of the match: Ketan Patel
India beat Bangladesh by 129 runs.
31st January 2017:
Sri Lanka v/s New Zealand
Sri Lanka – 334/0 in 20 overs
Ruwan Wasantha (B2) scored 170 runs. Suranga Sampath (B3) scored 146 runs.
New Zealand – 120/7 in 20 overs
Sri Lanka beat New Zealand by 214 runs.
1st February 2017:
Sri Lanka v/s West Indies:
Sri Lanka – 281/2 in 20 overs
Surang Sampath (B3) scored 116 runs. Chandana Deshapriya (B3) scored 108 runs.
West Indies – 151/8 in 20 overs
Sri Lanka beat West Indies by 130 runs.
2nd February 2017:
Bangladesh v/s West Indies:
West Indies – 195/6
Kevin Andrew Douglas scored 123 runs.
Bangladesh – 196/2
Tanzjlur Rahman scored 90 runs.
Bangladesh beat West Indies by 8 wickets.