Sledging in cricket is perhaps as inherent to the game as the bat and the ball. A friendly banter at times and at times a fierce attack of insults and intimidating remarks, sledging has evolved over the years with some good while some not so good memories of the encounters. What usually goes around on the cricket field is hardly carried forward to the dressing rooms. This much the players have become used to. Sledging in cricket provides that extra bit of entertainment and is unusually amusing and packs that peppiness normally missing from the game . Sledging in cricket is mainly attributed to the bowlers or the fielders, but at times even the batsmen take part in the backchat. Let us take a look at some of the most interesting cases of sledging in cricket and also learn a few tricks of the trade.
Sledging In Cricket – About Sledging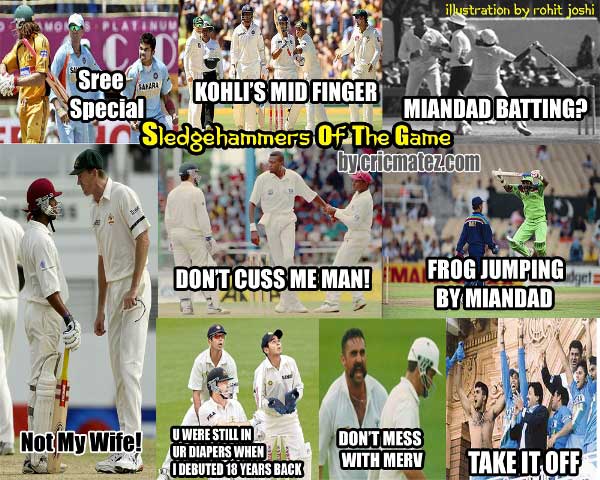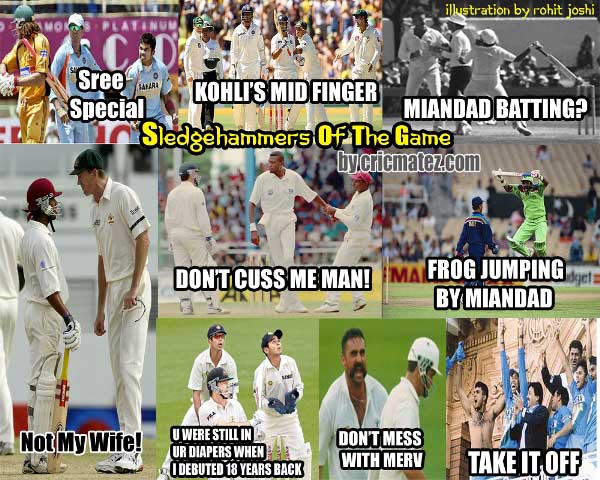 If Ian Chappell is to believed, sledging has its roots in a rather unique incident involving a player swearing in front of a lady which was then referred to as a 'sledgehammer' like reaction. Thus came the word sledging which has been in use till date.
There is another theory regarding the birth of sledging, given by BBC's very own Pat Murphy, who recalls an incident involving a guy named Grahame Corling who was teased by the fielding side when he came to bat. Apparently, his wife was having an affair with some other teammate and when he came out to bat one day, the fielding side started singing the song When A Man Loves A Woman.
There are many theories regarding the birth of sledging but most of the experts still assert that sledging is as old as the game itself. It started with cricket, continued with the game and fell to extremism at a number of occasions.
One cannot ignore the Ugly Australians of the mid seventies with the duo of Captain Ian Chappell and wicketkeeper Rodney Marsh being the frontrunners in executing the not so cricketing plans. Apparently Ian Chappell often encouraged his players as they crafted crude jokes and other forms of raillery.
However, sledging in cricket gives birth to a more important question. Is sledging in cricket acceptable? Has it not discredited the gentlemen's game in any way? Sledging in cricket has sparked a proactive debate in the world of cricket. When it comes to sledging in cricket, some believe that it should not be a part of the game while others recognize it as yet another test for the players. After all, mental strength is of huge prominence.
Sledging In Cricket- The Debate
Sledging in cricket has come under the scanner a number of times now. Be it the controversial Harbhajan-Symonds dispute involving charges of racism on the Indian spinner or be it the physical assault by Harbhajan against a crying Sreesanth during the IPL, sledging in cricket usually ends up on the wrong side of the track. Many batsmen have fallen to sledging in cricket and at times bowlers and the team have had to pay for messing with the wrong batsman. Altercations to scores of vulgarity have unwontedly become a part of the game. This has troubled the observers of the game who have always called for stricter actions against those who indulge in sledging in cricket.
But there are certain supporters of this particular act. These are people who believe that sledging is just like any other test for the players. A batsman's focus should not be damaged in any way and that actually separates great batsmen from those who never make it big. Ignoring the at times penetrating words calls for immense control and focus on the part of the batsman and hence every batsman must develop that control in order to deal with sledging in cricket. Players have every right to speak to each other during a game and even if direct remarks are prohibited, they'll still find a way to touch that delicate spot verbally.
Whatever be the outcome of this debate, it will be interesting to observe how sledging in cricket develops over the years. It is obviously up to the players whether they want to sustain this Frankenstein. Meanwhile, the fans of the game will sit back and enjoy the cleverly constructed mind games loosely translated into sledging in cricket.
Sledging In Cricket – Famous Incidents
There are numerous incidents of sledging in cricket and yes all are famous and important. If not to you, then to someone else they hold dear. Let us take a look at some of the most noteworthy, outrageous, popular, heated-up and vehement incidents of sledging in cricket.
We shall start randomly for this list of sledging in cricket, not adhering to the timeline.
1. McGrath (Aus) and Brandes (Zim)
McGrath (frustrated): Why are you so fat?
Brandes shot back: Because every time I make love to your wife, she gives me a biscuit.
2. Greg Thomas (Eng) and Viv Richards (WI)
Greg (after beating Viv's bat twice) described the cricket ball to VIv: It's red, round and weighs about five ounces, in case you were wondering.
Viv Richards (after smashing the ball out of the park and into a lake): Hey Greg! You know what it looks like, now go find it.
3. Hansie Cronje (SA) and Merv Hughes (Aus)
Cronje kept hitting Merv all around the park for sixes and boundaries. Merv came up close to where Cronje was standing and let out a fart and said: Try hitting that for six!
4. Robin Smith (Eng) and Merv Hughes (Aus)
Merv Hughes (after Smith played and missed): You can't fu*king bat!
Smith (after smashing Hughes for a boundary): Hey Merv, we make a fine pair. I can't fu*king bat and you can't fu*king bowl.
5. Frank Tyson (Eng) and Raman Subba Rao (Eng)
Frank Tyson got an edge off a Pakistani batsman but it went past wicketkeeper Subba Rao's legs. After the over, Subba Rao walked over to Frank and said in an apologetic manner:
"Sorry Frank, I should've closed my legs"
Frank shot back instantly: No, you b**tch, your mother should have.
6. Miandad (Pak) and Dennis Lillee (Aus)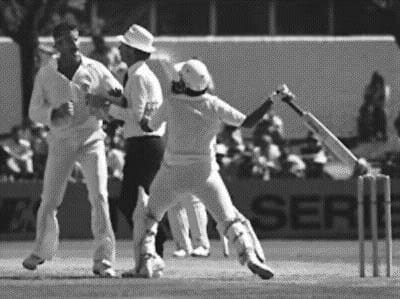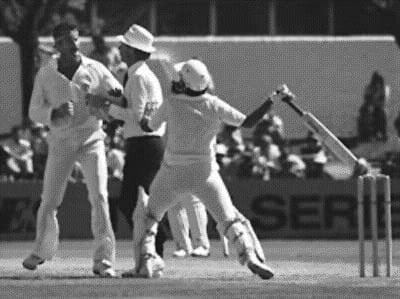 After a verbal dispute, Lillee kicked Miandad on his pads. In return to this, Miandad started charging towards Lillee with his bat raised high as if meaning to hit him with it. This remains one of the most popular incidents of tussles between players while on-field.
7. Venkatesh Prasad (Ind) and Aamer Sohail (Pak)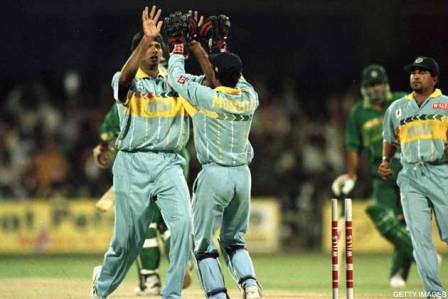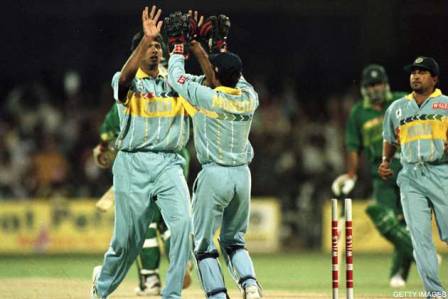 Pakistan were off to a flyer and Sohail smashed Prasad for a boundary and started walking towards him, pointing his bat, first where he had hit the boundary and then at Prasad. He was gesturing that he'll keep hitting Prasad and that too in a very animated manner.
Next ball, Prasad rattled the stumps and the wicket lay uprooted as an overjoyed and victorious Prasad signalled a mortified Sohail back to the pavilion.
One of the most cherished incidents of sledging, this was India's answer to Miandad's last ball six.
8. Steve Waugh (Aus) and Curtly Ambrose (WI)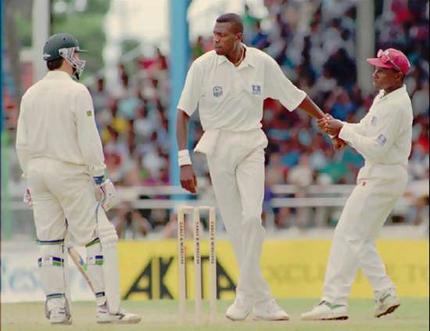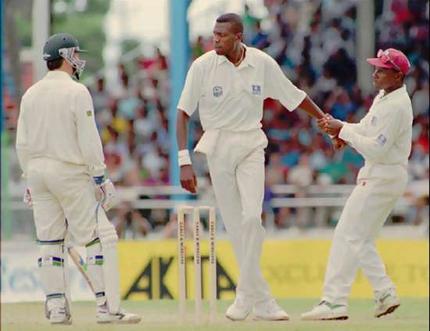 Waugh is lucky to be alive. Nobody messes with Ambrose, nobody. Waugh's autobiography revealed how close he got to the big man (and probably a grave physical injury) because of one mindless remark.
Extract from the autobiography,
Ambrose repeatedly stared Waugh down during a searing spell, and Waugh, who sized up the towering Ambrose, said: "What the f*ck are you looking at? "
Ambrose was stunned because, as Waugh says (in his Autobiography), "no one had ever been stupid enough" to speak to him like that.
Ambrose replied, "Don't cuss me, man", before Waugh's response, which had nothing to do with bowling.
"Unfortunately, nothing inventive or witty came to mind, rather another piece of personal abuse: 'Why don't you go and get f*cked."
The Windies skipper Richie Richardson had a hard time keeping Ambrose from hurting the Aussie. 
9. Merv Hughes (Aus) and Viv Richards (WI)
Merv kept staring at Viv after every delivery.  And finally Viv said,
"This is my island, my culture. Don't you be staring at me. In my culture we just bowl"
Merv dismissed Viv soon and announced, "In my culture we just say f*ck off!"
10. Sachin Tendulkar (Ind) and Abdul Qadir (Pak)
I don't think Qadir had any idea who he was talking to. An honest mistake of course, how could he know, Sachin was just starting out. But that mistake cost him and his teammates a lot of runs.
Year: 1989, and Pakistani crowds were holding placards which said: Dhoodh peeta bacha, gahr jakar dhoodh pee (Hey little baby, go home and drink some milk)
Sachin launched attack on Mushtaq and smashed two neat sixes in one over. Mushtaq's mentor Qadir took this on his ego and said to Sachin: Bacho ko kyo maar rahe ho? Hume bhi maar k dikhao. (Why are you hitting the kids? Try and hit me)
Well, Sachin like a good kid obliged to the request made by the spinner. He hit Qadir for four sixes in an over making Qadir look like an inexperienced bowler struggling and receiving punishment from a kid. The over read: 6,0,4,6,6,6
Poor Qadir probably forgot how to spin the ball after this.
11. Ian Healy (Aus) and Ranatunga (SL)
Channel 9 microphones picked up Healy's highly offensive remarks on Ranatunga when Ranatunga asked for a runner:
Healy was heard saying: "You don't get a runner for being an overweight, unift, fat c*nt"
12. McGrath (Aus) and Sarwan (WI)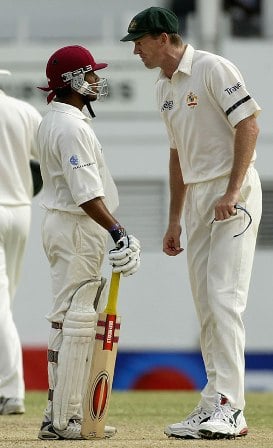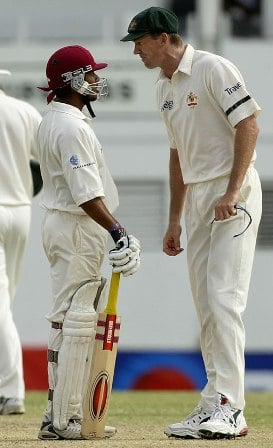 McGrath: "So what does Brian Lara's d*ck taste like?"
Sarwan: "I don't know. Ask your wife."
McGrath (losing it): "If you ever F*&king mention my wife again, I'll F*cking rip your F*fing throat out."
McGrath's wife was then recovering from radiation therapy for secondary cancer.
13. Mark Waugh (Aus) Vs Adam Parore (NZ)
Mark Waugh was at second slip, Adam Parore sort of new to cricket came to the crease played and missed the first ball.
Mark Waugh- "Ohh, I remember you from a couple years ago in Australia. You were sh*t then, you're fu*king useless now".
Parore- (Turning around) "Yeah, that's me & when I was there you were going out with that old, ugly sl*t & now I hear you've married her. You dumb c*nt".
14. Miandad (Pak) and Kiran More (Ind)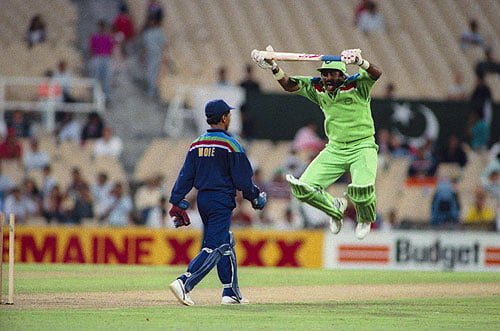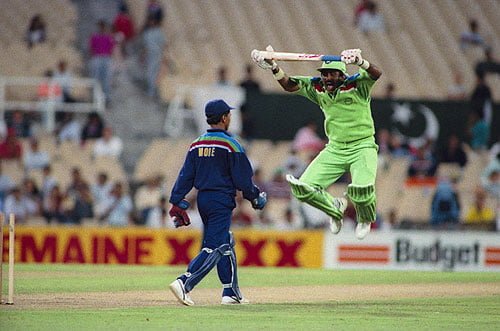 More kept going at Miandad, passing remarks and comments in order to irritate the batsman. Just then Miandad said: Insaan khel rahe hain, jaanwar nahi. (Humans are playing, not animals)
Just then, Miandad survived a run out, turned towards More and started doing what is now recognized as the famous 'frog jumping'. Apparently this is how Miandad saw More appealing. Miandad later confessed that he did it intentionally and also asked More is that was how he used to appeal every time.
15. Miandad (Pak) and Merv Hughes (Aus)
The two bad boys of the game almost came to blows in a match when Miandad called Hughes a fat bus conductor. Hughes soon dismissed Miandad and ran about shouting Tickets Please!
It seems revenge really is sweet.
16. Gavaskar (Ind) and Lillee (Aus)
Gavaskar forfeited the match after he was ruled out lbw. Before the decision, there was an altercation between Lillee and Gavaskar. Gavaskar maintained that he had nicked the ball and hence could not be given lbw, he even signalled the umpired by raising his bat. Lillee on the other hand went to the extent of pointing the area where the ball had hit Gavaskar's pads. Gavaskar was ruled out and a provocative remark by Lillee added fuel to the fire and Gavaskar forfeited the match. Gavaskar later said that he shouldn't have forfeited the match no matter what. He said he had acted in a very immature manner.
17. Tino Best (WI) and Flintoff (Eng)
Tino facing Giles and just then Flintoff shouted, "WATCH THE WINDOWS TINO"
Tino, before he knew it, was out charging Giles attempting to hit the ball out of the park and was stumped. Flintoff kept giggling for quite some time as a distressed Tino sat in the balcony cursing himself for his actions.
18. Gavaskar (Ind) and Viv Richards (WI)
The score read 0/2 and Gavaskar (having given up his opening position) came out to bat at number 4. A witty Richards said: "No matter where you come in to bat man, the score's still gonna be zero"
19.  Steve Waugh (Aus) and Parthiv Patel (Ind)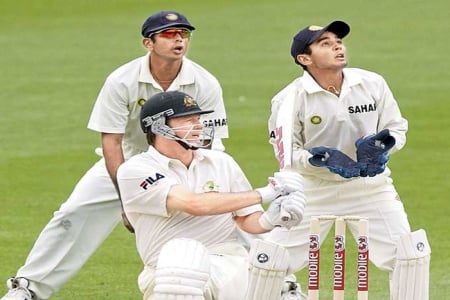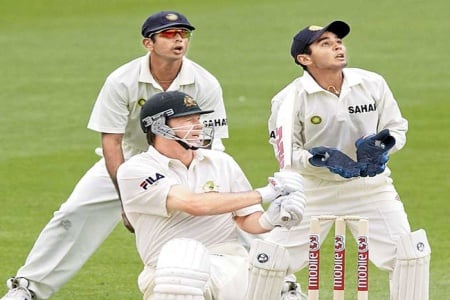 God knows what was young Parthiv thinking. The baby faced 19 year was a bit too ambitious in believing that he could in any way 'intimidate' or even remotely trouble Australian legend Steve Waugh.
Parthiv said 'Come on, just one more of the famous slog-sweeps before you finish'
Waugh replied: 'Look, show a bit of respect. You were in nappies when I debuted 18 years ago'.
20. Rod Marsh (Aus) and Ian Botham (Eng)
When Botham took guard during an Ashes game, Marsh fired in the one that must've hurt: So how's your wife and my kids?
21. Trueman Affair (Eng)
When a new batsman walked out to bat, Trueman (fielding close to the pavilion) yelled out: Don't bother son, you won't be out there long enough.
22. Cullinan (SA) and Warne (Aus)
Warne dismissed Cullinan and said: I've waited two years for this opportunity to humiliate you.
Cullinan shot back smartly: Well looks like you spent it eating.
23. Parore (NZ) and Cullinan (SA)
Cullinan was Warne's bunny as the Aussie bowler had earlier dismissed him on a number of occasions. Parore greeted Cullinan (who came to the crease and played the first ball carefully) by saying,"Bowled Warne"
24. Malcolm Marshall (WI) and David Boon (Aus)
Boon was playing Marshall and missed a couple of times. Marshall came close to Boon and warned: Now David, are you going to get out now or am I going to have to bowl around the wicket and kill you?"
25. James Ormond (Eng) and Mark Waugh (Aus)
Mark : F*ck me, look who it is. Mate, what are you doing out here? There's no way you're good enough to play for England
James: Maybe not, but at least I'm the best player in my family
26. Aamer Sohail (Pak) and Ian Botham (Eng)
Botham (after returning early from a tour to Pak): Pakistan is the sort of country to send your mother in-law to.
Aamer Sohail: Why don't you send your mother-in-law out to play, she cannot do much worse
27. Barmy Army (Eng) and Shane Warne (Aus)
England's "Barmy Army" used to sledge leg spinner Shane Warne musically and it was effective.
The sledge was based on Chirpy Chirpy Cheep Cheep – the "Where's your poppa gone?" song.
It was been converted to "Where's your missus gone?" (Warne had then been recently divorced in life)
28. Virat Kohli (Ind) and Aussie Crowd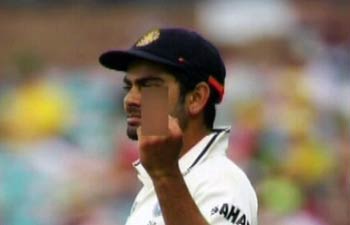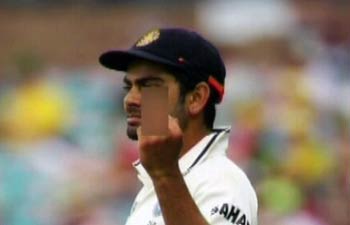 Who can forget the magic finger which travelled around the world as newspaper headlines. Kohli, irritated by the Aussie crowd's continuous banters, finally let it all out and showed a middle finger to the crowd. It was hilariously funny to see the crowd's reaction which was left perplexed at the sight of a player giving it back to them.
29. Ganguly (Ind) v/s England
Natwest Trophy, India chase down a stiff and seemingly impossible 326 due to the heroics of Md. Kaif and Yuvraj Singh. Ganguly, in the Lord's balcony is seen taking off his Team India t-shirt and swinging it like a catapult shouting (as can be easily made out from videos) F*ck off England! F*ck off!!
More than the words, the incident is known for the message it contained. Flintoff had taken off his team jersey while in India after winning a match. Our Dada gave it back to poor old Freddy in the worst or perhaps the best possible manner.
30. Flintoff (Eng) and Yuvraj (Ind)
T20 World Cup and Flintoff kept fingering Yuvraj with a few words here and there. What followed became history. Yuvraj targeted English bowler Stuart Broad and hit him for six sixes in one single over. Thus he became the second batsman in world cricket to do so in an international match. Poor Flintoff got served in a matter of six deliveries.
31. Sreesanth (Ind) and Symonds (Aus)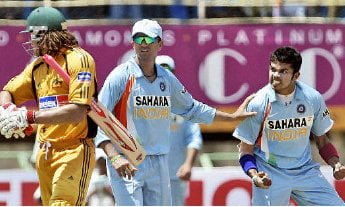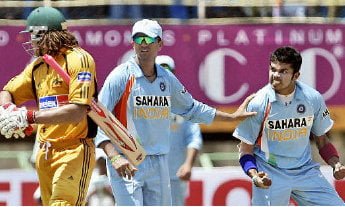 Sreesanth dismissed Symonds and in celebration sat down and made faces punching the air with his hands. The video is a rib tickling one where Symonds walks off with a WTF look on his face.
32. Inzamam (Pak) and Brett Lee (Aus)
Reportedly, Inzamam once insulted pace king Lee by telling him: Don't bowl off-spin deliveries.
33. Irfan Pathan (Ind) and Shahid Afridi (Pak)
Not actually teasing Irfan, but Afridi did say Aa gaya mera Shehzada (My prince is here) when Pathan came out to bat during a Test match in Karachi.
34. Steve Waugh (Aus) and Gibbs (SA)
After Gibbs dropped a sitter in a crucial 1999 WC match of the Super Sixes, Waugh walked up to him and said: How does it feel to have dropped the World Cup? Though Waugh later denied saying that.
35. Sehwag (Ind) and Akhtar (Pak)
Akhtar kept testing Sehwag with short rising ones followed by a Abey maar na, maar na! (C'mon man, hit me, c'mon on!)
Sehwag walked up to Akhtar and said: Tu bowling kara raha hai ya bheek maang raha hai? (Are you bowling to me or begging?)
Also, with Sachin at the non striker's end, Sehwag said Woh non striker ki jagah pe tera baap khada hai, usko bol wo marega tujhe! (Look there at the none striker's end, that's your father, ask him to hit you and he'll hit you)
When Sachin faced Akhtar, he hit him for a magnificent six which then became a historic moment in world cricket history.
Sledging in cricket will continue as the game has new characters pouring in from all around the world. For now, this is what we offer you as some noteworthy moments of sledging in cricket.