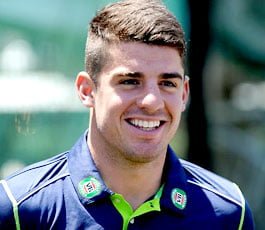 So I know this article is a bit late, and considering that India are already on the verge to win, it's quite pointless. I was not even going to write this article after Dhoni's double century but then something happened, sure Australia are down and out but at 232/9 it is Moises Henriques – the namesake of this article – who is standing firm under pressure on debut against the Indian bowling unit.
See let me explain the meaning of this article to you, the reader. There was and still is considerable hype surrounding the Test debut of the young Australian all-rounder Henriques, such promotion or the announcement of an eleven prior to a test match has never been seen, by me. It's been on quite a few cricketing sports pages, and among the articles regarding this debut one thing stood out.  The fact that Henriques placement was all about the search for the right all-rounder in the Australian eleven at Chennai for the first test.
Injuries kept Andrew McDonald and Mitchell Marsh at bay, the fact is Henriques also passed Glen Maxwell and Steven Smith to gain a coveted baggy green for himself and not to mention all because Shane Watson has decided to lay off bowling this tour. So let's get this straight, there are no doubt a lot of all-rounders vying for a spot in the Australian squad. They have about two really tough but injured contenders playing state cricket, two others waiting in the wings or benches, one who for now is taking a break from bowling and the other making his debut. All in all those are six battling for a chance on the field not to mention the bevy of all-rounders dominating the Shield State Cricket tournament and mostly the whole Australian A squad full of prospects such as John Hastings and Rob Quiney.
Now to the main bit, so if Australia has these many constantly banging the selector's doors, Where are India's all-rounders at?
We already know the amount of youth prospects lining up and chasing their cricketing aspiration in the state level through the likes of Ranji Cricket. I cannot go in-depth into this as there are too many players who can produce fantastically with both bat and ball. My first priority is to try finding the all-rounders from the selected squad for the first two tests, and the players likely for the next matches as well.
Ravichandran Ashwin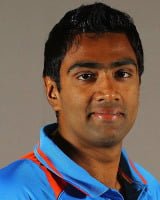 Don't let the guise fool you, beneath the timid face hides a wily bowler and a fierce batsman. When India's middle and top order's were going through lean periods, it is Ashwin who brought the team back onto even footing. He has already gone on to score a Test century and two half centuries. In 18 innings in the longer format, Ashwin has a strike rat of approximately 65. The man plays the bat with rage but that's not all. His famed feature among the Indian line-up is his crafty spin bowling. Just after making his test debut, Ashwin turned to the go to guy on the slower and confusing bowling approach. He has been a constant wicket taking factor and in fact just got a five wicket haul in the current test match. It must be seen if he can produce consistent gems with the bat however, if he could do so his stock would rise eventually resulting in a full-time all-rounder post. At times moving him up the batting order might not do any harm, the selectors keep him in the team so it's up to him, his coach and captain MS Dhoni to push his confidence forward. Especially in foreign tours, since his bowling has been a bit lacking there.
Ravindra Jadeja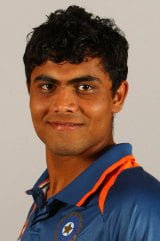 His been on a streak in the shorter format of the game. Jadeja has been a sort of underrated player (but not on this website!) after multiple great Ranji season's. He has been a mainstay from time to time in India's limited overs squad, and has been a great asset with bat, ball and on the field. Coming in as a Batting all-rounder, the push downwards on the elven caused Jadeja to turn to his bowling status becoming a much better spinning component for the Indian side. One test old, it's up to selectors to keep their faith on him. He has the guile to follow big scores especially if given time to spend at the wicket, although he did get it this match he did not prove his worth. Hopefully Jadeja get's a second chance on the batting side, nonetheless his bowling is not much of a worry.
As of now the current squads for the first two tests do not bolster confidence with only two pure all-rounders. In the test format, I am hesitant to consider the woefully inconsistent (in bowling) Virat Kohli, I have unfortunately no idea on the bowling prowess of either Pujara, Rahane or Dhawan but seeming as they rarely get to bowl I guess I have my answers. Sehwag has toned down in the bowling (and batting) while Harbhajan has been out of the team, so I would rather see him concentrate on his spin. Bhuvaneswar Kumar seemed to show a bit of spirit with an ample supporting 38, but that was more out of circumstance then habit. Now a look at few (only two) others in the test waiting line;
Manoj Tiwary
Underused and underrated, Tiwary should have been all set to be a consistent part of at least India's test bench if not test eleven. He can bat and he can bowl, it's just a matter of time before the selector's open their eyes and realize the untapped potential this ferocious and class player has.
Abhishek Nayar
Another player who has been on the radar, he has the temperament to go far and although his debut should be after Tiwary he could be a valuable asset to the men in blue (when they are in white). Although his seen a slight dip and was unable to show enthusiasm in his India A match against Australia, Nayar has my full backing as a player and all rounder the team could use in a similar fashion to Jadeja.
There is quite a lot of all-rounder's waiting in India to gain the chance to put on their whites but inside politics and senior's salvaging their spots using their tricks of only batting or bowling is keeping some deserving players out. It isn't like the problem is new, India has always had a problem in finding an all-rounder fit in the lieu of the great Kapil Dev. They have strived to search for one constantly but sometimes their eyes have been blinded by other factors. This was not to be about Moises Henriques (no matter how deserving he is of the attention) but rather to show through luck and determination how he ended up with his baggy green. Australia's constant strive in birthing replacements for not only all-rounders but bowlers (who can bat) and batsmen (who can bowl) may seem floozy but in the end it is admirable as to how far they plunder their options. Australia has always found a diamond in the rough, heck, their rough is a treasure chest of diamonds. Maybe all India needs to do is polish it's collection or put pressure on the coal of it's players so to turn them into true all-round sharp diamonds.