Spot-fixing in IPL shook the entire nation not so long ago. Rajasthan Royals team was shattered to the core as five of its players were named in the charge sheet filed by Delhi Police. Ajit Chandila was one of them. He was a performer during the IPL 2012. He took a hat-trick and was slowly making his name in the cricketing circuit. And suddenly his life was bombarded with allegations of spot-fixing. He was banned from playing any kind of professional cricket.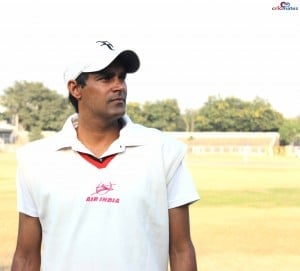 His case is still in the court. Since the major break-out BCCI itself has been trapped in the controversies. The focus has shifted from the players to the board. But what about the players? What are they going through? They are just accused for the wrong doings. Their case is still pending in the court. But they have been living a life nothing less than a criminal.
Viplav Vishal, Managing Editor, Cricmatez interviewed Ajit Chandila regarding his experiences since the controversial period in IPL began.
Here are the excerpts from the interview:
Viplav: What would you say about the allegations that have been made against you?
Ajit Chandila: I have trust on the judiciary and the board. I believe in almighty. I am suffering for things I haven't done.
Delhi police has played a game. No one is telling me what has happened. Our case comes under BCCI not Delhi Police. In recent investigations few names have popped up but BCCI is not willing to reveal the names of the players. Then why were our names revealed? Even we have a family like them. BCCI should have asked Delhi Police to handover the case to the board so that BCCI could probe independently as it is a matter of their players.
We were linked to Dawood, Shakeel and who not? You can imagine what a player would be going through with such allegations. I have never been to Dubai, neither have I received any calls from people like them.
Viplav: What about the money that was found inside your house while you were under arrest?
Ajit Chandila: The money was kept in our house after threatening my family members. I had no clue about that. Case is sub judice so I cannot comment upon that.
Viplav: What do you have to say about the evidences against you?
Ajit Chandila: You may ask anybody and they'll say that big fishes were spared instead easy preys were latched upon.
We were arrested on the basis of charges framed by Delhi police.
Once a person faces allegations, he or she gets bail and live a normal life. If Sanjay Dutt comes out of the Jail won't he get movies? But what about a player? We are not even supported by our state board.
You can see when Nicky Boje and Herschelle Gibbs were facing allegations their board supported them. Entire nation stood behind them. And they came to India on their conditions. Their board demanded that they shall not be questioned. Samuels(Marlon Samuels) was allowed to play for his country after being banned for two years.
Mohammed Amir is hoping for a comeback after five years in jail. He was guilty of wrong doings at the top level for his national side. IPL is just a form of club cricket. But the board imposed a life ban on its players. We players come from different backgrounds. We have only cricket to survive.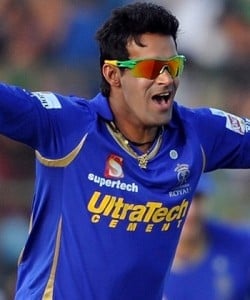 We have no body to support. When BCCI is facing charges then everyone is supporting each other. What about us? We go to courts for hearings and then come back to home. Nobody is there to ask anything or show their support.
Viplav: Do you think you are getting a fair chance?
Ajit Chandila: Case is pending in court and I trust the judiciary. The truth shall come out. But I want to ask BCCI that if the charges on us are found to be false then can BCCI give us back whatever we lost? We were at our peaks. I could have played for the country. I had taken wickets of Sachin Paji, Rickey Ponting, Saurav Ganguly. Check my bowling figures in every match I played.
And then I was told that I had done this in one particular match. During the probe I asked Delhi Police commissioner myself, "Please tell me, what have I done"? He said this bloke is a match fixer. When everyone told him that there's nothing against him, then he said he is a middle man.
After-party happens after every match in IPL. How would I know that who has come with whom? Franchise had allowed parties after the matches. We didn't organize them.
Viplav: Are you still in touch with your Rajasthan Royals team members or officials? How is the support from their side?
Ajit Chandila: I do not have any touch with any member from Rajasthan Royals team since then. This is India. Even your closer ones leave you alone in situations where something bad has happened to you, Rajasthan Royals is just a team.
I wish nothing bad happens to anyone, but one should face a time in one's life that would make one identify their closer ones and the fake ones. People whom I used to call brothers left me midway.
I can't name them, but there still are people who have faith in me and think that I am not a wrong-doer. My family has remained with me throughout.
Viplav: The owner of Rajasthan Royals team, Mr. Raj Kundra's name also popped up in controversy. Did you get any support from him as he could have understood your situation?
Ajit Chandila: When Raj Kundra's name popped up, there were many who could support him. He is a big name in the industry. But there wasn't a single person thinking about what the players must be going through.
I am grateful to my District officials for allowing me to practice when I'm through a bad phase. I come to this stadium(Nahar Singh Stadium, Faridabad) to practice and remain in touch. This is where I grew up playing cricket.
Viplav: If your name gets cleared in the court, how do you think you're going to start again? You'll have to start from the scratch.
Ajit Chandila: I hope the judgment comes soon. I trust the board that they will help me. I am trying my best to remain at my best. I believe that I will be given a clean chit. BCCI has just suspended me. I trust them that they won't do any bad to me.
Viplav: You were given extra time to give your answer to the board. What happened once you submitted your answer?
Ajit Chandila: I gave my answer to Mudgal Committee as well as BCCI. The case kept getting complex. Supreme Court involved BCCI and the board itself kept getting trapped in the case. Their involvement distracted their concern from us to themselves. Board doesn't even know what the accused players are doing. Where they are?
I want to share this message with people reading this, "Until an allegation is proved on any individual, please do not let him and his family suffer as much as we have."
Media kept showing whatever Delhi Police was telling them. They were showing about luxurious watches, denims. Ask Delhi Police where the watch is. Everything was framed. I heard them saying that I used to arrange girls. I am a married person. One can only imagine how much I had to suffer because of such allegations.
Viplav: How do you support yourself financially?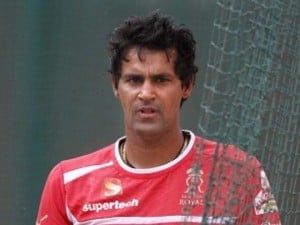 Ajit Chandila: Struggle time is still going on. Financial problems are there. I have to take care of my family. I have to keep doing works. Family business is there. I take care of that.
I had an offer from Big Boss. I declined that as they were expecting certain things from me that I would tell on the television. I couldn't agree to lie. I still feel there's cricket left in me. So I am trusting judiciary and BCCI.
Viplav: Are you in touch with your teammates from Rajasthan Royals, who were accused of Spot-Fixing in IPL?
Ajit Chandila: Yes, I am in touch with all of them. I am in touch with Sreesanth and Ankit (Chavan). Ankit is struggling in his life. Sreesanth is a big celebrity. Our time had just arrived. I had done well in both IPLs.
Viplav: What about the support from Narendra Hirwani, your mentor?
Ajit Chandila: Relation with Narendra Hirwani is same. He is like a big brother. Still I get messages from him. He says, "Good times were there. Then bad ones came. But even the bad times will not remain for long. Good times must not be far away. Keep looking for good opportunities." He still supports me and do not let my morale go down.
Viplav: Your comments on Mudgal Panel report?
Ajit Chandila: Mudgal Panel report is about BCCI. It would answer the questions related to Mr. N. Srinivasan and G. Mayappan. There's nothing related to us.
We do not know whom to ask about us, and what's happening with us. We are feeling helpless. BCCI is powerful and so is Supreme Court. We are normal people. Many big frauds escape punishment because they possess power.
Viplav: Did you get to know about any kind of fixing happening around during your stint with Rajasthan Royals?
Ajit Chandila: I never got to know about any wrong doings. Rahul Dravid was our captain. He is a genius and a much regarded person in Indian cricketing fraternity. There was nothing like match fixing going on in my knowledge.
You befriend many people in your life. There were negative peoples who met me and in just third or fourth meeting started asking about if anything like fixing really happens then give them the leads. I said nothing happens.
In every recording of my phone calls, I have just said,"I'll tell you. I am trying." Did I commit the crime? No. There were just plans being made. We were being forced. Delhi Police knew we were just players. If they knew about the things they should have stopped it. If they knew that we were being forced, they should have understood that we were players. We were innocents. They should have helped us.
They have the tapes that show that Ajit Chandila is getting threats. But they didn't show them. Tapes clearly show that I was denying despite the threats. But they just showed the negative things and strengthened the case. They knew I was not ready to fix. But they hid them.
Amit Singh, after getting bail told TOI that Ajit Chandila is not guilty. He has done nothing. Ask any of the accused players and if they say that Ajit Chandila has done anything, I will leave my cricket and will accept the charges against me.
Viplav: Why do you think then you are being targeted?
Ajit Chandila: Police has to form the case. If they fail to form a strong case, they will get scolded by the court that you made a false case and killed the careers of players.
The power is in what they have written in the charge sheet. Now they are fighting for that.
I have told this to BCCI and I am telling this to you as well that I have remained a clean chit and I will remain one throughout my life.
But I want to ask that will BCCI or Delhi Police return whatever I have lost?
I still trust BCCI that they will do justice with me. I want BCCI to allow us to play our cricket. The moment the allegations come true I'll step aside. I have been granted bail from the court to live a normal life and fight my case simultaneously. I want the same from the board.
Delhi Police and BCCI, both know that cricket was my only bread and butter. I just want to play the game. I am just an accused, still fighting in the court. Why am I being treated like a criminal?
I want to play cricket from my company Air India. Air India had awarded me a job for my achievements in cricket. And I had performed well for them.
Today even Air India is struggling. They are not reaching the finals of any tournament. When I was playing with them, Air India was reaching the finals 8 out of 10 times.
Viplav: Any support from Air India's side?
Ajit Chandila: As I told you, when bad phases come, close ones leave you, and they're just a company. India is the only country where I have seen that nobody remains there to support you once you go through a bad phase.
My friends whom I trusted more than my family have left me.
I just want to tell you that, if you ask the current Indian team about Ajit Chandila and his nature and character, you'll get your answers. I have one-to-one relationship with the current Indian team.
You can pick up my career stats and see my performances for Air India in past one decade. I performed in every tournament I played. People know Ajit Chandila in the domestic circuit.
I was awarded the best bowler award in Time Shield trophy in Mumbai in my debut season, where players like Azaharuddin and Suresh Raina have played to make a comeback in the Indian team.
Viplav: Your experience during the worst phase of your life?
Ajit Chandila: I think this was a well planned case. Every movement was planned by Delhi Police. The case has been hit for a month in the media. Have you ever seen a bomb blast getting as much attention? Nobody noticed it.
The period was like a dark phase in life. There was complete silence all over my world. There was mourning at home. When I was in jail, my family had to struggle as hell. They never told me about the things that they saw or faced. I used to get a shock every morning in jail after reading newspapers. There were new allegations every morning that I didn't have any clue about.
I want to begin a new life. That's all.