The 67th Ashes battle turned out the way it was expected and, without any doubts ,England won it comfortably. The three-nil scoreline clearly proves the "comfortably". But, with all due respect to England, their 'luck' played a huge part in registering them this comfortable victory. Expect Bell and Pietersen, all the other batters failed to score consistently, which, in turn didn't harm them because the Australians also didn't bat that well. Their bowling also lacked that firepower of pulverizing the opposition's batting. Except Swann, no other bowler was able to do his homework effectively on the field. So, taking advantage of these England's shortcomings, Australians were somehow able to get across to a few positives, that, to an extent did shut the rising doubts on their team makeup. The team performed well in patches and these 'patches' clearly showed that talent was their, the only thing required to nurture this talent was experience which would definitely come with time. But, for now, it will all come down to the 68th battle which gets underway on the 21st of November.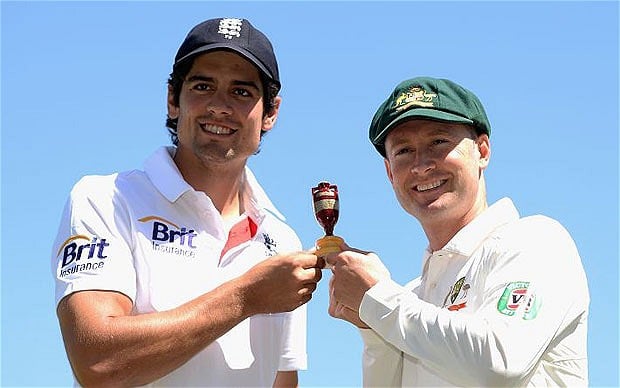 Let's first start with England. They, as we all know, have got a factory of talents in their batting lineup. Their factory consists of Cook, Root, Trott, KP, Bell, Prior and with the addition of Bairstow, Gary Ballance and Carberry, the factory has increased its value to a good extent in the cricketing world. The Fast Bowling department will be headed by one of the best swing bowlers in the world James Anderson followed by Broad, Rankin, Finn, Tremlett and Stokes. The presence of Broad, Rankin, Finn and Tremlett is a huge plus for the Englishmen as because their height will play a key role in extracting good bounce from the lively Australian pitches. But somewhere down the line, I think that England will miss the services of Bresnan. His ability to introduce the reverse swing effectively into the game and his lower order hitting will surely be missed. The Spin bowling looks absolutely unmatchable. Swann, will again be ready to cause a lot of trouble to the Aussie batsman like he did in the previous Ashes. So, after going through their squad, my playing 11 for them would be:
1. Cook(c)     2. Root     3. Trott     4. Pietersen     5. Bell     6. Ballance    7. Prior (wk)      8.  Broad   9.  Swann    10. Anderson     11. Tremlett
The selection of Ballance ahead of Bairstow for the sixth spot sounds to me a steady option because unlike Bairstow, Ballance has that knack of staying on the crease for a longer time. He has an absolutely amazing record in the County Cricket. In the 65 matches, he has scored almost 5000 runs at a healthy average of 54.51 with a highest score of 210. With England still struggling to find a stable number six, I strongly feel that Ballance can be that much-needed 'stable' option.As far as the Australians are concerned, I think that they will have to manage their resources very cleverly if they really are to fight for the Ashes. My playing 11 for them would be:
1. Rogers    2. Hughes    3.  Watson    4.  Clarke(c)     5. Smith      6.  Bailey     7.  Haddin(wk)      8.  Johnson    9.  Siddle    10.  Harris    11.  Lyon

Reserves: Warner, Voges, Shaun Marsh, Bird, Faulkner,Ferguson
Australia will need to take strong care of four things if they have to win.
Firstly, Hughes should open in all the matches in place of Warner. With the kind of talent that Hughes possesses, his availability at the top of the order is very important for Australia. As compared to Warner, he also has the ability to anchor the innings accordingly. So, keeping these things in mind, I really hope that Hughes opens alongside Rogers.
Secondly, Clarke's availability in all the five matches isn't guaranteed. So, to overcome this problem, someone of the kind of Voges, Ferguson or Shaun Marsh, who have a cool head in pressure situations, should be kept prepared so that the team management doesn't come across the problem of the shortage of options.
Thirdly, there have been questions hanging over the number sixth spot for quite sometime now. In my opinion, Bailey would be best suited at number six because of his temperament. He has been Australia's mainstay batsman over the past one and a half years. His ability to anchor the innings in the ODI's can be a good prospect in Test matches too. So, without any questions, he should be the man in charge for the sixth spot.
Fourthly, the availability of Pattinson, Cummins and Starc isn't guaranteed. So, because of it, Australians are left with Johnson, Siddle, Harris, Faulkner and Bird. Out of these five, the bodies of the first three will have to be managed very judiciously so that all three of them can last for all the five matches.
Once again it will all come down to how the Aussies fair in all matches. If Australia can take care of all these four things, then, for sure this time Ashes will surely be within their reach. But, if this doesn't happen, then again a 3-0 defeat would be hard to digest for them.