INDIA V AUSTRALIA, 2014.
2-0, that looks so dejecting for an Indian cricket fan. Back when Kerry Packer's World Series was announced, India went to Australia for five match test series that was in the year 1977-78. And series started with same result as now, Australia going 2 up in first two games of series. With having broadcasting issues by Mogul with ACB, there was a tense situation within a team and Australian camp who had just lost Ashes to England in summer. Bob Simpson who hanged his boots during 1968 was recalled by ACB to lead against visiting Indian team, and he was the highest scorer for Australia in both tests. Australia's squad was full of inexperienced players, 06 were debuting. While for India Gavaskar scored century in both the tests. Mohindar Amaranth also scored a century in the second innings of second test and missed it by 10 runs in first innings. In both tests, India were in a close situation to win the match, but lost it during crucial moments. Just like current scenario, where India is trailing 0-2 to Australia. In each of them, fortune recedes are switched from head to tail session by session. The 1977-78 series known as India tour of Australia 1977-78 can easily be resembled with current Border Gavaskar trophy 2014-15 going in Australia.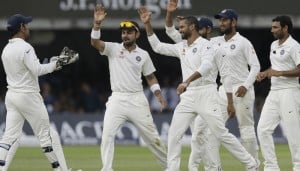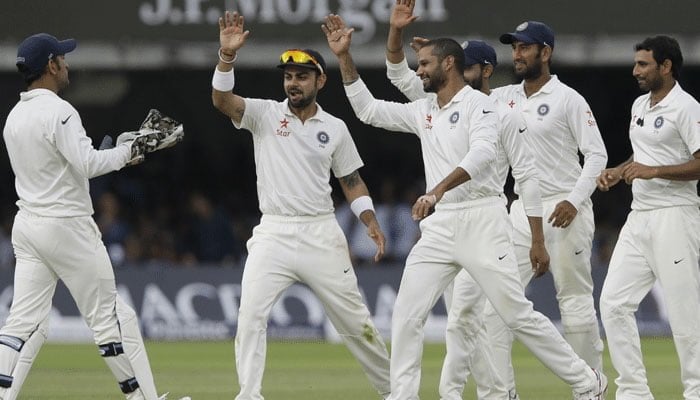 In Adelaide test, Virat Kohli was scoring run at brisk rate and India were in a position to steal victory from Australia. India scored 242-3 chasing 364 runs. Match was wide open when India scored 408 in Brisbane and leaving Australia with 4 down at 221 at day 2 Stumps. Indians love batsmen and big scorer, but it has been discussed many times about lack of discipline and thirst in bowlers to take 20 wickets in 5 days game of Cricket. It was evident on first two session of Day 3, when Indian bowlers looked helpless against young Australian skipper Smith & experienced fiery bowler Johnson. Australia, recovering from 247 for 6 to 505 all out was turning point of second test. Smith & Johnson added 148 at rate of above 5 runs per over for 7th Wicket. Moreover, to rub salt on India's wounds, last two wickets partnership added half century stand too. Australians were able to add 258 runs between there last 4 wickets. The paucity of the India's bowling attack once again looked into May Day situation when they once again failed to get rid of Australia's tailenders. It is a prolong problem within the Indian team since Anil Kumble departed.  When fortunes swinging either way session by session, one big partnership can take game out of your hand and exactly the same happened in both the tests. While the stats also goes against India when Indians read about Tail Enders performance against India. Numbers have shown that India have conceded an average of 84 runs to pick last three wickets while playing outside Asia. And yes, it is the worst record among all the Test playing nations. The famous Lords test in 2011, where our bowlers conceded 162 runs to pick the 7th Wicket of England. The clueless Indian bowlers were left with no plans when Mitch started attacking them. While Indian skipper took too long to realize, tally of runs was increasing tremendously. Indians were bowling short to Johnson which did worked against both their batsman. But to Johnson who loves playing his shots seemed a bitter deal to bowl at 135kph on his waist height. The essential point is this; that what works for one player will not necessarily work for another. What works for Brad Haddin may pinch suit David Warner but probably won't come naturally to Johnson & Smith. Yet proactivity comes in many forms. In the main, Australians were very aggressive in their approach, anything short and they were punishing it hard enough to reach the fences. While Indian bowlers were busy bowling bouncers, Australian looked much focused in approach. Indians should give more time to their bowlers to settle in, Shami & Umesh should be given more chances.
India's away records are horrible to say. Out of 24 matches played outside India, they managed to win 3 tests and lost 15. Batsman like Dhawan & Rohit who gave fantastic performance on Indian pitches are finding it hard to dance on Oz tune. While Pujara & Rahane have to learn, yet past two hours at the crease one has to play his stroke more often and unsettle bowlers to give the other batsman sometime to settle down. It is a mere excuse of "tension in dressing room" post Dhawan's injury during net session. I wonder how many legends actually went for net session during a test match? When you step into test matches you have to make sure you are ready with plan A, B or C for that issue. With India giving a good fight to Australia, form of Rohit Sharma is still a concern. While Indian skipper is stubborn of playing one extra batsman instead of a bowler, it won't be an ideal batting line up for India. That extra batsman in name of Rohit Sharma is yet to score a half century in 4 innings he played. What India need is 20 wickets in test matches rather than 50 odd runs from a batsman. As far as talent is considered, there is no lack of elegance but his contribution with the bat is neither more nor less, it has been zero for India. And soon he will be a burden for selectors and the skipper. With the likes of Mathews & Smith doing justice with their captaining it's time for India to think an alternative. Players are optimist, and they should be. They must trust their talent; they must continue believing when runs and wickets are scarce they lurk just around the corner. Indians were down under in 1977-78 series , and they are down by 2 now after first two tests. Gavaskar scored three centuries in first three tests in 1977-78, and India won 2 test matches out of 5, losing in the decider. But this time, Indians can turn the table and produce a better result in Australia by wining rest of the remaining 3 tests with right combination.