Arsenal Chennai Supporters' Club Proudly Presents "The Cannon Cup" 5 a Side Football Tournament to be held on 28th and 29th of June 2014. Teams from Chennai are welcomed to participate in it. To know more about the tournament, check the details given below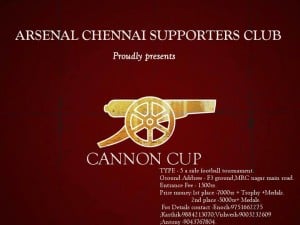 Place: F3 Grounds, MRC Nagar, Main Road, Next to Ambedhkar Memorial, Opposite to Chetinad Vidyashram.
Time: 8:30am – 6:00pm
Entry Fee/Team: Rs.1500 per team
Price Money:
Winning Team: Rs.7000 + Cup + Winner Medals
RunnerUp Team: Rs.5000 + Runner Up
Medals Player of the Tournament: Nike Football
Rules and Regulations:
The Tournament:
ACSC Cannon Cup will be a 32 Team Tournament.
32 Teams will be split randomly into 8 groups of 4 each.
Each Team will play only once against a team in its group.
The Top 2 Teams from Each Group will be advance to the Knockout Stages
The top two teams from each group will go through based on the highest number of points.
In case of a tie in the no of points, the next criterion that will be looked at is the goal difference.
In case of a same goal difference, the next criterion will be looked at is the head to head game between the teams.
In case of the head to head being a draw, number of goals scored will be looked at.
In case the goals scored number is the same, the re match will be played.
In case the re match is a draw, it will go to penalties.
Number of Players
Minimum Number of Players to Start Match: 5, one of whom shall be a goalkeeper
Minimum Number of Players to Finish Match: 3
Maximum Number of Substitutes: 3
Substitution Limit: 3
Substitution Method: "Flying/Rolling substitution" (all players but the goalkeeper enter and leave as they please; goalkeeper substitutions can only be made when the ball is out of play and with a referee's consent)
Duration of the Game
Two equal periods of 7 minutes. The clock will be stopped whenever ball is out of play. Time can be prolonged only to take a penalty kick.
Half-time: Maximum of 5-6 minutes
*This Duration Might be Changed for Knock Out Stages
Fouls and Misconduct
Players shall be cautioned (i.e., shown Yellow card/Red Card) when:
A substituting player enters the pitch from an incorrect position or before the player he is substituting has entirely left the pitch
He persistently infringes the Laws of the Game.
He shows dissent with any decision of the referee.
He is guilty of ungentlemanly conduct.
*Players cautioned by yellow card and further action will be decided by the referee – would mostly be a sit out for 1min.
**Players cautioned by Red card will be out of the entire match for the present game he played.
***Teams failing to show up for their match within the stipulated time of start of the match will be deemed to be out played in that particular match and the opponent will be deemed the winner by 3 – 0 Margin