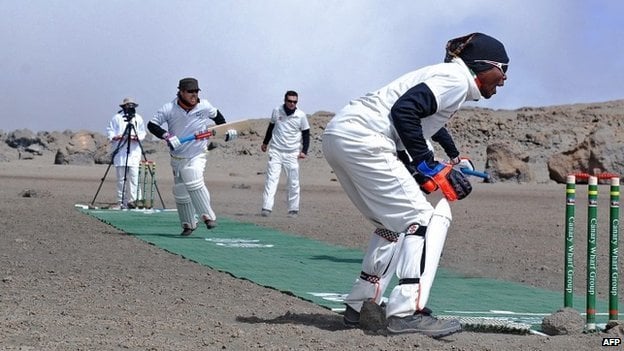 Cricket over the years has travelled across borders and boundaries. If football could be played in high altitude areas, then why should cricket be on the backfoot !
A group of international cricket veterans, which includes the likes of Makhaya Ntini and Ashley Giles and played a cricket match for 10 overs a side match before cloud stopped play. The match was a fund- towards the construction of Rwanda's first international cricket pitch. The popularity of cricket in the nation which fleed from genocide 20 years ago is increasing rapidly. Lack of infrastructure facilities is the problem in this part of the world.
The cricketers, had to be really crazy to play a cricket match here, they beat all the odds. They could get sick anytime.
The match at Mount Kilimanjaro broke the record for the highest ever cricket match played till date. The game was played at 5,730 metres, in the flat crater. The record for the world's highest game has been 5,165 metres, played in the Everest base camp way back in 2009.
The team of cricketers was divided into 'Gorillas' and 'Rhinos'. The 'Gorillas' won the match, it was lead by England women's vice captain Heather Knight. The other team was lead by ex-England player Ashley Giles. Female supremacy is certainly evident on the gentleman's game. What an irony !