CSK Fans – The Two Sides of a Coin

IPL  started much to delight of many cricket fans in 2008 and serious took off since then. It just kept going on and on since that. IPL has gone to heights that are just unimaginable. And it is ever more hard to believe that only one team, Chennai Super Kings is able to stand out this much when compared to the rest of the teams. CSK ,as we all know, have qualified each and every time for the playoff and are in 5 finals and won 2 out of them. CSK are the only team to achieve 50 wins in IPL, such is the consistency if this team. To add to their impressive record, They have won the Champions league too. With the amount of success this side has had, It is inevitable for a person to leave this side, aside. Every person will be either loving CSK or Hating CSK but No one can ignore this team as such. In Chepauk , We will able to find crowds more passionate about the game than the players. Chennai crowds usually respect good cricket no matter it is whether from their side or from the opposition.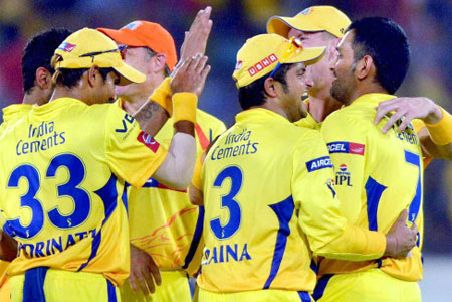 This has impacted a lot in IPL's too as they have shown great character on the ground. But off the field, there are many fans who have just started to see cricket just after the IPL started. It is largely because of these fans that their teams often end up in situation where they disrespect their rivals off the field. And Many Indian Players themselves find staring at themselves each other. So it is not a big surprise that Fans keep on hating a team. For many teams there are single star Indian Players who can attract many people even on away grounds to support their side like Sachin Tendulkar finds in each and every ground in India or even to say the whole world as his Home ground.
It is impressing to see after the players like Bravo and Pollard, after all their fights get back to friendship even after than much of teasing. That shows their maturity and Love towards the game. All are not expected to be them, In many cases Even after they smile after this, Fans keep on fighting about this. With The Star Studded Team Like this, It can be said that it is this Team that has 11 players each of which are Tried and Tested match winners for their Side. The Concept of Retaining the Nucleus of side as such in the last 6 seasons has ensured that the fan base doesn't reduce for this Lovable Club. The success they are having they also ensure that their fans are not disappointed with their club and this increases their expectancies sky-high that every CSK match is a tailor-made for CSK to win that. With the Likes of Hussey, Bravo, Morkel around the team looks really formidable that anyone who looks the team on paper, with knowledge on world cricket, will say they will be a team to beat .This is a major reason that CSK has this much fan base all over.  Aspect is that, They now know what each of them are capable of. They proceed with the Batting order accordingly. This is arguably the unsung hero of CSK in many instances.
At the start of an innings we have 2 classy openers Hussey and Vijay, who are statistically the most successful opening combination in the whole of IPL. You are not called Mr. Cricket for no reason. Certainly Mike Hussey proves that each and every time, why he is said so. Vijay tends to have a knack of performing when it matters the most for the team. This is certainly something that can't be thought to someone. They must excel by themselves in this. And Next is Stylish Southpaw, Suresh Raina. His records speak for his commitment and the strength for this born-athlete. He hasn't missed a game for his Club and obviously the Leading Run Scorer in IPL history.If any 2 of this 3 fails, there comes the most underrated cricket of India, Badrinath, Called rightly as the Umbrella of CSK. And he is a player for many seasons seems to be in form but never gets a huge spotlight in him .To add to all this, CSK are a team that can bat out to win from almost every  possible situations with the likes of Dhoni , Jadeja finishing the innings off in their style. This is easily evident from this IPL that CSK are team with a run rate above 11.5 this IPL in last 5 overs  alone. Fleming too has a major part to play along with Andy Bichel  and Steve Rixon for CSK's success tale.
With these much qualities , It will be one heck of a task for opposition to knock out CSK so cheaply. All this helps the cause of some fans who just watch IPL and think this is the only form of Cricket that We, Indians, are playing. All this qualities forms a team that is almost able to play in any pitch irrespective of the conditions .The team that ends up on the losing side too has these fans who think that CSK won it rather than realizing that their team lost it. Both may seem a same statement, But only  a true Cricket lover will be able to identify the difference between these lines. These days, It has become so that If CSK wins, their fans alone celebrate and if CSK loses almost many infantile fans of other teams celebrate.
Reasons for the fight between CSK Fans and Haters
These days the power of Social media is that there are Troll's made for bad ball even before the next one is bowled and uploaded instantly. This has a lot to contribute to the Haters and Lovers Logic.
For a Fan, he must clearly know that the players are doing it not for anger they just express their intension at that point of time. Then they get back, they forget and move on. As many more things are important than these for them. When all this happens ,if there is CSK on either one side. It becomes a still more big issue than others. But Still  SOME CSKians always believe what CSK do is heavenly for them. And Even a small misjudgement is hurting a lot to them. Those fans are the ones for which CSK is more important than anything else and it just shows the immense Love towards the Club. But this more often than not over shades the  Game compared to their team, as these kind of fans  want nothing but a CSK win in almost every time they see their club. In Cricket if one team wins, the Other team must lose. Mostly since CSKians are on the winning side, with their impressive winning percentage this is said. But in Cricket you can't keep winning , at a point there will be a stage that in a match your favourite team will end up on the losing side as well. Those who love the game always will want to see, a good cricket match. They expect a nice clean contest and the one that played better that day must be winning the game . But unfortunately there are not many in this case, many want CSK to play bad cricket ,rather than expecting the opponent to play a game to win . This is enough to show the Real Power of CSK. This doesn't mean that only CSK are born to play to IPL . You must have an opponent for you to win is obvious. But when that opponent is CSK, winning is considered much more priority for every team. Some CSK fans are responsible for all this too. They tend to overestimate their team and go and do all sort of things when some other matches are going on. Say like if a team Fails to chase 60 in 30 balls, they treat them like you are not CSK to chase this much.
Being a CSKian we now that we have pulled off some remarkable chases out of nowhere and at this point of time all Anti-CSKians felt guilty and even started to shout like entire IPL is fixed and various other sorts of things. This adds up to the spice in the world of social network that some CSK Fans start to do the same, when some other team pulls of such a nail biter. Thinking of returning back the favour , many end up needlessly introducing CSK where the playing teams have nothing to do with CSK.
With the growing Social Networks  , it is obvious that this is not going to end any time soon. Each day it gets bigger and bigger. The Fights to get intense that even a true cricket lover finds it frustrating these days to watch IPL, because of all these needless non-sense going on off the field.
A Message to CSK Fans and Haters
Clearly for all those FANS WHO ARE WET BEHIND EARS, As a True CSKian AND EVEN MORE PASSIONATE Cricket Lover , I wish to say one thing. "NOTHING IS GREATER THAN THE GAME of CRICKET. THE ULTIMATE WINNER IS THE GAME AND ITS ZEAL." If you are Truly Passionate about this Gentleman's GAME and you find these sort of little rubbishes anywhere, My advice is that Just think, Grow up KIDDO and Move on with your Life, that is far better than going and trying to prove that they are still kiddos. Simply because
FOR THOSE IMMATURE FANS,CRICKET IS ALL ABOUT IPL.
FOR US, TRUE CRICKET LOVERS, LIFE IS ALL ABOUT CRICKET.