Dean Jones 210 runs, Innings of Life
It was 38 degrees Celsius, 95 per cent humidity. It was dusty and there was a foul smell coming across the ground from a sewerage stream. I ran out to him because he was starting to cramp up and that's the first sign . . . he couldn't keep the water in, he started to vomit and at lunch he came in absolutely exhausted. We gave him cold baths, cold towels, fanned him, tried to replenish his fluids and he bucked up very well for a while, but by tea he could hardly lift his bat. I think he was 196 at that stage, but I could see he was really a shot duck . . . he urinated all over himself, we had to dress him, change him and he was out there after tea for a short time and got his 210. I had to rush him to hospital and he got three bottles of fluid put back in. "describes Erol Alcott, the physiotherapist of Australian team traveled to India in 1986.
Dean Jones who is famously known for his remarkable different style of batting in limited over cricket back then, but for what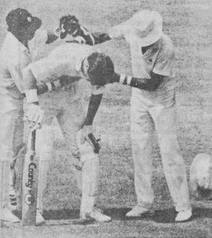 Dean Jones will be known forever in history of cricket will be for his double hundred against India in Madras when humidity was 95% & it was all sun & sun over the head, the Match ended in tea. What stands out was Dean Jones mental & physical strength which help him in scoring double hundred in a nightmare condition for Oz's. Bob Simpson's described this inning as best by any Australian. The Humidity level at South Indian ground has been a bitter spot for any cricketer coming from Europe or Australia. An Australian team leading by Border and players like Dean Jones, David boon, Simpson, McDermott, Steve Waugh, Geoff Marsh & Greg Mathews traveled to India for a test match series, it was a first match of that series & most of the Australian batsman were feeling helpless against Madras (later known as Chennai) hot & humid weather. The hot & extreme weather of Madras forced Border & Simpson to cancel the net practice session for the following the game. Next day border won the toss & decided to bat, earlier that day Border came to Jones & asked him to play at no.3 position, the most vital spot for any batsman in world, Dean accepted the challenge & stepped into the stage at right time with his greatest test inning ever & which later marked his named in history of cricket. Geoff Marsh & David Boon came to bat for Australia, Openers did quite well and scored a steady 48 before Geoff Marsh fell for 22 edging to off spinner Shivlal Yadav, and then came the promoted batsman Dean Jones. Jones was a classical batsman as described by Allan Border & Simpsons. Jones was out of form & was in search of the innings which can do well for him. He started his innings calmly with bones. Struggling of hot & humid weather Boon somehow manages to score 122 in 258 balls before getting caught by Kapil Dev on the bowling of Chetan Sharma. Ray Bright came as night watchman, Jones and David Boon gave Australia a strong start and they reached 211 for 2 at stumps on the first day, with Jones on 56 not out. Ray Bright scored 30 runs before giving up on weather on next day before lunch. Dean Jones failed to drink anything before a second day of match due to nervousness & he was not aware about Hydration & dehydration back then, He was batting on cup of tea & coffee. Later on second day he started feel exhausted & tired early on second day. Upon a tea Jones already passed double hundred and was playing at 202 not out. He began to urinate involuntarily and had no control over his body, he vomited around 15 time during tea & was asking his skipper to retired him. Though Dean Jones inning lasted for 8 more runs after tea & he was bowled by Yadav for 210 runs in 330 balls, his inning was 8 hour long & was full of mental & physical strength.
Australia declared early on the third day at 7 for 574. India replied with 397, Kapil Dev 119 from only 138 balls. At the end of play on the fourth day Australia was 5 for 170, 348 ahead. while a generous second declaration left the home side 348 to win on the final day with average of 4 runs per over. Srikant gave India a hope by his quickfire 39, and Gavaskar steers inning quite well. India was 94 with loss of Srikant by lunch. Gavaskar & Amarnath added 103 more runs in total for India before tea & India left with 150 more runs to score in last session of 30 over after tea. Sunil Gavaskar playing his 100th test match scored 90 valuable runs before getting out to a total score of 251. With India loosing his 6th wicket 331, 17 short of Target, Ravi Shastri decided to finish the job but lacked the support from other end who keeps giving wickets at regular interval. Indian were 4 short of target in last over with 1 wicket remaining. Mathews took Manindar's wicket while India was 1 run short of target & the match ended up as Tied, the Second ever tie in history of Cricket.
When he was eventually dismissed for 210, Jones was rushed to hospital and put on a saline drip. But he returned to the Test and saw some outstanding work from his team-mates, including Greg Matthews, who famously wore a long-sleeved jumper in the Madras heat. During his 210 runs Jones only remember some part of his early innings & he forgot everything which he scored after 120-130 runs, as said by him. I think we've won it." And someone else said, "No, I think it's a draw." I said, "How can it be a draw, we've got them out twice." Dean Said.Alan border scored hundred too, both made 178 runs partnership for Australia, Allan Border said it was the hardest match he ever played in his career. Dean Jones has scored more then 3000 runs with average of over 46, he was flamboyant in his approach & he has played remarkable innings just on time when Australia needed. This Inning of Dean Jones 210 was voted fourth behind Don Bradman's 254, Stan McCabe's 232 and Bradman's 334 in Australia's 50 Greatest Innings by Inside Edge in 2004.