He takes forever to get into double figures. He gets stuck with a tail-ender. He limps. He lets everyone panic, lets them bite off their nails, and just when they're about to lose hope and write him off, he viciously smashes three balls in the last over to get the job done. One day cricket doesn't get any better. It doesn't get any more thrilling. Because no one has mastered it as well as Mahindra Singh Dhoni.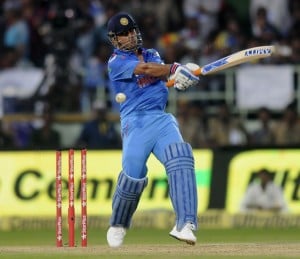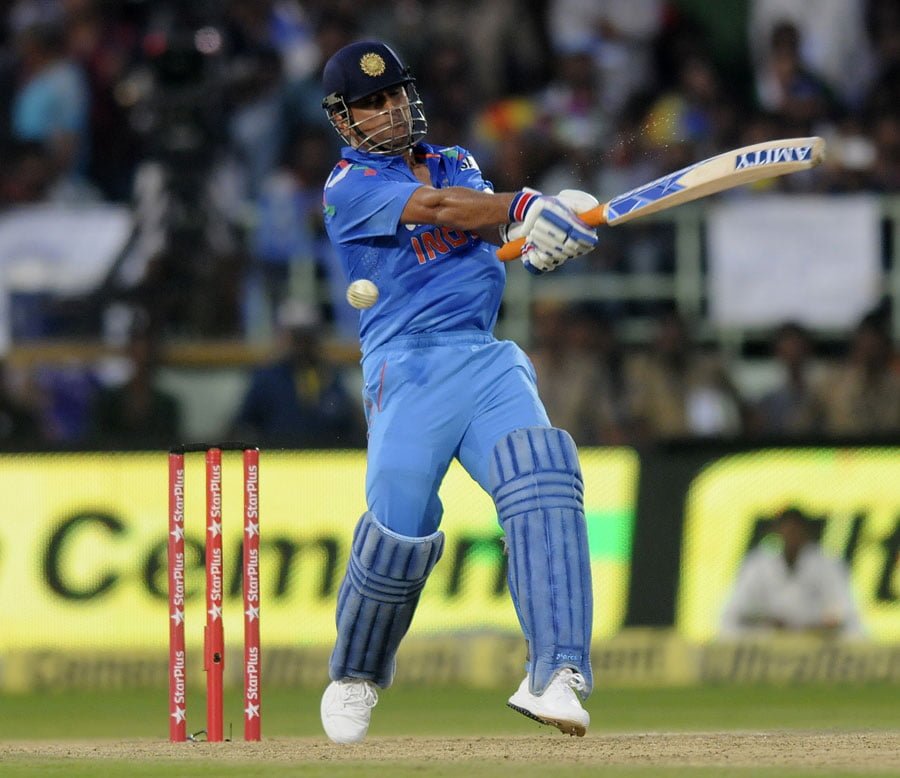 You can't ride on luck forever in cricket. It is the confidence, and at times the audacity of MS Dhoni that intimidates opponents. He makes it look easy and casual. Over the years, that has become a vintage Dhoni factor.
He's more than special. He's irreplaceable. Here's a look at "some" of the Indian skipper's magnificent match-winning knocks.
1. Match: Tri-nation series, 2013
Opposition: Sri Lanka
Result: India won by 1 wicket
After missing the entire series through injury, Dhoni came back to lead the side in the series final against Sri Lanka. After bowling out the Lankans for just 201, the Indians made a mess of a seemingly easy chase, and found themselves reeling at 9 for 182. Dhoni hung in with an air of reassurance and without a hint of pressure on his face. Needing 15 off the last over, Dhoni dispatched two sixes and a four to end the match with a couple of balls to spare. Does it get any cooler than that?
2.Match: England in India, 2013
Opposition: England
Result: India won by 127 runs
After a clumsy start by the top order, it was back to the Indian skipper to guide their innings to a respectable total at Kochi's batting paradise. Coming in at his customary no. 6, Captain Cool hammered a blistering 66-ball 72, inclusive of seven hits to the boundary and two into the stands, to take India past the 250-mark.
3.Match: Pakistan in India, 2005
Opposition: Pakistan
Result: India won by 58 runs
India's new batting sensation, MS Dhoni blazed his way to the maiden century in ODIs with a breathtaking 148 against arch rivals Pakistan. Dhoni hammered Pak's bowling attack, hitting 15 boundaries and four towering sixes in his 123 ball effort that helped India post a mammoth total of 356 and eventually win the game comfortably.
4.Match: Sri Lanka in India, 2005
Opposition: Sri Lanka
Result: India won by 4 wickets
A brilliant century by the Sri Lankan wicket keeper Kumar Sangakkara was overshadowed by a match-winning unbeaten 183 from his Indian counterpart. Coming in at one down, Dhoni singlehandedly took charge of the Indian chase and assaulted the Lankan attack with his 145-ball knock that comprised 15 boundaries and as many as ten hits into the stands.
5.Match: 2011 World Cup Final
Opposition: Sri Lanka
Result: India won by 6 wickets
Playing in arguably the most important match of his career as India's captain, MS Dhoni played a knock fitting to a determined leader. India were chasing 275 to claim the coveted World Cup trophy that had eluded them for 28 years, MSD's 109-run stand with Gambhir set India well on their way to a historic win. The skipper sealed the game in emphatic manner with a six in the 49th over.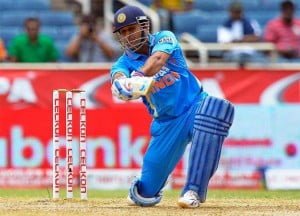 6.Match: India in Pakistan, 2006
Opposition: Pakistan
Result: India won by 5 wickets
Chasing 289 for victory, India were in a spot of trouble with half the team back in hut at 190 in the 35th over. Dhoni then took center stage, along with Yuvraj Singh (79*), blasting a quick-fire 72* to ensure India overhaul the target without any further hiccups, with more than two overs to spare. It was Dhoni's assault that extended India's record to 11 consecutive wins while chasing in ODIs.
7.Match: CB Series, 2012
Opposition: Australia
Result: Indian won by 4 wickets
After Gambhir departed, eight short of his ton, Team India looked in a crunch situation with the match heading for a tight finish. However, the Indian skipper took it upon himself to guide the team home as his unbeaten 44 helped India overhaul the target with just two balls to spare.
8.Match: CB Series, 2008
Opposition: Sri Lanka
Result: India won by 2 wickets
Yuvraj set up India's chase of 239 after the top order flunked once again. However, once Yuvi departed, with India still 81 shy, it was left for the skipper to guide India home. Despite the leg cramps, Dhoni maintained his calm and composure, making an uncharacteristic 68-ball half-century, without any boundaries. A mini collapse towards the fag-end did evoke some nervous moments however, the skipper ran the winning runs, with five balls still to go.
9.Match: India in Sri Lanka, 2008
Opposition: Sri Lanka
Result: India won by 33 runs
Electing to bat first, the top order failed to capitalize as India were reduced to 91-4. With some support in Suresh Raina and Rohit Sharma, Dhoni stabilized the Indian innings with a gutsy half-century that revived the hopes of a 250+ target. Nonetheless, by the time Dhoni fell, in the penultimate over for 80-ball 76, India had ensured itself a match-winning total of 237.
10.Match: Australia in India, 2009
Opposition: Australia
Result: India won by 99 runs
One down in the series and put into bat first, Gambhir and Sehwag set the platform for Dhoni's hard-hitting century that helped the home side level the series with a massive 99-run victory. Dhoni played a captain's knock, hammering 107-ball 124, inclusive of 9 boundaries and three sixes, to help India post a mammoth 354/7 and virtually throw the visitors out of the match. The bowlers did not let their skipper down as Australia were bundled out for 255.
11. 87* in Hyderabad
Match: England in India, 2011
Opposition: England
Result: India won by 126 runs
Good show by the English bowlers to unsettle the Indian batting order was over-turned by the Indian skipper who maintained his calm, stitching partnerships with Raina and Jadeja to guide India to a commanding 300 from their allotted 50 overs. Dhoni's undefeated 70-ball effort helped India set England a target of 301 and the visitors eventually fell short by a massive 126 runs.
12. 75* in Kolkata
Match: England in India, 2011
Opposition: England
Result: India won by 95 runs
The Indian top order failed to convert their good starts into a significant innings and yet again it was the Indian skipper who finished things off for his team. Dhoni's 69-ball effort, studded with three boundaries and four big hits, took the home team to 271, a total which proved too much for the visitors. The bowlers did not disappoint their skipper and India took revenge of the 2011 humiliation, handing England a 5-0 whitewash.
originally posted by Murtaza Haider Alvi in Facebook Cricket Council