1) Fastest Centuries in IPL – 30 balls by CHRIS GAYLE
The fastest century in IPL is scored by Chris Gayle in IPL 6 against Pune Warriors India on 23rd April 2013. The devastating Jamaican scored his century in just 30 balls and remained not out till the end of the innings. He scored 175* of just 66 balls which includes 17 sixes and 13 fours. He also created a new record of most sixes in an innings in a T20 match with 17 sixes surpassing Graham Napier's 16 sixes for Essex against Sussex way back in 2008. Napier scored 152*(58) in that innings.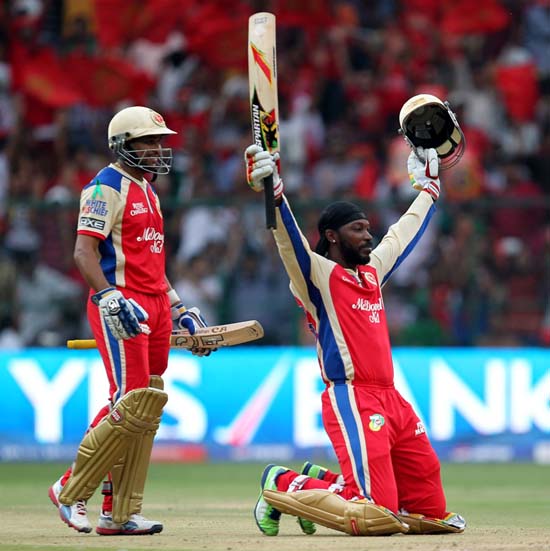 2) Fastest Centuries in IPL – 37 balls by YUSUF PATHAN
The second Fastest Century in IPL was smashed by none other than Yusuf Pathan on 13th March 2010, playing for Rajasthan Royals vs the Mumbai Indians. Considered as one of the best T20 innings his 37 ball hundred stands jointly at the 3rd spot when it comes to fastest hundred in T20 matches, after Andrew Symonds (34), Louis van der Westhuizen (35) and Scott Styris (37).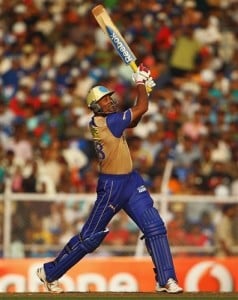 A target of 213 runs was assigned to Rajasthan Royals by Mumbai, and they were soon 40 for 3 after 7th over. The young giant Yusuf Pathan arrived at the crease at that very moment and then he played one of his best innings consisting of 9 fours and 8 DLF maximums and he completed his 100 in just 37 balls. His scored the first half of his innings i.e. his first 50 in 21 balls with 2 fours and 6 large sixes and when he was unfortunately run out, the scorecard stood at  173/5 after 17.1 overs. And still 40 runs were needed from just 17 balls, but Royals lost the match by a margin of mere 4 runs.
3) Fastest Centuries in IPL – 38 Balls by DAVID MILLER

Playing one of the best ever T20 knock in the shortest format of the game, David Miller made it look so easy at the end. Against an all international bowling line up of RCB, Punjab were crumbling at 64-4 after 9.5 overs on 6th May, 2013. Loss was almost certain as they were chasing a mammoth 191. But David Miller had something else in his mind. He scripted one of the best ever chase in the T20 cricket and achieved it successfully. The heroics of Miller can be imagined by this single fact that Punjab needed 94 runs to win from 40 balls and at the end they won the match with 12 balls to spare. Miller scored 74 runs from the last 20 balls he faced. RCB bowling attack was shattered and Miller completed a chase that will go down in the history of IPL as one of the best ever chase. R.P. Singh was thrashed for 26 runs in the 15th over of the inning and the carnage began from there. It is at 3rd spot in the list of Fastest Centuries in IPL and proudly sits at 6th spot in the list of fastest century in T20 cricket.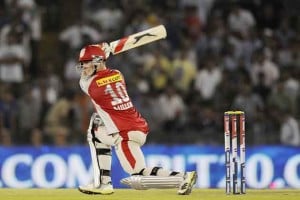 4) Fastest Centuries in IPL – 42 Balls by ADAM GILCHRIST
It is considered as one of the better hitting one would ever see, chasing a tricky target of 155, smashing the ball blindly all over the ground without much effort from the very first over of the innings for Deccan Chargers against a team like  Mumbai Indians on 27th April 2008. Adam Gilchrist, already infamous for his breath-taking hard-hitting at the top, did what he was known for. Completing his half century off just 28 balls with one of the shots that he always loves to play, the Pull Shot, a whooping DLF maximum six, and the one whom he was facing was none other than the South African great Shaun Pollock. When he completed his 50, the stats on the score board read 53 in 28 balls including 7 fours and 3 huge sixes in just 3rd ball of 7th over.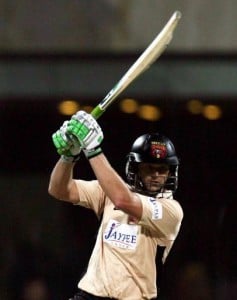 He became more dangerous after that,  and went on to complete his maiden century in IPL and then the fastest IPL century scored in just 42 balls which included 9 fours and 9 sixes. Hence the last 50 runs of his innings came in just 14 balls with the help of 2 fours and 7 sixes. His 3 sixes were scored off the dangerous Pollock in a single over, Amazing !  And he was well supported by his partner on other side VVS Laxman (37* off 26) and both went on to fiish the match with an  unbeaten partnership of 155 runs and won it with all the 10 wickets left in just 12 overs.  Gilly finished his innings with 109* off just 47 balls, after hitting another six.
5) Fastest Centuries in IPL – 45 balls by SANATH JAYASURIYA 
Respectfully considered as one of the best attacking openers of all time, Sanath Jayasuriya, even at the down of his career at an age of 39, showed what he was capable of doing and had no mercy upon the young bowlers in IPL, when he scored a superb 100 off just 45 balls, playing for his team Mumbai Indians against the Chennai Super Kings. Surprisingly, he never had any strong impact on any of the previous 7 matches played by him in the edition and this 8th match for the Mumbai Indians was the first one for Sachin Tendulkar in IPL and then the SriLankan Lion roared. Mumbai were chasing a stiff target of 157 runs at their home ground and one could say, it might be the impact of the Master Blaster that made Jayasuriya play his dangerous natural game for the very first time in IPL.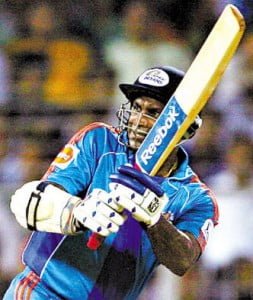 After achieving his maiden IPL fifty in just 25 balls with the help of 2 fours and 5 massive sixes, he continued with his destruction and when he was playing at 88* from just 43 balls and there were 25 more runs left to be scored to register a win, he smashed his Srilankan team-mate Chamara Kapugedara for a breath-taking 6,6,6,4,4 off the first 5 balls of the 14th over of the innings, and there wasn't anything left in the game after that, the match was already won by Mumbai Indians by 8 wickets, with Jayasuriya completing a brilliant 100 off just 45 balls and finishing his innings with 114* off 48 balls including 9 fours and 11 sixes. Mumbai won the match by 9 wickets with 37 balls remaining. What an impact this inning had upon his form in that IPL ! No fifty in first 7 matches of the season and at the end of the IPL he was the 3rd highest scorer with a total of 514 runs.
6) Fastest Centuries in IPL – 46 balls by CHRIS GAYLE
So called the hard-hitting monster from the Caribbean country, Chris Gayle, is the modern-day biggest hitter of the cricket ball. After the controversies with his national board, has shined heavily as a T20 specialist. He scored a 100 in his opening game of the IPL 2011 for RCB, after he was not picked in the auctions. On 6th May 2011, he scored his second IPL hundred, vs the Kings XI Punjab, which is the 4th fastest IPL hundred still.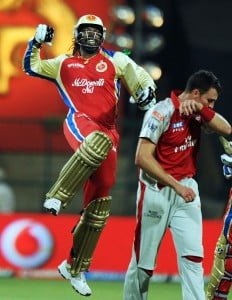 Royal Challengers completely changed after the arrival of Chris Gayle into their team. As he provided big start at the beginning of the innings in almost each and every match. This 47th match of IPL 2011 was also one among them. A slow start at the beginning, scoring 29 runs off 23 balls, and then showed his original face. Completed his 50 in just 28 balls, with 5 fours and 4 sixes and going the same way, reached his second IPL hundred in 46 balls with 9 fours and equal number of sixes. Ended his innings with 107 off 49 balls hitting another four. And his impact wasn't over, he took 3/21 in the second innings too. RCB posted 205 runs on the board and won the match by 85 runs. He has been the leading run scorer in the last 2 editions of IPL.
7) Fastest Centuries in IPL – 47 balls by ANDREW SYMONDS
This Australian, at times, All-Rounder and classical hitter of the ball, who still holds the record for the fastest T20 hundred ever. He scored a hundred for Kent against Middlesex in 34 balls in 2004. Scored his maiden IPL hundred on 24th April, playing for the Chargers against the future champions Rajasthan Royals. It was the 3rd century in the first 9 matches of IPL, after McCullum's 158* and Hussey's 116*.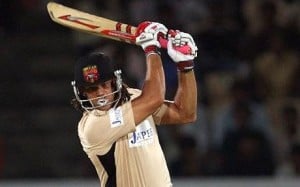 Rajasthan Royals won the toss and put the Chargers to bat, who were having a very bad tournament and worse in the next days in the tournament. Chargers were 32/2 after 3 overs when Symonds went to bat. Played sensibly, as always for Aussies, scoring first fifty in 29 balls with 5 fours and 1 six in the 11th over. And then changing the gears, scored next 50 in 18 balls, and brought up his maiden IPL 100 in 47 balls, including 9 fours and 6 sixes and helped Chargers put a total of 214/5, and he ending with 117* of 53 balls with 11 4's and 7 6's, But unlike for his Aussie team, his effort went into vain when his former team-mate, Shane Warne hitting a 4,6,6 off the bowling off Symonds himself  in the final over, beating Chargers by 3 wickets with 1 wicket remaining.

*This list of Fastest Centuries in IPL is updated upto IPL season 6