The stage has been set for N. Srinivasan to resign as BCCI president on Sunday, 2 June, 2013. Over the last few days the pressure was mounting on N. Srinivasan to abdicate the post of BCCI President. Many Cricket Experts feel that N. Srinivasan should quit. Vice-President Arun Jaitley and Joint Secretary Anurag Thakur wanted N. Srinivasan to resign on the interest of fairness in the IPL Spot- Fixing Probe which involves N. Srinivasan's own Son-in-Law Gurunath Meiyappan.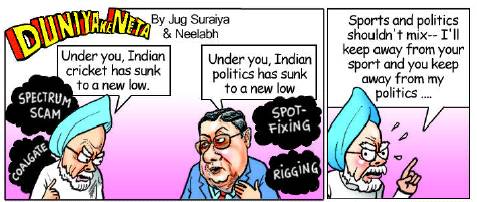 Game All but Over for N. Srinivasan
For the past few days there has been a speculation that there will be a Vote-out to dump N. Srinivasan out of the BCCI office. On Friday there was a Twist in the Tale in the Proceedings. It all started with the Resignation of secretary Sanjay Jagdale and Treasurer Ajay Shirke on Friday. On Saturday morning, Mr. Arun Jaitley cleared the air and told reporters to wait for a significant development in a day. Adding to N. Srinivasan's woes, IPL Chairman Rajiv Shukla too stepped down as the Chairman of IPL.
Demands of N. Srinivasan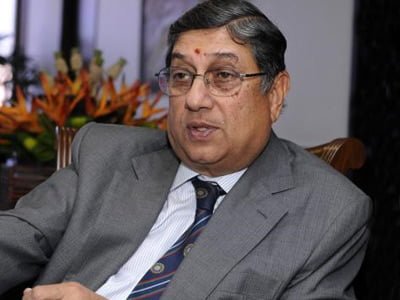 As pressure mounted on N. Srinivasan to quit in the wake of the IPL spot-fixing scandal, BCCI has advanced the Working Committee meeting which Srinivasan had planned to convene next Saturday, 8 June 2013. The crucial BCCI meeting on Sunday is going to throw some light on how the Administration in Indian Cricket will fare in the near future. There is a feeling that N. Srinivasan will resign but he wont give up that post easily. N. Srinivasan sets some terms for exit which are unlikely to be accepted by the Board Members. His Demands are as follows:
1. He should Represent India at the ICC for which he seeks the support of Jagmohan Dalmiya and is ready to offer Interim Presidentship role for the Bengali. But Dalmiya is non-committal.
2. Sanjay Jagdale and Ajay Shirke should not return to the board. Shirke said that he had no issues with it and the wanted the pride of BCCI and IPL to be restored.
3. Before leaving, N. Srinivasan would choose the Secretary and Treasurer.
4. Interim President should be someone who is already in the board.
5. Wants to ensure that Chennai Super Kings' contract should not be terminated.
6. He wants him to be restored once all the charges are cleared.
Life after N. Srinivasan
For several bigwigs the choice of an interim president appears to be another former board president, Shashank Manohar, reputed to be an able and upright administrator. Manohar is no longer a member of the board, although he remains an influential person in BCCI.
With the meeting scheduled to start at 2:30 P.M., all roads lead to Chennai to know the Fate of N. Srinivasan.