This day, that year the master of masters was born – Sachin Ramesh Tendulkar. Sachin is celebrating his 41st birthday today. For an average cricket fan, he is just a batsman who just came and went with his name in the cricket history books. But for an Indian cricket fan, the man is something else. Sachin Ramesh Tendulkar is a part of life. There are many who switched off their t.v sets when he bid adieu nearly 5 months ago and have never watched a cricket match again. This is larger than life.
Sachin Tendulkar was born to a middle class Maharashtrian family on April 14,1973.  Sachin was named after his dad's favourite music director Sachin Dev Burman. Sachin Tendulkar and his likeliness for the game of tennis is widely known. John McEnroe  was his favourite. Sachin Tendulkar made his One day international debut against Pakistan on December 1989. He unfortunately scored a duck, but no one knew he would go on break all records in the game. He had made his test debut on November 15,1989.  Sachin Tendulkar would go to be known as the most compete batsman of his time and to be known as the most prolific run scorer of all time. Some of his finest performances have come against Australia, which was dominating in all cylinders of the game in his era. As a 19 year old he scored a century in one of the faster pitches in world cricket – The WACA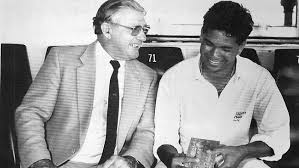 After that there was no looking back. He even got compliments from Don Bradman. He grew in stature to be one of the most feared batsman in world cricket.
It is that time of the year again – April 24. It will be probably for the first time that Sachin will be celebrating his birthday with his family free from all tensions of the game and obviously the crazy cricket fans!
Some of the fans world over have watched him grow, some of them have grown up with him and the new generation have grown up on him. Tendulkar has a billion fans around him. Nothing can happen to him when the prayers of the fans are with him. More than being a cricketer, he was also an excellent human being. He was humble all his life, never has his behaviour gone out of proportion.
Sir, you have been an icon for this nation and a demi-god for the others. But for me you were someone who made me start watch the gentleman's game. I grew up with him. I consider myself lucky to have watched a bucketful of his match. It is absolute grace to watch him bat.
Happy Birthday Sir! Have a blast and stay young!!