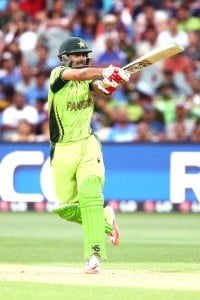 But credit to Captain Cool, who marshalled his men cleverly, and coaxed tight spells out of Mohammed Shami, Umesh Yadav, Mohit Sharma and R Ashwin on a pitch that slowed a little as the match progressed. After the dismissal of Sohail, Misbah came to the crease. He must have been hoping for the fates to change. But it was not to be so. Shehzad, Maqsood and Akmal went back within a gap of 2 deliveries.
It was (Boom Boom) Afridi, who joined hands with the captain to string a partnership and stabilize the innings. After a few singles, he greeted the crowd with a big six over the mid-wicket region. But his flamboyant innings perished while trying to dispatch a juicy ful toss by Shami into the stands, insted ended up giving Kohli a skier which wasn't a daunting task for him.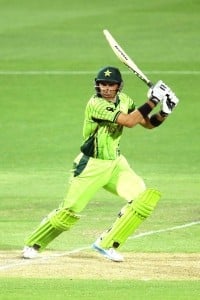 By the end Misbah also gave up hope and handed an easy catch to Rahane at mid-on, and eating up the tail was an easy task for the prowling Indian bowlers. The last 3 wickets fell for only 11 runs. For the fielding part, Indians were always on their heels, diving here and there, stopping whatever they possibly could.