Indian Fielding – A New Ray of Hope
Cricket is all about batsmen and bowler was the thought for a long time. But if we take a closer took with the game technically, A strong fielding team is the one that has a huge advantage than the other one. More often than not, this quality of a super team is overshadowed by their brilliance with either the bowling department or their sheer strength in the batting. Fielding is arguably the unsung hero of the game for many years because it takes you a second for you to win your team with your stunning fielding effort whereas the other two department of the game i.e the batting and bowling needs a lot of effort.
But this is not easy since we can teach any cricketer how to tackle different type of balls and even a bowler , on how to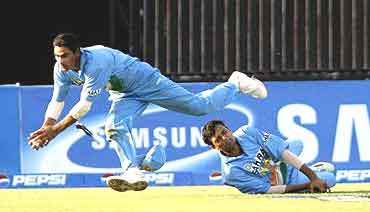 introduce a variation in fielder's armory . Fielding is something that has can be taught, but you can't make a brilliant fielder by coach. That must be with their genes of cricket that he must be a great fielder. Over a years, teams like South Africa and Australia have managed to produce some amazing talents in the field . For Indians, Amazing Fielders were a rarity. Until the likes of Yuvraj and Kaif bloomed up, that was the start of an era where Indian Cricket started to produce world-class talents in the fielding area. Even after that, India lost some nail biters because of not having some fragile fielders.
After that T20 world cup in 2007 , Indian team was fresh with lot of young talents that had some brilliant fielders in the tank. This was something that world Cricket never seen from India . India producing some class athletes apart from being seriously talented players.
Likes of Rohit sharma, Robin Uthappa, Yuvraj Singh, Dinesh Karthick and some blossoming talents in the unit. That was the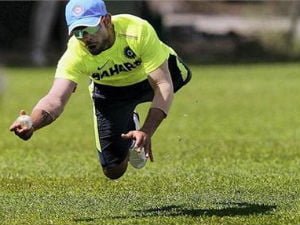 first time India started to show their strength in fielding department. Remembering some moments, the way Robin and Rohit ran out the opposition batsmen and . Dinesh Karthick's catch of Smith in the world cup 2007 T20 WC.
After that then came the likes of Suresh Raina, Virat Kohli who were even better fielders with the list extending even more. These two are naturally gifted such that they can turn the entire match on its head by their fielding ability.
Murali Vijay , Manoj Tiwary have been in and out of the team for quite a while but those players are great fielders as well. They are safe houses in the deep and are no nub in the short positions as well.
Of all the positions in the field , Wicket keeping is the one that needs extra attention . India struggled for a classy wicket keeper who could contribute with the bat as well. There came the beast, MS Dhoni, took the position of Indian wicket keeper as his permanent job and still seems to go on.
Whilst we talk of India, we can't forget Ravindra Jadeja, apart from a world-class All-Rounder, Jadeja is awesome and amazing fielder. Rahane who has been called up from the side has a slighter advantage of being a scintillating fielder as well. Shikhar Dhawan is of his own in the fielding department. He is handy in this case also.
This Champions trophy has all these acrobatic fielders from India and this is a serious advantage for India. That was evident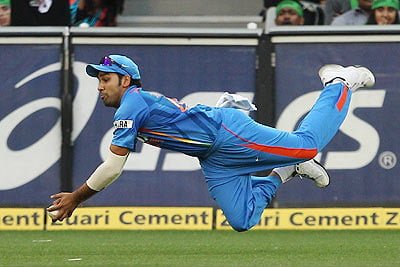 in the first match itself as India showed brilliance when their bowling was starting to bock down. A batsmen and good fielder is a strength to the team but a bowler and a good fielder is an asset to any team. Bowlers like this are something that most of the teams in the world dream about. But that is still a dream. Not very distant ,but attainable only. James Anderson is the premier example for this. Many more of the same trait will be a huge boost to any team that they play for.
As of now , Fielding is something on which India is on top and that has got to do with their position in the ODI rankings. And this set of talents are exciting and young, so future of Indian Cricket, at least for fielding, is in safe hands.
And if you are dreaming of entering into your Countries cricket team. Apart from your Batting and Bowling make sure that you are one who is first to the ball in the fielding . So this provides a versatility for you and your team. Indian fielding is definitely a new Ray of Hope.