All About Rafael Nadal is an article about the milestones and brief history of tennis ace Rafael Nadal who has been a favorite of tennis fans across the world. Let's take a look at the man himself.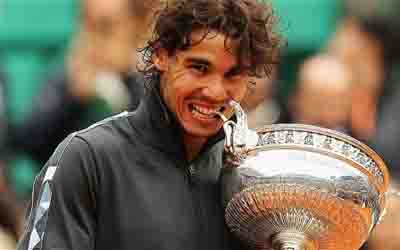 All About Rafael Nadal – Name and Numbers
Nadal was born in Manacor, Mallorca on June 3, 1986. Nadal's uncle Miguel Angel Nadal had a successful career as a professional footballer, notably for Barcelona and Spain. Naturally right-handed, Nadal switched to being a left-handed player later on the recommendation of his Uncle who was also his mentor. Rafael Nadal turned pro in 2001 and has been a living legend since then. All About Rafael Nadal is here to surprise you even more. Let's learn a bit about Rafael's grand slam vistories in this article All About Rafael Nadal.
Grand Slam Titles
Won the French Open 2005, 2006, 2007, 2008, 2010, 2011, 2012, 2013; Wimbledon 2008, 2010, U.S. Open 2010 and Australian Open 2009
First man since Swede Mats Wilander in 1982 to win the French Open title on debut with a 4 set victory over Argentine Mariano Puerta in June 2005.
Next year, he won his second French Open title deafeating Federer in the finals.
Became the first man since Bjorn Borg in 1980, to win hat-trick of French Open titles.
Same year, Rafael Nadal matched Borg's record of 4 successive French Open titles (1978 to 1981) to make it 28 wins from 28 at Roland Garros.
Rafael in 2008 beat the then world number one and defending champion Roger Federer to win his first Wimbledon title ever.
The final is widely believed to be pne of the greatest tennis match of all time.
Nadal-first Spanish man to triumph at the grass court major since Manuel Santana in 1966.
In 2009 beat Roger Federer in the final in Melbourne to become the first Spaniard to win the Australian Open.
Beaten in the French Open for the first time by Robin Soderling in the 4th round in 2009. First defeat after winning 31 successive matches at Roland Garros.
Second man after Borg to win 5 French Open titles when he when he beat Soderling in 2010 and earned his title back.
Became the first man to finish with the "clay slam", as he won the big four caly tournaments in the same season.
All About Rafael Nadal takes a look at more recent events.
In 2010, Rafael Nadal won Wimbledon for the second time. He finished the year by winning his first U.S. Open title.
Seventh man to win all four grand slam titles in 2010.
2011, Rafael Nadal won his sixth French Open title, equalling Borg's record.
2008 to 2011 Nadal won seven out of seven grand slam finals that he contested.
Novak Djokovic ended Nadal's run at Wimbledon in 2011.
Djokovic also beat Nadal in the US Open as well as the Australian Open the same year.
Ended world number one by winning his 7th French Open title at Roland Garros 2012.
First man with eight titles at the same grand slam tournament when he beat fellow Spaniard David Ferrer in the next French Open final.
All About Rafael Nadal – Milestones
All About Rafael Nadal focuses on other milestones of Nadal as well.
Won a record 81 consecutive matches on clay before the streak came to an end at the hands of Federer, in May 2007.
Ended Federer's four and a half year reign as world number one in August 2008.
Gold medal in men's singles at the 2008 Olympic Games.
All About Rafael Nadal- Breakdowns and Injuries
Has troubles with his knees, suffering from tendinitis. Pulled out of the Queen's Club grass court tournament in London in 2009 and was the first man not to defend his Wimbledon title since Croatia's Goran Ivanisevic in 2002. All About Rafael Nadal discusses injuries surrounding the man.
The same knee injury forced him to withdraw from the 2010 Australian Open during his quarter-final match with Britain's Andy Murray.
Another knee injury sidelined him for seven months after a second-round defeat at Wimbledon last year.
All About Rafael Nadal comprises of all these facts and figures which you won't find anywhere else.