New Delhi, October 11, 2014: Vishnu Vardhan and Prerna Bhambri were crowned winners of the 20th Fenesta Open National Tennis Championship in the men's singles and women's singles categories respectively.
Prerna came back from a set down to win her third successive title here with a 4-6, 6-4, 6-3 win over Karman Kaur Thandi. For Vishnu, who last played the tournament in 2011 when he lost to Yuki Bhambri in the final, it was a welcome return to the championship and he ended a fantastic run of Siddharth Rawat in the final. Vishnu won the opening set comfortably before Siddharth came back strongly in the next. Vishnu eventually won the final 6-2, 4-6, 6-3.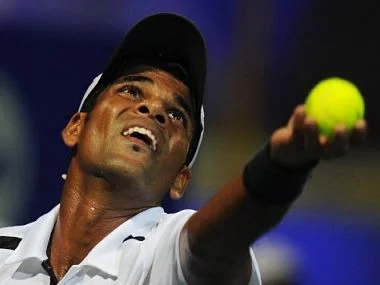 Veteran doubles specialist Mahesh Bhupathi presented the awards and a cheque of Rs 3 lakh each to Vishnu and Prerna. Siddharth and Karman were presented Rs. 2 lakh each for their runners-up finish. "I have been to the final of this tournament twice before and the last time I was here, I lost in the final so I was determined to win this time. It's always good to win the Nationals here," Vishnu said.
Prerna had a tough start against Karman who played solid in the first half of the match. Karman broke Prerna in the fifth game of the first set and it was difficult for the defending champion to break back against the strong serves of Karman. But Prerna did manage to come back into the match and drew level at 4-all but her joy was short lived and Karman broke her back in the very next game and then served out the set. Prerna came back more determined in the second set and broke her opponent in the 10th game to take the match into the deciding third set.
Prerna brought her experience into play and forced Karman to make mistakes. Eventually, Prerna won the set 6-3. Young Siddharth had virtually no answers to what was going on and he looked a pale shadow of how he played in the last few rounds. Gradually with time, he settled down and looked more comfortable while facing Vishnu's big serves. Siddharth showed a great fight but that wasn't enough to win his maiden National title here. In the boy's under 18 final Vidit Vaghela fought a tough match and won against Dalwinder Singh 6-4, 2-6, 6-4.
Mens Singles Finals: Vishnu Vardhan bt Sidharth Rawat 6-2,4-6,6-3
Womens Singles Finals: Prerna Bhambri bt Karman Kaur Thandi 4-6,6-4,6-3
Boys Under 18 Finals: Vidit Vaghela (Gujarat) bt Dalwinder Singh 6-4,2-6,6-4
(A Press Release)