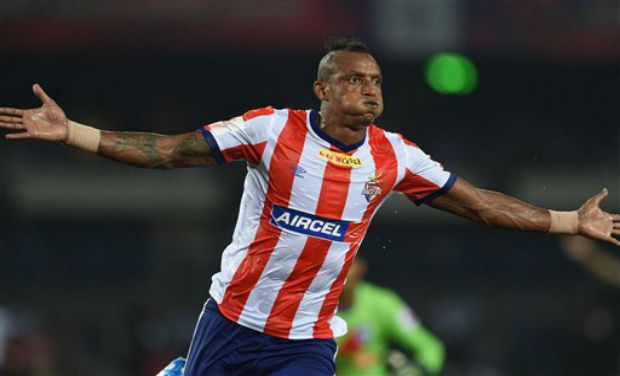 The new order in Indian football announced its arrival with a bang on Sunday! With its exciting freshness, well-packaged avatar and a never-seen-before razzmatazz, the mass entertainment of Bollywood and football, riding on Indian cricket's shoulder, descended on the illuminated Salt Lake Stadium to set the ball rolling for Indian Super League. A restive crowd of 70,000 swayed to Bollywood beats in presence of top football stars from across the globe, corporate czars, politicians, filmstars and a host of other luminaries from different walks of life. And if the opening ceremony was anything to go by, the new league and perhaps through it Indian football, scaled new, noisy and never-before heights. The 45-minute show that preceded the opening match between hosts Atletico de Kolkata and Mumbai City FC left spectators craving for more. It was perhaps fitting that the new world challenge the old at a place which represented the past glory of Indian football. The small clipping of Indian football in its barefooted days of 1950s and 1960s flashed across the giant screens so briefly that it hardly caught the crowd's attention. However, nobody appeared to be complaining as the evening was all about the celebration of the new. With a great start to this league, Atletico de kolkata took a win over Mumbai City FC with 3-0 home win.
TEAM AUCTIONS:
When the Indian Super League was started in October 2013, it was announced that the eight teams would be bought through an auction to take place before the end of 2013. The nine cities that were up for bidding originally were Bangalore , Chennai , Delhi, Goa , Guwahati , Kochi, Kolkata, Mumbai , and Pune .However, due to the delay of the start of the Indian Super League from January 2014 to September 2014, the bidding for teams did not begin till 3 March 2014. Interested bidders would have to gain a tender form for an Indian Super League team. Professional services corporation Ernst & Young was given responsibility of looking over the forms. On 13 April 2014, the winning bidders were announced. The most expensive city to be won was the Kolkata team, which was won by a group which contained former India cricket player Sourav Ganguly , businessmen Harshavardhan Neotia , Sanjiv Goenka , Utsav Parekh, and Spanish La Liga side Atlético Madrid, for approximately 18 crores. The base price of each team was set at 12 crores each. Another former India cricket player, Sachin Tendulkar , alongside PVP Ventures , won the bidding for the Kochi team. Bollywood stars also won bids for teams. John Abraham , partnering with Shillong Lajong, won the bidding for the Guwahati team. Ranbir Kapoor , alongside Bimal Parekh, won the bidding of the Mumbai team while Salman Khan won the Pune team with the Wadhawan Group. The Delhi team was won by DEN Networks while the Bangalore team was won by the Sun Group. The Goa team, finally, was won by a three-way partnership between Videocon , Dempo , and Salgaocar. Then, on 14 August, it was announced that the Bangalore franchise would disband and on 21 August it was confirmed that Bangalore would be replaced by Chennai team which is owned by Abhishek Bachchan, partnering with Mahendra Singh Dhoni and Vita Dani.
PLAYER DRAFTS:
The inaugural Indian Super League saw two player drafts,
based on the college draft system in the United States,
being used for both domestic Indian players and
international foreign players separately.
DOMESTIC PLAYER DRAFTS:
Further information: 2014 ISL Inaugural Domestic Draft
The domestic players draft took place for two days on 22
July and 23 July 2014 in Mumbai.There were 84 players
up for grabs during the draft that could be picked between
six of the eight Indian Super League teams ( Goa and North
East United selected from their I-League teams). Close
to 50% of the 84 players had been a part of the India
national football team .The opening pick in the draft was
Lenny Rodrigues by FC Pune City. Subrata Pal , Syed Nabi ,
and Gouramangi Singh were the more expensive picks
during the draft.
INTERNATIONAL DRAFT:
The international draft took place on 21 August 2014 in Mumbai . There were 49 players available for selection in this draft. The opening pick in the draft was former Inter Milan defender Bruno Cirillo , who was selected by FC Pune City.
TEAMS AND STADIUMS :
Atlético de Kolkata – Salt Lake Stadium
Chennaiyin- Jawaharlal Nehru Stadium (Chennai)
Delhi Dynamos – Jawaharlal Nehru Stadium (Delhi)
Goa- Fatorda Stadium
Kerala Blasters – Jawaharlal Nehru Stadium (Kochi)
Mumbai City- DY Patil Stadium
NorthEast United- Indira Gandhi Athletic Stadium
Pune City- Shree Shiv Chhatrapati Sports Complex
TEAMS AND MARQUEE PLAYERS:
Atlético de Kolkata- Luis García
Chennaiyin- Elano
Delhi Dynamos Alessandro Del Piero
Goa- Robert Pirès
Kerala Blasters- David James
Mumbai City- Fredrik Ljungberg
NorthEast United- Joan Capdevila
Pune City- David Trezeguet
The Indian Super League 2014 Season, officially known as the 2014 Hero Indian Super League season for sponsorship reasons, is the first ever season of the Indian Super League , the Indian professional league for association football franchises, since its establishment in 2013. The season started on Sunday 12 October 2014 and will conclude on Saturday 20 December 2014.