India vs West Indies: Shami helps India level the series
Indian bowlers outclassed Bravo's men as they went on to script India's victory in the second ODI against West Indies played at Feroz Shah Kotla Stadium, New Delhi.
India won the toss and elected to bat first in the second ODI between India vs West Indies.
Struggling at the start of the innings, India lost Dhawan and Rahane cheaply. Local lad Dhawan disappointed his home crowd as his stumps were uprooted by Jerom Taylor when he had just opened his account. Kohli was replaced by Ambati Rayudu at no. 3. Rayudu's stay at the pitch couldn't last longer as he scored 32 runs before getting caught by Darren Sammy off Sulieman Benn.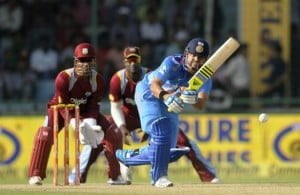 Clambering Indian inning was later well corroborated by Kohli and Raina as they both were involved in a 105-run partnership with each of them reaching to a much needed half century.
India vs West Indies: Kohli back in Form
Kohli found his way back to form as he left behind the demons of out swingers outside the off stump when he catapulted Indian counter attack along with Raina against disciplined attack of Caribbean bowlers. Raina perished in the compulsory batting powerplay and in came Indian skipper Mahendra Singh Dhoni. India started losing quick wickets but Dhoni stood strong and launched a sudden onslaught during the deaths as he helped India reach 263/7 when even a 250 looked out of sight.
When West Indian batsmen stepped into the field for chase, score seemed not enough to stand against the likes of in-form Samuels and Pollard. Indian captain started with Bhuwaneshwar Kumar and Umesh Yadav who replaced injured Mohit Sharma.
West Indians started on a positive note as they caressed through the first mandatory powerplay without losing a wicket. Dwayne Smith went on to make his highest score in ODI as his concentration was broken by Shami on 97.
Later, riding over a quick 40 off 50 balls by Pollard and a short stay by Bravo, West Indies was looking firm until Mohammed Shami broke the shackles and clean bowled Smith to start the West Indian collapse as Visitors lost their last 7 wickets for just 45 runs. Shami was instrumental as he picked up four wickets along with Jadeja who picked up three wickets.
India vs Wet Indies: West Indies failed to capitalise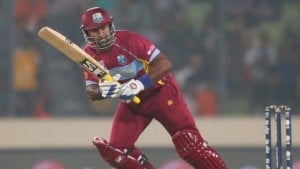 Once looking strong, West Indies had their match to lose and they couldn't capitalize on a beautiful start. Smith played an inning of his life, but other than Pollard no one stuck around. India registered their victory by a margin of 48 runs.
Shami was declared the Man of the Match for his career best figures of 9.3-0-36-4.
India would play West Indies in the third ODI at Vizag on October 14. The match is under high alert because of the threats of the cyclone 'Hudhud'. Let's pray and wish the match goes on smoothly.
Have a great cricketing weekend. Adios!