When we talk about the greatest moments in the history of Indian Cricket, without any doubt, India's World Cup win in 2011 manages to sit on the top. Indian cricketing fraternity will forever be indebted to our champions for that moment of extreme joy and happiness. What about watching a film that tells us about the journey of Indian team to world cup through the eyes of three different but extraordinary persons, Sudhir Kumar, the famous Sachin fan; Akshaya, a very talented woman cricketer from Mumbai and Prithvi, a child prodigy from Mumbai Cricket?
And all this has been turned into a reality by US Based film maker Sushrut Jain. His film "Beyond All Boundaries" will hit theaters across the country on October 10. The film is produced and voiced by Kunal Nayyar, widely recognized as Raj Koothrappali of Big bang theory.
Viplav Vishal, managing Editor of 'Cricmatez' talked with the director Mr. Sushrut Jain about the film. Below are the excerpts from the interview: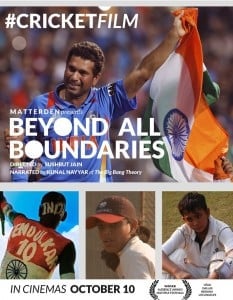 Viplav: Please tell about your journey to film making from being a mathematics student and then an economist.
Jain: I grew up in Mumbai and went to high school. Then I went to United States for college. I was studying mathematics, economics and after the grad school even worked as an economist. The whole time while doing that, I was very interested in writing fiction and doing some theatre and at some point of time decided if I want to do it, I have to do it now.
I quit my consulting job in San Francisco and went to film school in Los Angeles, school called University of Southern California (USC). I was pursuing the graduate program for three years. I learned how to make movies, writing a lot, being creative. And whole time I was focused on, when I finish here; I would go to India and make a film. That is how the journey began. It is very complicated to switch from completely different industry to another different industry. But I followed my heart.
Viplav: What have been your past experiences as a filmmaker?
Jain: I made a short film called 'Andheri' in 2008. The film was my thesis for the masters in film production at USC. The film went on to do very well in film festival world. It played in most prestigious of festivals for short films and that gave me an encouragement that I should do this as my career. I should make films in India. That was the beginning and then I was writing several scripts that was set in India. And as the World Cup was coming near in 2010, I started thinking that I was going to India to watch the world cup. Then I thought why not make a film centered on the world cup. I found it an interesting whom I knew, and everybody I talked said that this is going to be great. So I just raised the money in US, came to India with very little money and hired an Indian crew. That's how it began.
Viplav: So when you were making a film on cricket, that too when world cup was going on, did you think the end is going to be like a fairy tale as India would win the world cup and everything would seem so filmy?
Jain: We had no idea obviously but we were hoping that India would win as India was very heavily favored while coming into the world cup. So we thought we had a good chance. We hadn't won it since 1983 so I was expecting it. When it happened it was great news for us as cricket fans and it was the great news for the film as well, as we now had a movie about a winning team.
Viplav: Had India not won the world cup, how different the film would have been according to you?
Jain: It's something we discussed while we were shooting. My crew would ask me what would you do if India doesn't win this. I said if India doesn't win we would have a scene where we lose and everybody is down and there will be a sunrise next morning on the beach, young kids are planting there stumps in the mud and they are getting ready to play again. And it would give a message that we lost this time but dream never dies and lust for cricket doesn't go away. And we would win next time.
But luckily we didn't have to do that, we had a much better ending to our film because of India's win.
Viplav: Tell us about the film- Beyond All Boundaries.
Jain: It's a 97 minutes long documentary film. It is centered on World Cup of 2011. But in real, it is about really incredible, gripping stories of these three individuals, for each of whom the sport of cricket is like a way out of a difficult life. One of them is Sudhir Kumar who is Sachin Tendulkar's fan. From 10 years he has gone on bicycle from match to match and never missed an Indian cricket match especially in which Sachin played. And I wanted to talk to him and see what did this guy feel and really wanted to find out about him. I wanted to spend some time with him, to see what motivates him.
And you'll see a lot about him in the film, a moving journey with him throughout the world cup. How he survives, why he does what he does and how other people in his world use him. What his friends are like, his family is like. And when the world cup ended he went home. And he went to home from Kolkata where he had parked his bicycle at Saurav Ganguly's house. He picked up his bicycle from there and drove for five days to reach his home Muzaffarpur in Bihar and we followed him in a car and shot the whole journey. And it was a brilliant journey through places like Jharkhand and Bihar.
Viplav: You filmed in different locations across India. How different it was to film at places quite different from each other?
Jain: You'll see the diversity of India in the movie. Mumbai is a big city, everybody modern and everybody knowing about cameras and all. Then there's Bihar which was very different. There were differences in the way people talked and how comfortable they were in front of camera.
Viplav: Crowd funding has been an important support behind the production of Beyond All Boundaries. Being an Indian living in US, how tough was it to gain the support from the people in US who might not be familiar with the game of cricket?
Jain: We didn't really try to pitch the movie to donors as a cricket movie. What we tried to do was that the film is centered on cricket but at the end of the day it is a human's story. When they saw the footage of Sudhir, Akshaya and Prithvi and when they saw all the high quality film photography, I think people just didn't know the cricket but they wanted to support it. And ultimately lot of support came from the Americans who had no knowledge about the cricket.
There was some support from the Indians living in US who were familiar with cricket.
Viplav: What roles have been played by Kunal Nayyar behind the production of Beyond All Boundaries?
Jain: What happened was, I live in Los Angeles and Kunal also lives in Los Angeles. And I wanted an Indian to do the voice over. Somebody mentioned Kunal Nayyar and connected us. Kunal watched the trailer of the film and called up and said not only did he want to do the voice over, he even wanted to help me finish the production. We watched the two hours cut that I had at that point of time and he loved it. He then helped me raising money from crowd funding.
Kunal mentioned once that why he was doing this was because he was doing an Indian film for the first time.
Viplav: From where did this name –Beyond All Boundaries, come in your mind?
Jain: The idea of the name came originally to me. Basically it came to me by the idea that the passion for cricket in the fans is boundless. We were trying to look for something that struck as a title. We tried many things. But nothing struck that well. It signifies beyond all boundaries of casts, religions, customs and languages that we find in India. You could be a farmer in Jharkhand and you could still feel about Indian team.
Viplav: How difficult it was to not get carried away with the glamour that Indian Cricket carry with it while the making of this film? How different is Beyond All Boundaries from the other bollywood flicks made upon cricket?
Jain: I was not interested in the glamour of the game at any point of time. That's just related to a very small minority of people who live that type of life. I wanted to make a film about people that I knew, that I grew up around. And about the people who had just simple love for the game. Who were willing to do amazing things just because of their love for the sport. I had no interest in fancy, bollywood style or glamorous style at all. They don't need me to make a movie about that.
Viplav: The character of this film are real life characters. How different it was to film them? Were they at ease in front of the camera?
Jain: It was really awesome because all three of them were very friendly and very open to us while filming them. There was no hesitation. They were really honest in front of the camera, very open about their life while talking about their problems. We really became friends with all three of them. The young chap was full of life.
It was different for all of them. Sudhir was grown up. Other two were children and we had to take permissions from their parents. And they also had diverse backgrounds as Sudhir was a guy from Bihar and the girl was from Dadar.
Viplav: Tell us about the support that you got from the Indian Cricketing fraternity including sports journalists, cricketers and the administrators.
Jain: Support was nice. It was difficult as the world cup was going on. Everybody was very busy obviously. What we did was we got ourselves in right places so we managed to interview Saurav Ganguly. We managed to interview Yuvraj Singh two days after the world cup.
We also got great support from BCCI. We met Ratnakar Shetty. We could hold the World Cup. And all of this happened because people really wanted to help us.
Viplav: How difficult it was to reach them? How did you manage that?
Jain: Very difficult. Well Saurav Gaguly was a factor. We went with Sudhir and he was going there to pick up his bicycle after the end of the world cup. Saurav Ganguly just happened to be there. I just chatted with him and told him that I was making that movie which was about Sudhir, so I would love to chat with you on camera. He said sure, why not we do it tomorrow?
And it was amazing. We sat there with our crew and chatted about everything under the Sun.
With Yuvraj I had a common friend. Common friend just asked him," Hey my buddy is making a movie. Can you meet him quickly like for half an hour? He will come to meet where you are." And Yuvraj said fine. So that's how that happened.
Then we went to Nari Contractor's house and interviewed him. And then I knew a few journalists like Makarand Waingankar. Makarand is very well versed with cricket in Mumbai and he introduced me to several people like cricket coaches as we got a lot of quotes from them.
We found our talent by going to cricket ground and spending hours and hours at Shivaji Park and Ajad Maidan. My interest was not so much in the glamorized names in cricket but I wanted to tell stories of the average people, who are not really average. They are extraordinary. We interviewed some big names but our goal was not to back the movie with big names.
Viplav: How has been the response from Indian Cricket aficionados so far? What have been your expectations from the film Beyond All Boundaries?
Jain: Any Indian all over the world, who watched the movie, just loved it. Because it's the only movie they have seen that captured the fond of cricket in India, passion for the game in India. We are releasing in slightly more than a dozen theatre in three cities including Mumbai, Pune and Delhi.
Viplav: Last question! Why should people watch the film Beyond All Boundaries?
Jain: If people care about cricket. If they care about Sachin winning World Cup. If they care about seeing amazing stories of ordinary Indians doing inspiring things showing what cricket means to an average Indian. Then they should go and watch Beyond All Boundaries This is the cricket film that has ever been made.
Cricmatez wishes Mr. Sushrut Jain all the very best for Beyond All Boundaries.