Pune Warriors India are relatively new to the IPL having played for just 2 editions. They are the most under-performing team in the IPL. They will hope to turn the tables around this time under their new captain Angelo Mathews.
Team Preview- Pune Warriors India

:
Pune Warriors India has been consistently under performing over the past two years. They are very much strong on paper but when it comes to their performance on the field, they are not quite upto the mark. In the first season Yuvraj Singh was named the captain of Pune Warriors India. He had to undergo treatment for cancer and that made a lot of headline towards the beginning of the 2012 edition and Sourav Ganguly took charge. Pune Warriors India, this time has a new captain and some new players,one would have to wait and see what they come up with. Pune Warriors India will miss Ganguly this season but they will be happy that Yuvraj Singh makes his comeback after battling cancer.
Can Pune Warriors India finally come and show justice to the talent they possess??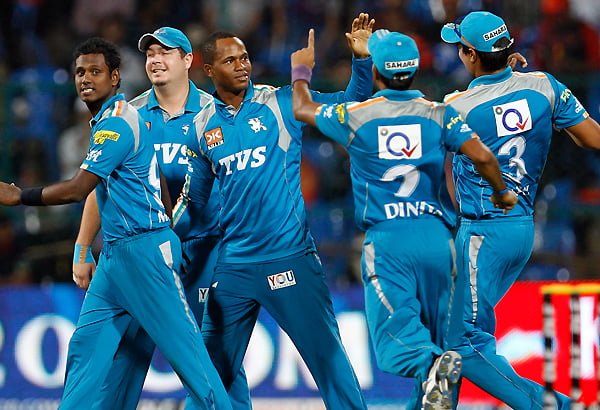 Pune Warriors India Squad for IPL 6
Indian Players representing Pune Warriors India:
Abhishek Nayar
Ali Murtaza
Anustup Majumdar
Ashok Dinda
Bhuvaneshwar Kumar
Dheeraj Jadhav
Eklavya Dwivedi
Harpreet Singh
Ishwar Pandey
Krishnakant Upadhyay
Mahesh Rawat
Manish Pandey
Mithun Manhas
Parveez Rasool
Rahul Sharma
Raiphy Vincent Gomez
Robin Uthappa (wk)
Shrikant Wagh
Thirumalasetti Suman
Udit Birla
Yuvraj Singh
Overseas Players representing Pune Warriors India in IPL 6:
Ajanta Mendis

Angelo Mathews
Kane Richardson
Luke Wright
Marlon Samuels
Mitchell Marsh
Ross Taylor
Steven Smith
Tamim Iqbal
Wayne Parnell
Strength:
Overseas players are all world class players. Presence of many T20 specialists gives them the edge.

Indian players like Yuvraj Singh,Robin Uthappa,Bhuvaneshwar Kumar can make good on their day and take the pressure off the overseas players.
In the bowling department,they have the economical Ashok Dinda and the nex big thing in Indian cricket Bhuvaneshwar Kumar.
The spin department looks venomous with the likes of new sensation Parvez Rasool, Srilankan magician Ajantha Mendis and Ali Murtaza.
Fielding will improve with energetic fielders like Steven Smith and Yuvraj Singh.
Pinch Hitters like Manish Pandey, Robin Uthappa, Marlon Samuels can be a threat to any opposition and can take the team home especially while chasing.
Swapping Ross Taylor for Aasish Nehra could be a master stroke.
Weakness:
Despite having good overseas players,they have been often found guilty of erring in selection, especially with the overseas players.
Putting performance on the field is an issue for the side.
Batsmen have massively under performed for them despite having the fire power.
Availability of Wayne Parnell and their no.1 spinner Rahul Sharma is still a question mark.
Power Performer: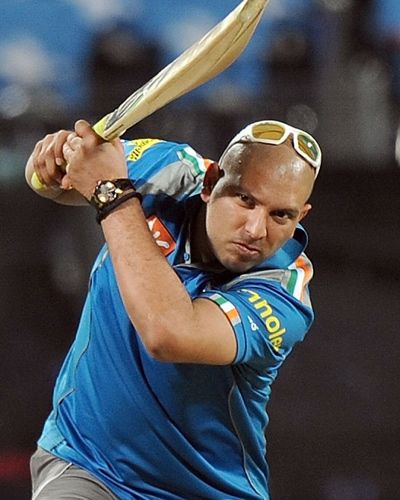 Yuvraj Singh, their marquee player will be the man Pune Warriors India will look upto. He is one of the cleanest strikers of the cricket ball and is also very handy with his capabilities as an Left arm slow bowler. He can get wickets at crucial intervals and change the course of the match. Yuvi is a live wire on the field too with his accurate throws and acrobatic stuffs. Yuvraj Singh at  his best will be the key to Pune Warriors chances this season.
Watch out for:
Parvez Rasool is the latest sensation from the domestic circuit. His performances against the visiting Australians in chennai shows what he is capable of. A genuine bowling all-rounder from Jammu and Kashmir. He is highly rated by Bishan Singh Bedi and can earn a national call up if he performs well in the IPL.
Abhishek Nayar– This Kerala born cricketer from Mumbai has been doing well in Ranji cricket.He was prolific as a batsman and handy as a medium pacer for Mumbai. A good aquisition for Pune. He will extremely crucial for Pune given his experience in IPL.
Bhuvaneshwar Kumar has been the most happening player for the past year. He has finally come of age and is doing well for India in both the formats of the game. He knows to swing the ball both ways and his handy batting skills is an added advantage. India's new spearhead will be the man to watch out for the Pune Warriors India.
Marlon Samuels is the best limited overs player for West Indies last year. Samuels played a massive role in West Indies winning the T20 World Cup in Srilanka. Electrifying batsman who can change the gear anytime. He plays fearless cricket and no bowler would take him lightly. The fast and furious Malinga went for a pounding in the world cup final which shows how dangerous this West Indian is.
Pune Warriors India Possible Playing XI:
Angelo Mathews (c),Yuvraj Singh,Robin Uthappa,Manish Pandey,Abhishek Nayar,Ross Taylor,Steven Smith,Marlon Samuels,Parvez Rasool,Ashok Dinda,Bhuvaneshwar Kumar.
Schedule for Pune Warriors India in IPL 6:
| | |
| --- | --- |
| 5-4-2013 | Sunrisers Hyderabad vs Pune Warriors India |
| 7-4-2013 | Pune Warriors India vs Kings XI Punjab |
| 11-4-2013 | Pune Warriors India vs Rajasthan Royals |
| 13-4-2013 | Mumbai Indians vs Pune Warriors India |
| 15-4-2013 | Chennai Super Kings vs Pune Warriors India |
| 17-4-2013 | Pune Warriors India vs Sunrisers Hyderabad |
| 21-4-2013 | Kings XI Punjab vs Pune Warriors India |
| 23-4-2013 | Royal Challengers Bangalore vs Pune Warriors India |
| 28-4-2013 | Delhi Daredevils vs Pune Warriors India |
| 30-4-2013 | Pune Warriors India vs Chennai Super Kings |
| 2-5-2013 | Pune Warriors India vs Royal Challengers Bangalore |
| 5-5–2013 | Rajasthan Royals vs Pune Warriors India |
| 9-5-2013 | Pune Warriors India vs Kolkata Knight Riders |
| 11-5-2013 | Pune Warriors India vs Mumbai Indians |
| 15-5-2013 | Kolkata Knight Riders vs Pune Warriors India |
| 19-5-2013 | Pune Warriors India vs Delhi Daredevils |
 *Home team is mentioned first
Can the most expensive and big spending Pune Warriors India pull off what Real Madrid did in the La Liga 2012 ?