No one expected the Rajasthan Royals to win the inaugural edition of the IPL. They were the weakest team on paper and were almost unbeaten in the whole tournament. They had a huge advantage by naming Shane Warne as their captain cum coach who backed everyone in the team to perform. Four more editions have gone by and the Rajasthan Royals have failed to reach the last four in the previous four editions. Can the Rajasthan Royals cause a major upset by winning the IPL 6?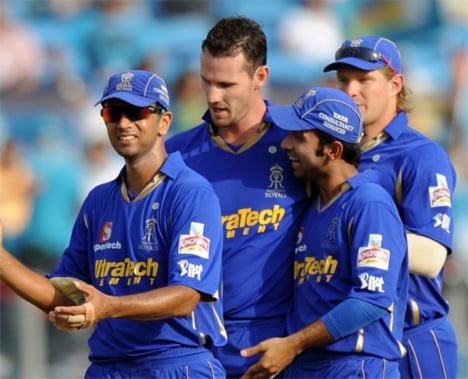 Rajasthan Royals Squad for IPL 6
Indian Players representing Rajasthan Royals:
Rahul Dravid
S Sreesanth
Siddharth Trivedi
Ajit Chandila
Stuart Binny
Harmeet Singh
Ajinkya Rahane
Shreevats Goswami
Ankeet Chavan
Rahul Shukla
Amit Singh
Pravin Tambe
Sanju Samson
Ashok Menaria
Dishant Yagnik
Overseas Players representing Rajasthan Royals:
Shane Watson
Owais Shah
Shaun Tait
Kusal Janith Perera
Brad Hogg
James Faulkner
Fidel Edwards
Kevon Cooper
Samuel Badree
Brad Hodge
Strengths :
The presence of T20 specialists like Faulkner, Owais Shah, Brad Hodge make Rajasthan Royals the team to watch.
The experienced players can guide and lead the youngsters in their quest for glory.
Domestic talent is the Rajasthan Royals' greatest strength. They have been doing well in the domestic circuit.
All the overseas players are available,fit and are raring to go.
The presence of quite a good number of Australians enables the work rate to be high and brings professionalism in the team.
Their biggest plus point is Rahul Dravid. He can mentor the side really well and knows a thing or two about leading the team.
Weakness :
Bowling at the death seems to be the concern for Rajasthan Royals. Sreesanth,though is an aggressive bowler and is one of the best new ball bowlers but he is not that good when it comes to death bowling. He has the worst economy. Arrival of James Faulkner might solve this issue.

Batting seems to be a weakpoint for the Rajasthan Royals.Apart from Dravid and Watson there doesnt seem to be big names in the order. Scoring quick runs will be a concern with the kind of batsmen they have.
Fielding might be a weak point for the Rajasthan Royals due to presence of ageing players. Catches win matches that's what the experts say and Rajasthan Royals will need to really struggle to pouch all the catches that come their way with the kind of fielding unit they have.
Rajasthan Royals don't have a quality Wicket-keeper in their ranks.
Rajasthan Royals' problem in the previous editions have been their disastrous start to the tournament. They will need to start really well this time around. Not every team will have the luck of CSK.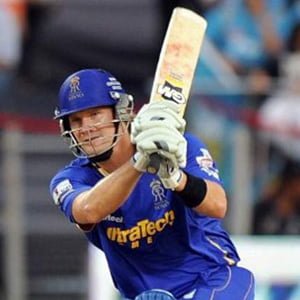 Power Player :
Shane Watson, the Australian vice-captain will once again be the key to Rajasthan Royals. He can tear apart any attack in the world when he is on song. Not to mention his added qualities as a bowler. Shane Watson at no3 will provide the stability in the middle order. He being a senior will also have a say in the Rajasthan Royals think tank and is extremely crucial for the Rajasthan Royals this season.
Players to watch out for :
Ajinkya Rahane, the talented batsman from Mumbai has been prolific in this Ranji Trophy. He was subsequently picked in the Indian Team, but sad that he didn't get enough opportunities. When he got a chance in the final test against Australia he couldn't prove his merit as a batsman. Rahane will be raring to go and prove his mettle in the upcoming IPL.
James Faulkner, the talented all-rounder has been in fine form.He will be handy with his deceptive slower balls and with the bat.He is impressive. With Ashes spots up for grabs he will be raring to go in his first IPL.
Owais Shah,is a T20 specialist. He has been a nomad for sometime now and playing T20 leagues around the world. One of the cleanest strikers around. He will be the guy who is gonna step up the gas in the end overs.
Rajasthan Royals Possible Playing XI :
Rahul Dravid , Ajinkya Rahane, Brad Hodge, Srivats Goswami, Shane Watson, Ashok Menaria, James Faulkner, Kevon Cooper, Stuart Binny, Ajit Chandila, S. Sreesanth.
Schedule for Rajasthan Royals in Ipl 2013
| | |
| --- | --- |
| 6-4-2013 | Delhi Daredevils vs Rajasthan Royals |
| 8-4-2013 |  Rajasthan Royals vs Kolkata Knight Riders |
| 11-4-2013 | Pune Warriors vs Rajasthan Royals |
| 14-4-2013 | Rajasthan Royals vs Kings XI Punjab |
| 17-4-2013 | Rajasthan Royals vs Mumbai Indians |
| 20-4-2013 | Royal Challengers Bangalore vs Rajasthan Royals |
| 22-4-2013 | Chennai Super Kings vs Rajasthan Royals |
| 27-4-2013 | Rajasthan Royals vs Sunrisers Hyderabad |
| 29-4-2013 | Rajasthan  Royals vs Royal Challengers Bangalore |
| 3-5-2013 | Kolkata Knight Riders vs Rajasthan Royals |
| 5-5-2013 | Rajasthan Royals vs Pune Warriors |
| 7-5-2013 | Rajasthan Royals vs Delhi Daredevils |
| 9-5-2013 | Kings XI Punjab vs Rajasthan Royals |
| 12-5-2013 | Rajasthan Royals vs Chennai Super Kings |
| 15-5-2013 | Mumbai Indians vs Rajasthan Royals |
| 17-5-2013 | Sunrisers Hyderabad vs Rajasthan Royals |
 *Home team is mentioned first
Can the Rajasthan Royals beat all odds and find a way to glory in IPL 6?